A basic principle of investing is that you should gradually reduce your portfolio risk as you grow older.

Creating wealth is a long, continuous process. To grow your wealth you need to keep on investing towards your target. However, the investment plan and the portfolio is a dynamic process and should adjust to your various life-stages since your risk factor varies with age. Your risk-taking ability as a single individual would differ from when you have a family and when you are nearing your retirement.
A basic principle of investing is that you should gradually reduce your portfolio risk as you grow older. For example, if the equity holding in portfolio takes a dip due to market conditions when you are young, you will still have time on your side for the markets to bounce back. Retirees who need a regular income do not have this luxury and should reduce risk by buying less-volatile debt investments.
"An easy-to-remember thumb rule is that your debt allocation should be equal to your age. So, if you're in your twenties and thirties, keep no more than 70% in equities and the rest in debt. Mid-career professionals in their forties and fifties should have between 50-60% in equities, while retirees who need regular income should start reducing their equity exposure to around 40%," said Kunal Bajaj is CEO & founder of Clearfunds.com.
Here are some takeaway for you to build right mix of asset allocation at the right age.
Age between 20-30 years
Abhinav Angirish, Managing Director, Abchlor Investment Advisors said that the 20-30 age group are mostly single and have started their careers and don't have too many liabilities. When you are at this age, this is the time to take risks and make money as during this time you have fewer responsibilities towards family and higher risk-taking capability. "Hence, a major part of your investment should be in riskier investments like stocks followed by bonds and the lowest in real estate and cash," he said.
The following pie chart will give you a snapshot of what your asset allocation should look like at 20-30 compared to what it should be between 30-50.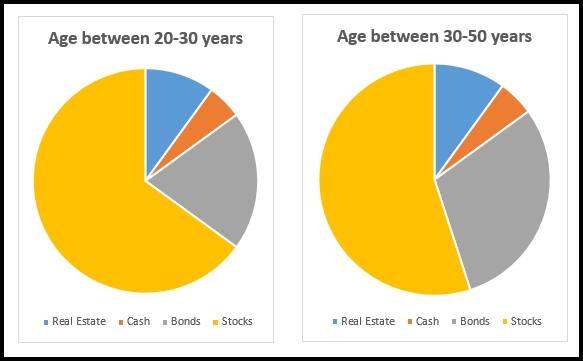 Age between 30-50 years
Thirty to fifty is an age where you start having responsibilities towards your family. You now have to look after your family expenses rather than just your own. Therefore, this is the time your risk appetite starts to reduce, but at the same time you need a good return as you have your children's education lined up in the future. Hence, over here your major part will still be in stocks, but by a lesser proportion followed by a higher proportion in bonds. One can go for moderate hybrid funds or aggressive hybrid funds during this life cycle stage. "Hybrid funds or balanced Funds automatically run an allocation of more than 65% in equities, so they don't give investors the flexibility of changing their allocation," said Bajaj.
Age between 50-60 years
During this age, you are nearing retirement and your children are grown up, this is the time you will be thinking of saving funds for your retirement. But as you plan to save money for retirement, you know that this time money is very important to you and without this your life might not function normally as it generally does.
Angirish says at this age you cannot afford to take risks with this investment and you need some sense of security. "Hence, your portfolio should be of investing a lesser amount in riskier assets than you did previously, resulting in lower stocks proportion and higher bonds & real estate percentage," he said.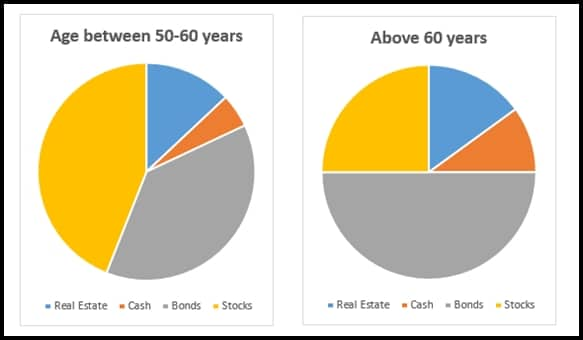 Above 60 years
At this age, you are retired and your children are self-dependent. You eventually need pension income. So your main goal is to ensure that your money flow from investments suffices your daily needs. So you need to have investments that provide decent returns along with security. You should ideally go for investments avenues having a low risk or no risk. "Your portfolio should consist of bonds as the highest proportion, followed by a few stocks and real estate," added Angirish.
You need to plan your investments at every life-stage. "Those who've started saving early enough and stuck to these rules will find that their portfolio value is healthy enough around retirement to be able to comfortably draw from their savings," said Bajaj.
First Published on Jan 23, 2018 12:14 pm