Aug 26, 2017 09:19 AM IST | Source:
Moneycontrol.com
Murthy an iconic founder but Infosys Board will have final say: Nandan Nilekani
In his first press conference since returning to Infosys, the newly-appointed Chairman said he represents 100% of the shareholders.
SUMMARY:* Infosys has appointed Nandan Nilekani as Chairman of the Board * No tenure decided. Nilekani says he will stay for as long as needed * Nilekani says internal, external candidates and Infosys alumni in running for CEO * Didn't intend to cause anguish to Narayana Murthy, says Infosys Board* In first press meet, Nilekani says he represents 100% of the shareholders * Nilekani says he will personally review recent investigations

* Vishal Sikka says bringing Nilekani back an 'excellent idea'
20:48 Here's a summary of what Sikka said about Nilekani's return and reports of him joining HP.
20:16 Sikka says the Board had insisted he stay back after quitting as CEO for the sake of continuity and succession. But when Nilekani agreed to come back, he felt it was necessary to give him a free hand, so resigning from Infosys altogether would be the best option.
20:08 "Nilekani is a great man and I am sure the company will thrive going forward," says Sikka.
20:02 Will Sikka become an entrepreneur? For sure, he says.
19:56 I want to take some time and think about the lessons I've learnt from the last three years at Infosys: Sikka
19:54 Nandan is an extraordinary leader and an iconic man, says Sikka.
19:51 Sikka says he is keen to take some time off and is not looking to take up a job immediately.
19:49 On the decision not to make the Panaya investigation report public, Sikka says it was the Board's mandate. He calls the probe a "nonsensical detour".
19:45 He says there is no truth to rumours that he will be joining Hewlett Packard. Reports had suggested that he would take up the CTO role at the firm.
19:43 Sikka says he made no specific comments on Narayana Murthy. He was referring to the generally "vitiated atmosphere".
19:40 Infosys Board insisted that I stay back, says Sikka.
19:38 Resigned because I felt I couldn't do the job anymore, says Sikka. Says he offered to quit as executive vice-chairman because he felt it was in the best interests of all concerned so that Nilekani could have a free hand and it also meant that the succession process would be complete.
19:36 Vishal Sikka speaking now to CNBC-TV18. Says he thought it was a brilliant idea to bring Nilekani back.
19:12 How will the markets react to the developments in the last 24 hours? We'll have to wait till Monday, but experts say Nilekani's return should see Infosys jump 7-10 percent on Monday.
18:38 That's it from the investor call. Nilekani has spoken at length over the last 90 minutes but we still have no clarity on why several Board members resigned yesterday.
18:34 On Infosys' relationship with Murthy: Iconic founders have always had a relationship with the company, whether formal or informal. Murthy is very much in that league. I will seek his advice and inputs. But I do have an obligation to look at the company from all complex stakeholder angles. The Board will have the final say.
18:32 We have received emails from candidates interested in taking up the CEO role, he says.
18:29 "I have come here to take stock and go forward," Nilekani says on investor call.
18:26 Nilekani says Infosys' legal team will take a look at the class action lawsuits.
18:24 Strategy will be in place by October. We are fully aware of what we need to do to make sure investors are on board with our decisions, says Nilekani.
18:22 Will ensure Infosys gets back its iconic status, he says.
18:17 Murthy among shareholders who asked me to take up this assignment, says Nilekani.
18:14 Murthy is a transformational leader and a visionary, says Nilekani, listing out his fellow co-founder's achievements. "I owe my professional success to him," he says.
18:11 The investor call has begun. Nilekani says his experience with Aadhaar and global trends in technology will hold him in good stead in his new role.
18:04 Read the full text of the Infosys press release in which it regretted earlier comments on Narayana Murthy.
17:57 The press conference has ended. Nilekani will address an investor call in a few minutes.
17:52 Murthy is the father of corporate governance in India, says Nilekani.
17:49 Nilekani says he is committed to reviewing recent investigations with an unbiased mind.
17:45 I will not run this company based on comments on Twitter and TV channels, says Nilekani.
17:43 Asked about who first approached him to return to Infosys, Nilekani says the answer is best left for a novel.
17:40 Expect Prahlad and Ravi Venkatesan to do a great deal of the heavy lifting, says Nilekani.
17:38 My return to Infosys is also a form of national service, he says.
17:36 Nilekani says there is no time-limit on his appointment as non-executive Chairman.
17:34 Asked whether everything is hunky-dory at Infosys now, Nilekani says yes.
17:32 Nilekani says he plans to be at Infosys for as long as required. "I have had a record of doing things successfully," he said.
17:30 Nilekani reiterates that he has returned to Infosys to represent "100%" of the stakeholders.
17:28 DN Prahlad has been appointed as the Chairman of Edgeverve Limited with immediate effect.
17:27 I would like to think that I am here not just because I am a co-founder, says Nilekani.
17:25 Nilekani says a firm has been appointed to look for a new CEO. A committee will also look into the governance structure of the Board.
17:23 A sub-committee of the board will seek feedback from investors and shareholders on corporate governance issues.
17:21 Nilekani says he will receive a full briefing on recent investigations including the Panaya acquisition.
17:20 Reading from a press release, Nilekani says it is unfortunate that there were disagreements between the Board and co-founder Narayana Murthy. It wishes to state that it was not the Board's intention to cause any personal distress, anguish.
17:17 A board meeting of Infosys took place this morning.at which they resolved to reboot the company's strategy in October.
17:15 "Our immediate priority is to have stability and make sure the management and the whole board are back to what they should be doing," says Nilekani.
17:12 Nilekani says the transition is officially complete after two board meetings.
17:10 I am here to help everybody, says Nilekani.
17:09 "I am back here because there was no one else," jokes Nilekani.
17:07 Nilekani says he was unanimously invited at Thursday's board meeting to join the Board as non-executive Chairman.
17:00 The press conference is set to begin now. Nilekani and Pravin Rao are having a chat before taking the stage.
16:55 Nandan Nilekani will address a press conference at 5pm.
16:20 Interim CEO UB Pravin Rao has sent out an email to employees welcoming back "Employee No.0002" Nandan Nilekani. Read the full text here.
15:46 The unanimous decision of the board (to appoint Nilekani as non-executive chairman) reflects the confidence every one of us had in his credible leadership to steer Infosys out of these troubled time," says Kiran Mazumdar-Shaw.
15:10 What next for Vishal Sikka? Is he heading to Hewlett Packard as CTO? Read more here.
14:27 Stay tuned for the media interaction and the second conference call due today.
11:53 Balakrishnan further says that Vishal Sikka leaving Infosys because of Narayana Murthy is a 'big lie' and opines that Nandan should retract the statement made by the Infosys board on NRN Murthy.
11:25 Speaking to CNBC-TV18, former Infosys CEO V Balakrishnan says that there are a lot of good and eligible alumni that can fill the CEO post at Infosys.
11:12 In his closing statement, Nilekani thanks investors for attending the call and apologizes for 'yanking them' out of their long weekend. With this the first investor call comes to an end. There will be another one at 6:00 IST for global investors.
10:51 Will take every effort to ensure that business performance is intact, see no disruption in near term: Nandan Nilekani
10:50 Nandan Nilekani says Vishal Sikka felt it was the appropriate time for him to exit Infosys entirely.
10:46 For the post of CEO "we are looking at internal candidates, external candidates and Infosys alumni," says Nilekani.
10:45 Nandan Nilekani says the company is searching for a new CEO globally and will look at right additions for the board.
10:44 Nandan Nilekani says the legal team will look at issues with respect to potential class action lawsuits.
10:37 The company will discuss business related issues with investors after the board meeting in October.
10:32 "I see my role as a holistic role which interacts with all stakeholders to take this company forward," Nilekani says.
10:31 This company will be a board managed company: Nilekani
10:28 Mr Murthy is one of the iconic visionaries of India, you can think of him as a father of corporate governance in India: Nilekani
10:23 Speaking to investors, Nilekani says that there was universal acceptance on him joining back the company. "I was invited by the board unanimously and also I have the full support of the founders, Mr Narayana Murthy," he says.
10:18 Nandan Nilekani starts the first investor call after coming back to Infosys.
23:08 We'll bring you live updates from the two investor calls at 10 am and 6 pm tomorrow along with the Press Conference at 4 pm. Stay tuned to Moneycontrol for more updates.
22:02 Nandan Nilekani says happy to return to Infosys, now in the role of non-executive chairman. I wish Vishal Sikka well in his future endeavours, he adds.
22:02 R Seshasayee says Nandan Nilekani is the ideal leader for Infosys at this stage in the co's development.
Vishal Sikka says in Nandan, we have found an ideal leader to manage transition. Nandan's appointment to help guide Infosys to new frontiers of success, he adds.
22:33 Nandan Nilekani: The man who was a true technocrat. Here is his full profile.
22:30 Nilekani took over as the CEO from Founder NR Narayana Murthy in 2002, and stayed on in the role until 2007. He was succeeded by S Gopalakrishnan.
22:27 An electrical engineer from the Indian Institute of Technology, Bombay, Nandan Nilekani co-founded Infosys in 1981, and went on to hold several positions at the company, including that of chief operating officer, CEO, president and managing director.
22:21 Infosys' ADRs rally over 1% to USD 15 on Nandan Nilekani's return. Read the full story here.
22:12 R Seshasayee steps down as Infosys Chairman: Here's all you need to know about him.
22:07 The company will continue to look for a permanent CEO.
Earlier this week, Vishal Sikka had stepped down as the CEO and UB Pravin Rao had been appointed as an interim CEO.
21:53 Nandan Nilekani returns as Chairman of Infosys: Read the full company statement.
21:49 Ravi Venkatesan resigned as the Co-Chairman of the Board, but will continue as an Independent Director.
Talking about Seshasayee, he said, "It is a great privilege to have worked with a person of such stature and dignity as Sesh. It has been an honour for the entire Board to be captained by him. His strength of character and his unwavering commitment to the Company is deeply admired by all members who have served alongside him on this Board."
21:40 Here's what you should know about Nandan Nilekani: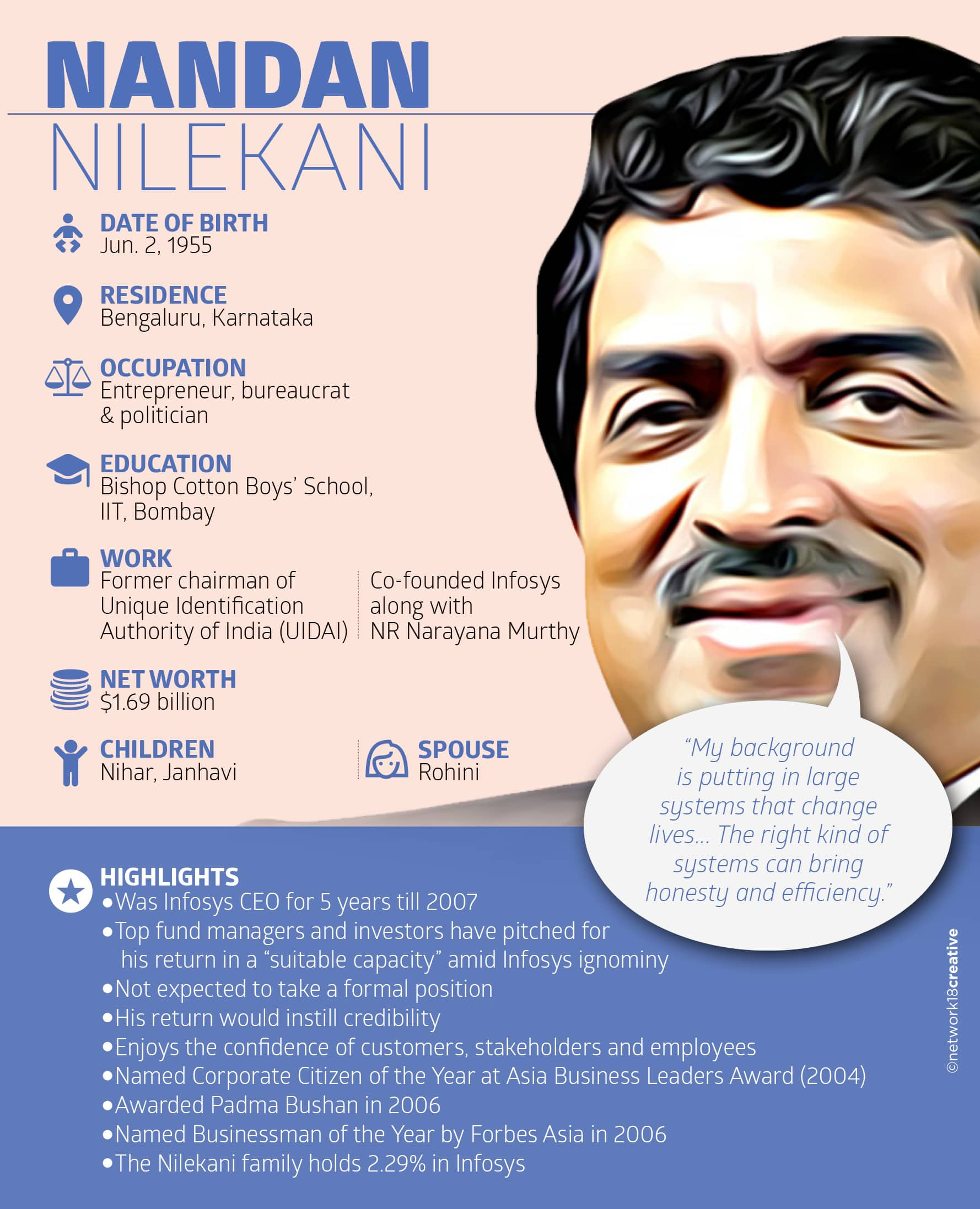 21:36 Major overhaul at Infosys: Nilekani to be chairman, Sikka, Seshasayee resign from Board. Here's the full report.
21:31 Resigning was one of the hardest decisions, but had to be done, says Vishal Sikka. Read the full story here.
21:22 Prof. Etchemendy, the outgoing Director of Board said, "With Vishal's departure, the board and his successor will embark on a new phase in Infosys' future, and I think that giving up my board seat to a new independent director is the right decision."
21:15 Analyst comments coming in now:
"Investors' confidence in the board has sunk to new depths and they want to see immediate changes. I expect them to install a new CEO and move aggressively to kickstart a fresh start for the firm. The damage is now done and the only way forward is positive, decisive change. Wipro and TCS, in particular, are lurking to target Infosys clients, creating a real panic to get their ship in order as quickly as possible. The speed of these changes this week indicates a fresh urgency to get their act together and come back fighting," Phil Fersht, CEO and Chief Analyst, HfS Research tells Moneycontrol.
21:12 Prof. Lehman, who was slated to retire from the Infosys Board in April 2018, says, "With Vishal's departure, Infosys is entering into a stage in which the time demands on independent directors will be compounded even further."
"In light of the other demands on my time, I think it best if I accelerate my departure from the Board by a few months to allow a new independent director to start in this important role," he added.
21:08 Board coup at Infosys: Nilekani to be chairman, Sikka, Seshasayee resign from Board. Here's the full story.
21:06 Infosys severs all ties with Vishal Sikka, settles full and final dues. Read more here.
21:04 Outgoing Board Chairman R Seshasayee said, "Under Nandan, Infosys will build a cohesive management team that will no doubt take the Company to a leadership position in the industry."
"I believe these changes will infuse further confidence to the stakeholders in executing the transition plan and in reinforcing the strategy for the future. I am confident our employees and customers will join me in welcoming Nandan to the Company," he added.
21:00 UB Pravin Rao who appointed as the interim CEO after Vishal Sikka resigned, will continue as the Interim CEO and MD.
20:54 According to the company's declaration made to stock exchanges, the first investor call will take place at 10:00 am IST on August 25, 2017.
The second investor call will take place at 6:00 pm IST on August 25, 2017.
The dial-in numbers for the calls will be put up on the Company's investor website.
A Press conference will take place at 4:00 PM IST on August 25, 2017.
20:52 Here's what Nandan Nilekani had to say:
"I am happy to return to Infosys, now in the role of non-executive chairman, and look forward to working with my colleagues on the Board and in executive management on the business opportunities we see before us and delivering benefits to our clients, shareholders, employees and communities. I thank Vishal for his service as the CEO of Infosys over the last 3 years and wish him well in his future endeavors."
Nilekani also stated that the Board will actively consider a broad based shareholder consultation process as a critical part of its overall engagement initiatives with all the stakeholders of the Company that are being taken up on a priority basis.
20:50 M Damodaran, former Chairman, Securities and Exchange Board of India (SEBI) tells CNBC-TV18 that Nilekani's first task would be to do an investor call.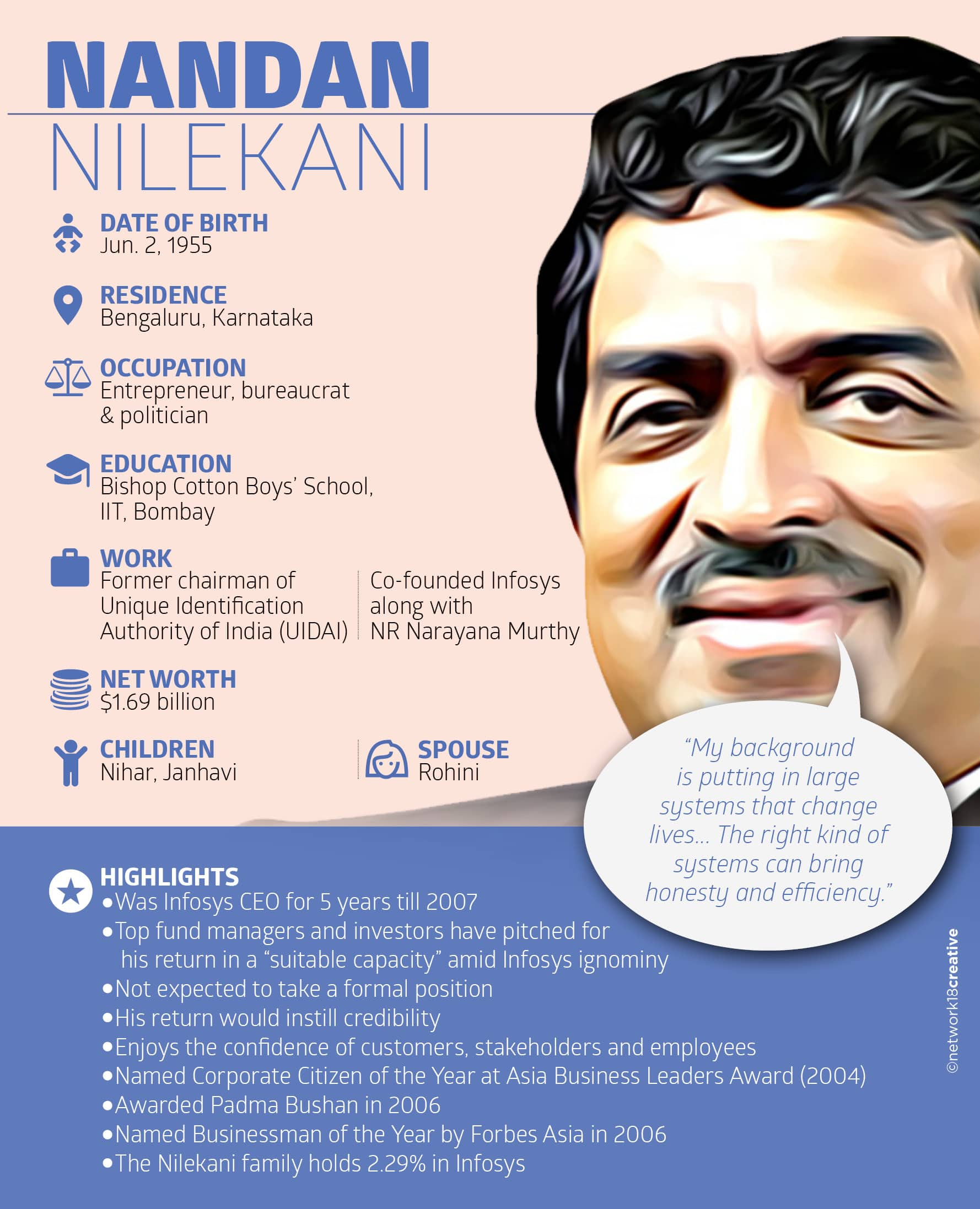 20:42 Ravi Venkatesan has also resigned as the Co-Chairman of the Board with immediate effect, but will continue as an Independent Director.
20:41 Prof. Jeffrey Lehman and John Etchemendy have also resigned as the directors of the Board with immediate effect.
20:39 Welcoming Nilekani, outgoing Chairman R Seshasayee said, "Nandan is the ideal leader for Infosys at this stage in the Company's development. His appointment will allow Infosys to focus on the strategic changes it needs to make in order to capitalize on the attractive opportunities in the years ahead."
20:36 Nandan Nilekani thanks Vishal Sikka for his contributions.
20:32 R Seshasayee has resigned as the Chairman of the Board and as a director on the Board with immediate effect.
Vishal Sikka has resigned as the Executive Vice-Chairman of the Board and as a Director on the Board with immediate effect.
20:26 
Nandan Nilekani has been appointed as the non-executive, non-independent director and as the Chairman of the Board of Directors with immediate effect.
Read More
Read Less
---
Top