The scheme can be categorised moderately -risk zone. Hence, an investor should take a longer time horizon to make an investment in such a scheme.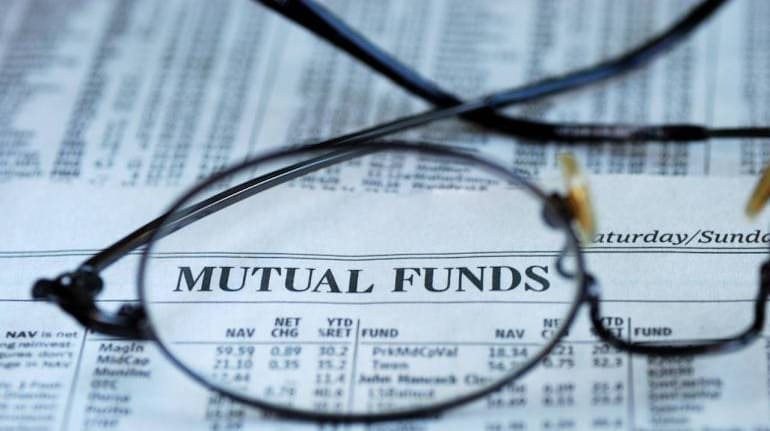 About the Scheme
Aditya Birla Sun Life Equity scheme was launched on 27th August 1998. The AUM of the scheme as on 30th September 2018 is Rs 9419 crore.
The investment objective of the scheme is long term growth of capital through a portfolio with a target allocation of 90% equity and 10% debt and money market securities. It is an open-ended equity scheme which will be investing across large-cap, mid-cap, small-cap stocks. The benchmark of the scheme is S&P BSE 200 Total Return Index (TRI).
The scheme can be categorised moderately -risk zone. Hence, an investor should take a longer time horizon to make an investment in such a scheme.
Fund Manager
Anil Shah is a Senior Fund Manager at Aditya Birla Sun Life AMC Limited. He has almost 26 years of experience in equity research and investments. The scheme is managed by him since October 03, 2012.
Apart from ABSL Equity Fund, he is also managing ABSL India GenNext and ABSL Manufacturing Equity.
Investment Strategy
It is a diversified equity scheme that is looking for an opportunity without any sectorial or market cap bias aiming to provide long term capital appreciation. The scheme has adopted the top-down and bottom-up approach of investing and it will aim at diversifying across various industries and/or sectors and/or market capitalization. Shah will emphasis making investments of the scheme towards companies with sound corporate management and prospects of good future growth. Essentially, the focus would be on stocks driven by long-term fundamentals.
A portion of the scheme may take exposure towards higher risk whereby investing in equity derivatives, IPOs, emerging sectors, concept stocks and other primary market offerings as per their investment criteria. Hence, it shows that the scheme may have prudently given some exposure to Futures & Options (F&O) to capture opportunities arising out of market imperfection and to hedge the portfolio, whenever it is necessarily required.
Portfolio composition in the present scenario
The top overweight sectors in the fund are banking and finance, consumer non-durables and it is underweight on auto and chemical.  The major sectors which are not focused on the fund point of view are textile and engineering services. However, one needs to understand that the fund manager stock selection is based on fundamental research. Also, comparing it with the last month when the market slipped to more than a thousand levels, Shah has merely changed the composition of stocks. Thus, it makes it clear that the fundamental approach is applied to create wealth over a very longer term period. The fund is allocating 60-70% of the total corpus to large cap funds, 30-40% to mid-cap funds and small-cap fund.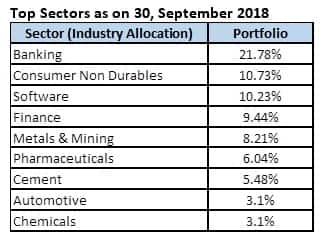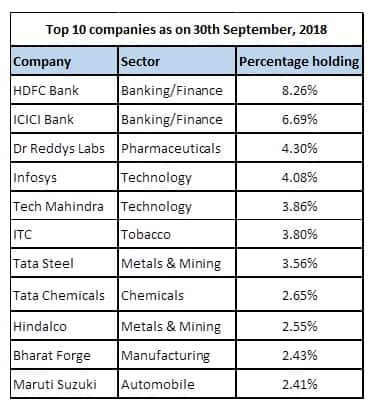 Note: 1. Past performance may or may not be sustained in future.


2

Benchmark: Benchmark - S&P BSE 500 TRI for ABSL Manufacturing Equity Fund and ABSL India GenNext Fund both.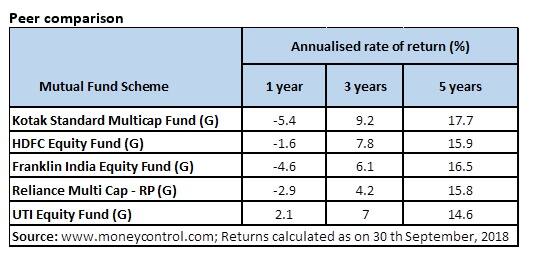 Growth in invested amount
Current value of an investment of Rs 10000 in the scheme Vs Benchmark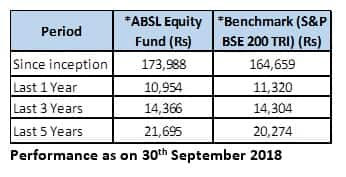 The scheme has performed well as compared to the peer group. Where ABSL Equity fund gave more than 20% return in 5 years other funds remained below that benchmark. Also, the value of investments made by investors in the scheme is constantly increasing despite the fact that the market was very volatile during the last month. The analysis also shows that the fund has outperformed its benchmark since inception. The fund gave 23.34% return while its benchmark gave around 15.27% return since inception.
Should you invest now?
Manish Kothari, Director & Head of Mutual Funds, Paisabazaar.com told Moneycontrol that investors who are reasonably risk-tolerant can consider investing in Aditya Birla Sunlife Equity fund for a long term investment horizon (preferably over 5 years). "Invest via SIP route, since the rupee cost averaging concept negates the need for the investor to time the market by averaging out the cost at which investor purchases mutual fund units over a period of time," he said.
The key takeaway from a financial expert
Kothari said that though the fund is multi-cap by mandate, large cap allocation of the scheme is approximately 67%, which indicates the possibility of lower portfolio volatility in the longer term. In the shorter one year period, the scheme has shown some correction with returns of -7.5%. "In long term, however, the returns of this scheme have shown its ability to convincingly beat its category average, having posted 3 years and 5 year returns of approximately 13% and 21% respectively, as compared to category average of approximately 7% and 16% respectively, for the same time periods," he said.
First Published on Oct 29, 2018 01:01 pm