Highlights
:

- The company is pushing through network expansion
- Inventory management policies will be crucial in driving efficiencies
- Stiff competition could put margin under pressure
- The stock may be bought on corrections
--------------------------------------------------
V-Mart Retail reported a weak set of Q4 earnings owing to modest top-line growth and higher operational costs. While the company remains in an expansion mode, there is a simultaneous increase in competition as well, which could make margin improvement difficult in the near future. The stock continues to trade at demanding valuations.
The company is a tier II and III focused clothing, lifestyle products and grocery retailer that caters mainly to the aspirational buyers. Its 214 stores, spanning a total 17.9 lakh square feet, are mainly spread across northern and eastern states (Uttar Pradesh, Bihar, Jharkhand, West Bengal and Odisha being the biggest ones).
Q4 FY19 analysis
Positives

- Sales growth was decent on account of store additions
Negatives

- There was heavy discounting to clear stocks, resulting in lower product realisations
- Aggressive staff hiring and store openings led to lower operating margin
- Same-store sales growth halved to 3.5 percent during Q4 because of soft demand
- IL&FS provision to the tune of Rs 7.34 crore was provided for, which impacted profit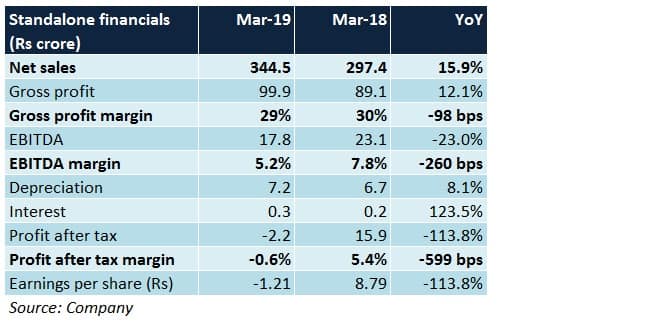 Observations
Network augmentation

The store count is slated to grow by nearly 25 percent in FY20, which should fuel revenue growth. Nearly 40-50 new outlets are likely to be added each fiscal, mainly in existing geographies.
Northeast opportunity

In FY19, V-Mart commenced operations in Assam and Meghalaya. In FY20, store openings could be lined up in three new northeast states. On the back of formalisation of the economy, unorganised players, who are widely present in such regions, are anticipated to cede market share to organised players such as V-Mart. Such states are undertapped markets and offer immense top-line growth potential.
Same-store sales revival

The same-store sales growth target has been pegged at 7-8 percent. This would be achieved through periodic discounting in the product portfolio -- especially during the off-season -- and store promotion initiatives, both of which help attract higher footfalls.
The management believes that EBITDA margin of 9-9.5 percent can be maintained if the same-store sales growth is in the range of 7-8 percent. This looks like a tall ask, given the subdued consumption sentiment.
Shrinkage reduction

Shrinkage represents a situation where apparel is written off, sold at heavily discounted prices or discarded due to inappropriate quality. The management has been successful in gradually reducing the extent of shrinkage and ensuring that inventory days are brought down further. In FY19, the inventory days count stood at 81 versus 86 in FY18. Continued efforts on these fronts are underway.
Loyalty programme

As on March 31, V-Mart's customer loyalty base stood at 1.1 crore. By virtue of regular marketing campaigns, this is likely to grow further. In the company's context, this is particularly important since 55-60 percent of the sales are derived from repeat customers.
Outlook
A fundamentally strong balance sheet, high proportion of sales from margin-accretive private labels (60 percent of the annual turnover on an average) and healthy profitability trend should help V-Mart command a premium valuation compared to its peers, notwithstanding the price correction in recent times.
However, rising competitive intensity from other branded players and higher capex associated with new stores could lead to moderation in margins, at least in the short term.
The stock trades at 41 times its FY21 projected earnings. Investors may consider going long on correction in light of the broad-based consumption slowdown in the economy.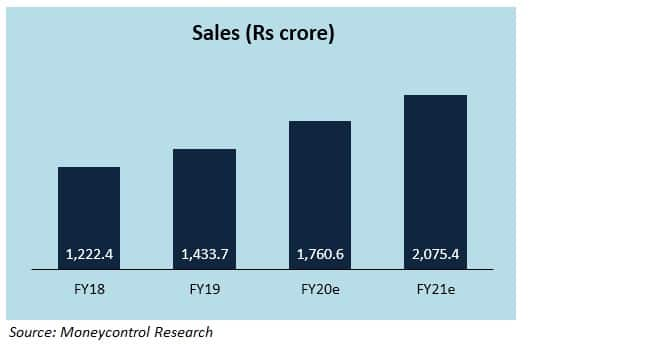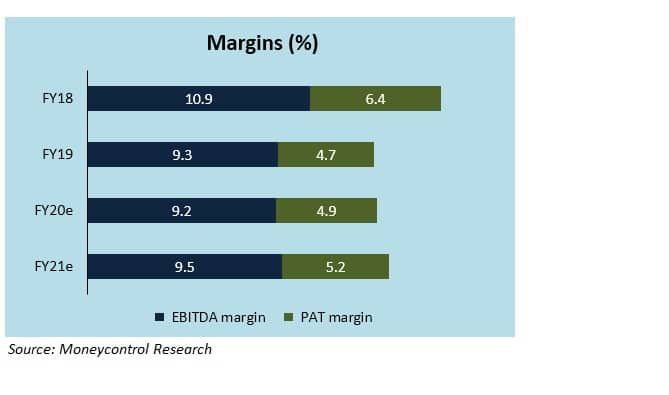 For more research articles, visit our Moneycontrol Research page
Disclaimer: Moneycontrol Research analysts do not hold positions in the companies discussed here
First Published on May 15, 2019 01:46 pm