General insurance companies can see higher premium growth due to long term third party motor insurance policies but profitability still uncertain
Beginning September 1, all general insurance companies in India will have to offer third party motor insurance for longer duration as against one year at present. This follows a Supreme Court's order dated July 20 in which it made it clear that third party insurance cover for new cars and two-wheelers should mandatorily be for a period of three years and five years, respectively.
Accordingly, insurance regulator IRDAI has directed companies to collect the premium for the entire term but recognise the same over the duration of the policy. So, gross written premium for each year will be total premium divided by coverage duration, while the rest of the funds would be considered premium deposit or advance premium.
From a consumer's perspective, long-term premium payments would substantially increase the initial outgo on purchase of new vehicles. Prima facie, the order will increase insurance penetration and will benefit insurance players. While it is still early days, we outline the dynamics of the third party motor insurance industry and how this move will impact growth and profitability of the insurers.
Motor insurance: The largest segment for general insurers
The size of Indian general insurance industry was valued at Rs 150,700 crore on a gross direct premium income (GDPI) basis as at FY18-end and witnessed a compounded annual growth rate (CAGR) in GDPI of 17 percent in the last 16 years. There are around 30 general insurance companies offering multiple products like motor, health, crop, fire and marine. Motor insurance forms the largest product segment and contributed around 40 percent of GDPI for FY17 for all insurers. For private players, the share was even higher at 49 percent.
 Segment-wise mix of gross premium for private insurers in FY17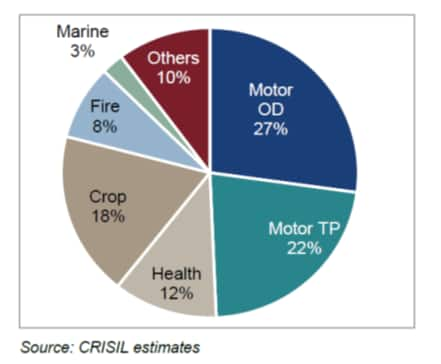 Motor insurance is offered for private motor cars, two-wheelers and commercial vehicles and consists of third party liability (TP) as well as own-damage cover (OD). The latter protects a vehicle owner from damage or theft to his/her own vehicle. OD coverage is optional and insurers can set premiums freely based on their risk parameters.
Third party motor insurance mandatory but a tariffed product
TP motor insurance covers the legal liability for the damage caused by the insured vehicle to a third party in case of bodily injury, death and damage to third party property. Unlike OD motor insurance, TP motor insurance is mandatory. Every motor vehicle owner in India is required to purchase TP motor insurance and insurers cannot refuse to sell customers the same.
TP motor insurance is a tariffed product, which means pricing in the segment is regulated. The premium rates for TP motor insurance are set by the Insurance Regulatory Development Authority of India (IRDAI) and reviewed and adjusted every year by them using a prescribed formula which considers cost inflation, frequency of claims, average claim size and expenses.
Brief history of regulatory regime for TP motor insurance
2007: IRDAI formed the India Motor Third party Insurance Pool (IMTPIP) in 2007. All insurance companies were part of the pool, which distributed losses on TP motor insurance in the ratio of the overall market share of insurers and not share of business actually underwritten.
2011:While third party motor insurance tariffs continued to be regulated, IRDAI began reviewing and revising tariffs on an annual basis from 2011 as against the earlier practice of revising tariffs once every five years.
2012: The IMTPIP was also discontinued in 2012 and was replaced by the declined risk pool (DRP). The regulator provided an option to insurers to transfer policies that they had underwritten to DRP, which were not as per the insurers' underwriting guidelines. The dismantling of the IMTPIP resulted in an industry-wide improvement in combined ratios.
2016: DRP was dismantled and a new quota-based system was introduced which prescribed the minimum amount of third party motor insurance business to be underwritten by each player in the industry.
Low profitability of TP motor segment

In the past, the TP motor insurance segment had a combined ratio higher than 100 percent. The combined ratio (measure of an insurer's profitability) above 100 percent indicates that an insurance company is paying out more money in claims and operating expenses than it is receiving from premiums.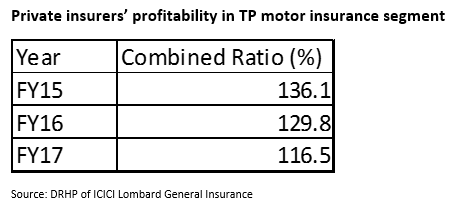 Profitability in TP motor insurance segment is contingent to a large extent on the premium/tariff hike announced by IRDAI. The regulator has offered average premium hike of about 6.1 percent for FY19 as against an average hike of 15.3 percent for FY18. Insurance companies suffer losses if the hike announced falls short of claims inflation.
IRDAI revises motor third party rates on an annual basis. Depending on claims experience, the insurance companies prices the renewal premium. However, in the long term policies, the insurer cannot revise the premium rates for the duration of the policy. So, the newly mandated long term policies can hurt profitability of insurance companies if the business is written at low prices and can lead to reserve deficiencies.
The long term profitability of insurers in the motor segment is set to improve with passage of The Motor Vehicles (Amendment) Bill, 2016.
Longer duration policies will boost premium growth for insurance companies

Industry TP motor insurance GDPI grew at 21.5 percent CAGR between January 2015 to December 2017, driven by increasing insurance penetration, higher vehicle sales and upward revision of tariffs by IRDAI.
Despite being more advanced than other forms of non-life insurance products in India, motor insurance still continues to be underpenetrated relative to global levels. CRISIL Research estimates that only 60 percent of cars older than 3-years are insured in India as against the global benchmark of 90 percent and only around 25 percent of 2W are insured as against a global benchmark of over 90 percent.
The first year policy is sold through dealer but later years it is through an agency or online. The renewal rate is poor. The long term policies will reduce the uncertainty related to renewal premium. Hence, we see strong growth in TP motor insurance premiums driven by both growth in new vehicle sales and long term policies.
Investors with a long term horizon and wanting to partake in growth in the general insurance sector should consider ICICI Lombard General Insurance.
For more research articles, visit our Moneycontrol Research page


Moneycontrol Ready Reckoner
Now that
payment deadlines have been relaxed
due to COVID-19, the Moneycontrol Ready Reckoner will help keep your date with insurance premiums, tax-saving investments and EMIs, among others.
Get best insights into Options Trading. Join the webinar by Mr. Vishal B Malkan on May 28 only on Moneycontrol. Register Now!
First Published on Aug 31, 2018 11:05 am