Stylam operates in the building material space and is engaged in the manufacture of high pressure laminates for exterior cladding of furniture, cubicles and interior furnishing.
Highlights:
- Laminates manufacturer Stylam Industries is growing at a healthy rate
- Holds 6.5-7 percent share in the domestic laminates market
- Capacity expansion, debt reduction bodes well
- Maintaining margin despite volatile crude
- Valuations reasonable at 17 times FY20 estimated earnings
-------------------------------------------------
Stylam Industries, the Punjab-based laminate manufacturer, has been growing at a healthy clip. The company is expanding capacity and should start reaping the benefits of scale. The market is moving towards organised players and this should augur well for Stylam. The recent decline in crude prices should support future margins. At 17 times FY20 estimated earnings, the stock is trading at a steep discount to other listed plywoods and laminate manufacturers and looks ripe for accumulation from a long term perspective.
Healthy double-digit growth

Stylam operates in the building material space and is engaged in the manufacture of high pressure laminates for exterior cladding of furniture, cubicles and interior furnishing. The company has been a consistent performer over the past few years.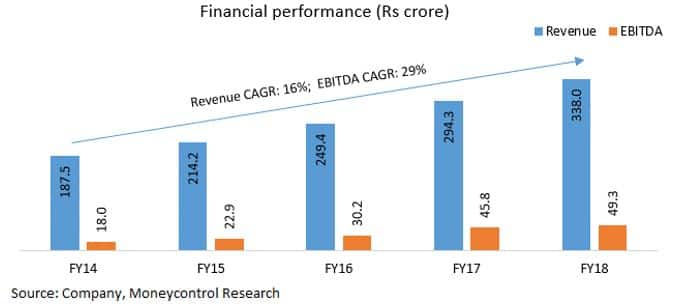 Between FY14 and FY18, revenue has grown at a compounded annual growth rate (CAGR) of 16 percent. While the company derives majority (over 65 percent) of its revenue from international markets, growth in topline has been driven by deeper penetration in the domestic laminates market. Operating leverage and cost efficiencies have aided margin expansion, thereby resulting in a nearly three-fold jump in earnings before interest, tax, depreciation and amortisation (EBITDA) over the same period.
Industry dynamics shifting in favour of organised players

The global market for laminates is currently pegged at Rs 50,000 crore and is growing at 5-6 percent per annum. On a regional basis, the US leads the market with a share of around 20 percent. In comparison, the Indian laminates market is nearly half the size of the US market and is estimated at Rs 5,000 crore. For India, exports contribute around Rs 1,000 crore, with the balance being met by domestic demand. The industry has traditionally remained largely unorganised, but the share of organised players has seen a gradual rise in recent years.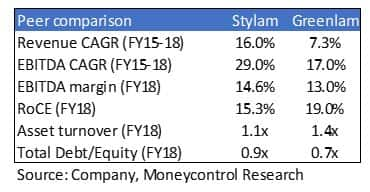 Greenlam Industries and Merino Laminates are two of the largest players in the domestic market. Both these companies have a large product portfolio and are nearly 3 times the size of Stylam in terms of total revenue. In terms of growth rates, it has outperformed its listed peer Greenlam owing to its small revenue base. Based on FY18 financials, Greenlam scores over Stylam on the operational front. However, parameters for the latter are expected to improve as the business attains economies of scale.
Capacity expansion to support earnings

The company has expanded its sheets capacity to 11 million (from 4.5 million) over the course of FY17-18. The new 6.5 million unit at Manak Tabra entailed an investment of Rs 75 crore, funded through a combination of debt and equity. Plant expansion was completed towards the end of last fiscal and full benefit of the same would start accruing from this fiscal.
It also plans to enhance its product finishing through installation of a hot coating line. The project is estimated to cost at Rs 20 crore and will turn operational in FY20. New capacities and enhancements would allow Stylam to broaden its product portfolio and fortify its presence in the domestic and international laminates market.
In December 2017, Stylam announced the amalgamation of Golden Chemtech with itself via equity dilution. Under Stylam, Golden Chemtech has discontinued production and sale of chemicals and will focus on manufacture of acrylic solid surfaces. Commercial production of the same is expected to commence in Q3 FY19 and the product will be sold under the Granex brand name.
Monetisation of land to deleverage balance sheet

Stylam has a land bank of around 5,500 square meters at Technology Park Panchkula in Haryana. The land was purchased in 2012-13 with an aim to diversify in the IT/BPO sector. However, the management wants to focus on core building materials business and intends to divest its land bank.
It expects to garner Rs 45-50 crore from the sale of this asset and plans to repay borrowings from the proceeds. Given the subdued real estate scenario, the transaction is unlikely to fructify in near term, but remains a key trigger for deleveraging the business in the medium term.
With the onset of capacity expansion, the debt reached peak levels of Rs 184 crore (debt-to-equity of 2.4 times) at the end of FY17. Capital infusion from private equity-firm Lighthouse and cash flow from operations has helped the company deleverage its balance sheet since then. At the end of Q2 FY19, it reduced its net debt to Rs 124 crore and improved its D/E ratio to 0.8 times.
Input costs linked to crude oil

Operating margin contracted in FY18 due to higher raw material cost. Stores, chemicals and packing expenses doubled from Rs 12 crore to Rs 21.4 crore last fiscal. The rise in input costs is linked to a jump in crude prices and rupee-dollar movements as imports constitute 70-75 percent of its total raw material cost.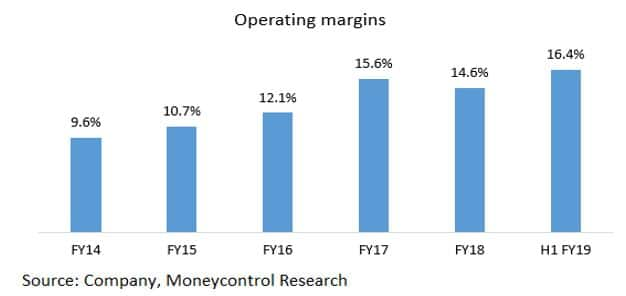 Stylam being a net exporter (earnings of Rs 206 crore versus import of Rs 112 crore in FY18) has a positive correlation with a weaker rupee, but margin has an inverse correlation with the movement in crude oil prices.
Recent financial performance encouraging

Stylam delivered a strong performance during the first half of this fiscal. Revenue in H1 increased 41 percent year-on-year to Rs 216 crore. Operating profit rose 55 percent over the same period on higher topline and expansion in operating margin. Performance has been aided by multiple factors including favourable base, capacity expansion and higher export realisations resulting from weaker rupee.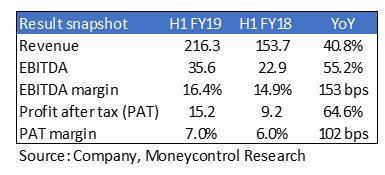 Outlook and recommendation
We remain optimistic on its long term prospects as Stylam has a proven execution track record. Incremental capacity would allow it to pick-up revenue share in the domestic as well as international market. Despite the surge in oil prices, operating margin expanded in H1 FY19. While oil prices continue to remain volatile, price hikes by domestic players should lend support to margin in coming quarters.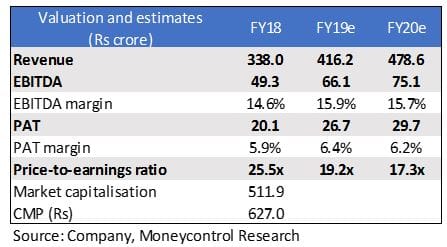 At 17 times FY20 estimated earnings, the stock is trading at a steep discount to other listed plywoods and laminate manufacturers. The stock has witnessed a correction of 30 percent from its 52-week highs and current valuations appears fairly reasonable for accumulation from a long term perspective.
For more research articles, visit our Moneycontrol Research page
First Published on Dec 10, 2018 01:26 pm