Highlights
:

- Store additions will be the key growth driver
- Margins are expected to remain range-bound
- A qualified institutional placement may be in the offing
- The stock remains expensive even after a price correction

--------------------------------------------------
Avenue Supermarts, the operator of D-Mart stores pan-India, saw a sharp jump in its Q4 revenue. However, its margins contracted noticeably.
While benefits of omnichannel -- a combination of online and offline retailing -- would help D-Mart gain market share, economies of scale would be a major margin driver in the long term. The stock's valuation remains heady as of now.
D-Mart operates 176 retail stores with an area of 5.9 million square feet in regions except eastern and north-eastern India. Its product portfolio spans food, grocery, home and personal care, bed and bath linen, luggage, footwear, apparel, kitchenware and toys.
Q4 FY19 analysis
Positives

Strong top-line growth was attributable mainly to store additions, 17.8 percent same-store sales growth and quick ramp-up of new stores (ones that were opened less than three years ago).
Negatives

Despite operating efficiencies, margins were flat primarily due to lower average selling prices.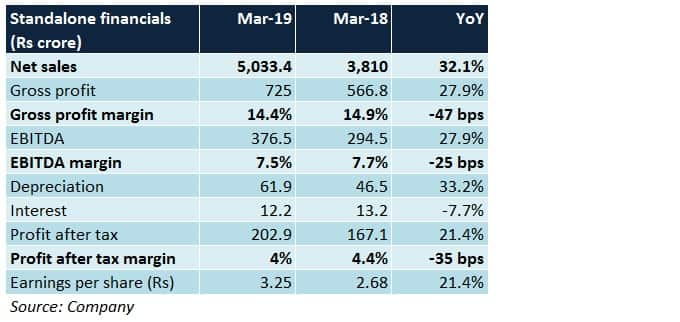 Observations
Network augmentation

To capture a bigger slice of its target markets, the management is investing in new stores in a cluster-based format to achieve cost efficiencies. At least 20-25 outlets are expected to be added each fiscal, most of which would be under the owned-store model to limit rental outflows. Subject to economic viability, in due course, the company may consider leasing properties as well.
Online traction

D-Mart Ready, the company's e-commerce application, allows buyers to place orders online. The products can be either delivered to the consumer's address or may be collected from a D-Mart pick-up point.
Presently, this service is available only in 40-50 locations in Mumbai. The plan is to rollout this facility in other metros in a phased manner as well. Over time, Tier II and III towns may also be looked at.
Like e-retailers such as Amazon and Flipkart, D-Mart Ready is likely to report losses for a few years due to continued investments in technology, promotions, inventory management and logistics.
Everyday low cost, everyday low price

In its endeavour to remain a value retailer, D-Mart will continue with this scheme to attract higher footfalls at its outlets. Though steep discounting and benign food inflation have forced D-Mart to reduce selling prices, wholesale sourcing and distribution efficiencies should help derive operating leverage going forward.
Fund raising

The board of directors is likely to raise Rs 1,500 crore through issuance of non-convertible debentures in the near future, subject to shareholders' approval. Further updates on this front are awaited.
Outlook

Though D-Mart's superior execution capabilities give it an edge over its peers, increasing competitive intensity from heavily-funded players like Reliance Retail, Big Bazaar and Amazon Pantry in smaller regions is a key risk.
The management has approved a plan to come out with a qualified institutional placement (QIP) to reduce the promoters' holding to 75 percent from 81.2 percent at present, in line with SEBI guidelines.
In this regard, 25 million shares are likely to be issued by D-Mart, which translates into proceeds of nearly Rs 3,200 crore. Though this should support expansion strategies, it will dilute earnings and make the stock look even more optically expensive in terms of price-to-earnings valuation.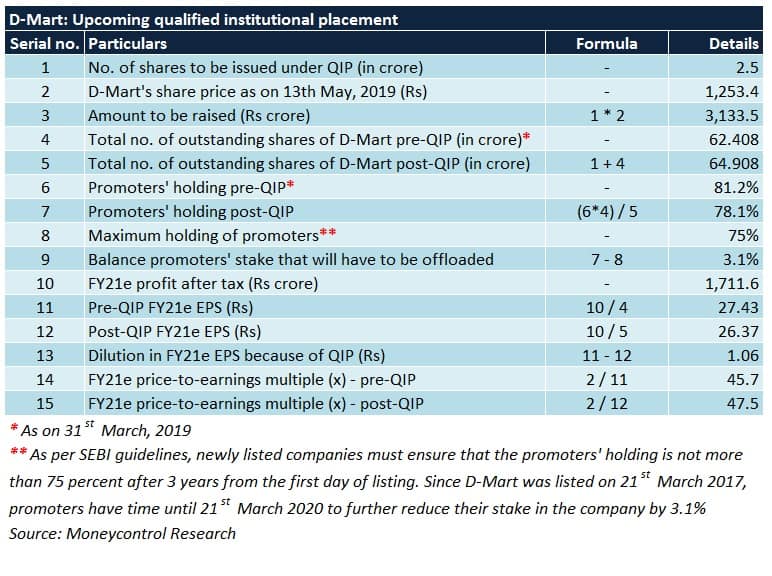 Moreover, the promoters would have to sell 3.1 percent stake through a block deal or an offer-for-sale in the secondary market. This will put downward pressure on the stock's price.
Moderation in margins, higher capex incurred per square feet and a slower pace of store additions than what was witnessed in the past may lead to an earnings slowdown.
Consequently, it may be difficult for the stock to sustain its superlative valuations -- 47.5 times FY21 estimated P/E -- after taking into account the post-QIP number of shares. Therefore, we advise investors to buy on corrections.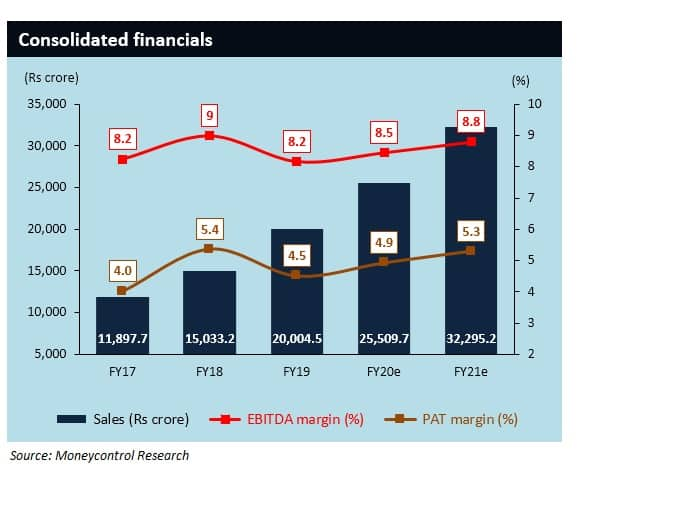 Follow @krishnakarwa152
For more research articles, visit our Moneycontrol Research page
Disclaimer: Moneycontrol Research analysts do not hold positions in the companies discussed here
First Published on May 14, 2019 12:24 pm