With several initiatives lined up for future growth, the outlook is positive
Rail freight transporter Concor reported decent earnings for the fourth quarter of FY18 with revenue growth of 2.1 percent year-on-year (YoY) to Rs 1,641 crores. The growth was driven by healthy volumes in the domestic segment which partially offset the weakness seen in the EXIM segment. The outlook for FY19 is encouraging and we recommend accumulating the stock.
Concor ended FY18 with a consolidated profit of Rs 1,070 crore, up 25.7 percent YoY, on sales of Rs 6,622 crore, a growth of 10.7 percent YoY. Employee expenses were significantly higher on Pay Commission-linked wage hikes. This may have an impact of 70-80 bps on a recurring basis.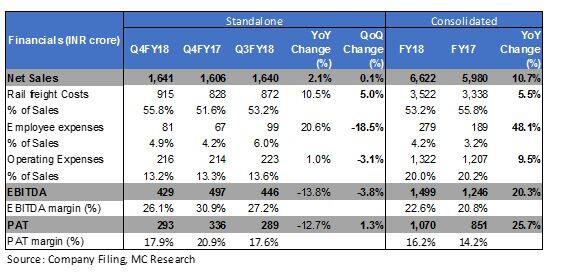 The domestic revenues for Q4 on a segmental basis grew 19 percent YoY to Rs 380 crore driven by a 14 percent growth in volumes. Despite a 20 percent YoY growth in EXIM volumes, lower realisations led revenues for the quarter to drop 4 percent sequentially to Rs 1,260 crores.
Revenue growth in the domestic segment coupled with operating efficiencies led to a sharp improvement in EBIT margin to 12.5 percent from 5.3 percent in the previous quarter.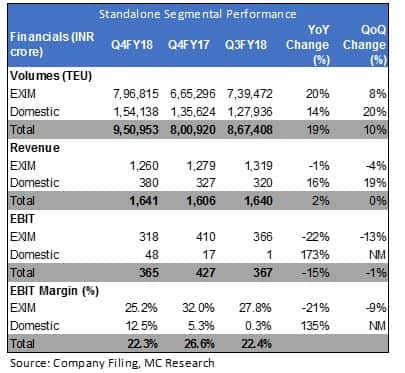 Overall, Concor's handling volumes grew 10 percent YoY for the year to 3.5mn TEU (Twenty-foot Equivalent Unit).
JNPT and Mundra ports contributed to a majority (~66 percent) of the business volumes. During FY18, JNPT accounted for 36 percent of business volumes while Mundra accounted for 30 percent. The balance 34 percent was from Pipavav, Chennai, Vizag and other smaller ports.
Concor plans a price increase of Rs 1,000/TEU in the EXIM segment from May 15 this year. This will help alleviate the pressure on realisations seen in Q4 FY18, and aid margins as it derives 75-80 percent of revenues from this segment.
Outlook & recommendation
With several initiatives lined up for future growth, the outlook is positive. Concor expects growth in domestic volume and sales to continue in FY19 as the persistent increase in diesel prices resulting in a shift of freight volumes to rail from road.
Concor's foray into coastal shipping with an exclusive business partner should also aid performance. It has started a trial run for Bangladesh EXIM container movement in Apr-18 and this could gain traction in the coming months.
The management has given a conservative volume and revenue growth guidance of 10-12 percent for FY19. Based on the guidance, we expect the net profit growth to be in the range of 15-18 percent driven by price hikes, cost rationalisation, market share improvement and economies of scale.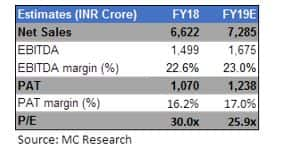 Concor (CMP - Rs 1,304, market cap – Rs 32,133 crore) currently trades at a trailing P/E multiple of 30x. Concor's market leadership position along with healthy balance sheet justifies its premium valuations. We expect it to be a steady performer over the next few years and recommend buying on dips for the long term.
First Published on May 2, 2018 05:16 pm