Subros has planned to set up the second manufacturing unit by H2 FY19 while the third plant is in the planning stage. These are expected to increase the capacity to 2.5 million units from the current 1.5 million units.
Highlights:

- Leadership position in passenger vehicle AC segment
- Strong clientele lends confidence
- Focus on new growth avenues: trucks, buses and home AC
- Encouraging past performance and attractive valuations

--------------------------------------------------
We like Subros, primarily due to its leadership position in the passenger vehicle (PV) air condition (AC) segment and focus on new opportunities in the truck, bus and home AC segments. This, coupled with strong financial performance and attractive valuations make it worth buying for long-term.
The business

Subros is a joint venture public limited company with 40 percent ownership by Suri family of India and 13 percent ownership by Denso Corporation & Suzuki Motor Corporation each. In technical collaboration with Denso, it is involved in manufacturing and supplying of thermal products for automotive applications in India and has the largest integrated manufacturing unit for auto air conditioning systems. Subros has manufacturing plants in Noida and Manesar (North), Pune and Sanand (West) and Chennai (south), with an annual capacity of 1.5 million units per annum.
Factors that work in favour of the company:
Leadership position – well-accepted products

Subros is a dominant player in the PV air condition market segment and has been expanding its market share. It expanded its share by 300 bps on year-on-year (YoY) basis in H1 FY19 to reach a market share of 42 percent. The gain in market share is, primarily, on the back of addition of new clients and new models from existing clients.
Strong clientele – earnings visibility

On the back of superior product quality and product innovation, Subros has been able to capture most of the business from Maruti Suzuki India (MSIL), the leader in PV segment in India. Subros supplies 70 percent of MSIL's AC requirement. In addition to MSIL, Subros has made inroads into original equipment manufacturers (OEMs) such as Tata Motors and M&M. it recently started supplying to M&M's new launch Marazzo and also caters to Tata Motors' hot selling models: Tiago and Nexon.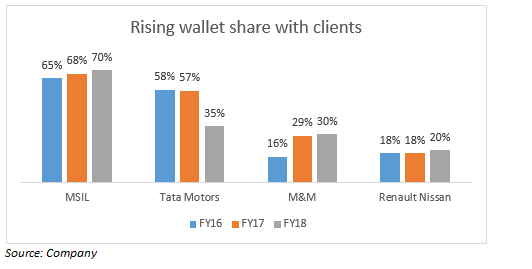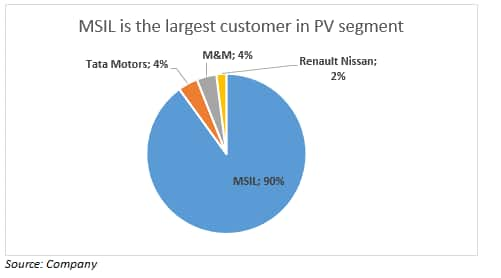 Capacity expansion – in tandem with MSIL's capacity plans

Subros has commenced production at its greenfield project at Sanand to supply ACs to MSIL's Baleno in Q4 FY17. In light of the demand it is expecting, Subros has planned to set up the second manufacturing unit by H2 FY19 while the third plant is in the planning stage. These are expected to increase the capacity to 2.5 million units from the current 1.5 million units.
Multiple new growth avenues

In search of new growth avenues and to diversify from PV AC segment, Subros has been making inroads into untapped areas such as trucks, buses, railways and home AC segments. This should propel revenue in the coming years.
In truck segment, AC/ blower in trucks' cabin has been made mandatory for N2 and N3 category of trucks (above 3.5 tonnes), which is expected to provide a huge surge in the demand for blowers/ ACs in trucks and would augur well for Subros.
The company has started focusing aggressively on this segment and has already captured 70 percent market share. It has received orders for supplying 2.4 lakh units to OEMs such as Ashok Leyland, Tata Motors, M&M and Swaraj Mazda Isuzu in the blower space and Daimler in the AC space.
Subros has also been focusing on AC bus segment. Though the demand is low in the segment, it is expected to grow fast in coming years on the back of transition towards comfort and readiness to pay.
Additionally, the company has ventured into the railway segment in FY14 and caters to driver cabin. It has a 77 percent market share in that segment. The company now targets to capture railway coaches and metro AC coaches as well.
In FY17, in order to leverage its technological prowess, the company had started making inroads in the home AC segment as well. It supplied 50,000 units of condensers to Whirlpool in FY17 and is looking to partner with other players as well.
Encouraging financial performance

Historically, Subros has delivered a strong financial performance. Its net revenue grew 13 percent compounded annually over FY14-FY18. Its earnings before interest, tax, depreciation and amortisation (EBITDA) margin averaged 11.3 percent over the same time period – a significant feat, indicating strong foothold it has in the market.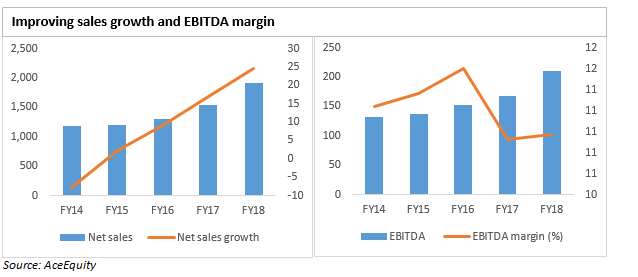 Enough resources to repay debt and capacity expansion

Subros had issued around 5.2 million equity share at Rs 400 per share on preferential basis to Denso (will increase holding to 20 percent) to raise Rs 200 crore. The company plans to use fresh funds to repay debt as well as for capacity expansion.
Valuation

Amid the volatility in mid/small cap stocks, the stock price of Subros has corrected 41 percent from its 52-week high, making the valuations very attractive. Currently, it is trading at 23 times and 18.9 times FY19 and FY20 projected earnings.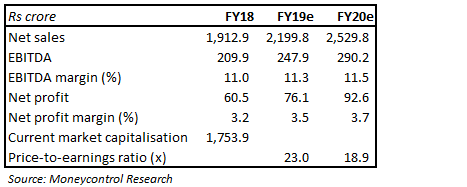 Moneycontrol Research page
.
First Published on Dec 13, 2018 04:25 pm