Despite sharp run up in stock prices, this valuation parameter suggests market is trading at a fair valuation at 78, according to a report by Motilal Oswal.

The S&P BSE Sensex which hit a record high of 32,000 in August has come under pressure amid rising geopolitical concerns, SEBI's crack down on shell companies, fall in economic growth as well as muted earnings growth for India Inc. in June quarter.
Amid macro and micro headwinds, this Warren Buffett indicator -- market cap to GDP ratio -- stands at 78 which is in line with long term averages so far in this financial year. Going by the momentum, it should cross long-term averages which suggest more upside for D-Street.
Despite sharp run-up in stock prices, this valuation parameter suggests market is trading at a fair valuation at 78, according to a report by Motilal Oswal.
"Among multiple valuation metrics used by the investor, one influential tool coined by ace investor Warren Buffet is Market Cap to GDP Ratio, which has proven its credibility over a timeline," Dinesh Rohira, Founder & CEO, 5nance.com told Moneycontrol.
"Of late, India's market capitalization has clocked an all-time-high of about USD 2 trillion (2 lakh crore) and currently India's M.Cap to GDP ratio is above 80 percent, which reflects the momentum that we witnessed earlier," he said.
An investor should implement this valuation parameter to determine whether the overall market is overvalued or undervalued in the particular economy regime against its overall output.
Ideally, a market is considered overvalued when Market Cap/GDP ratio is above 100 percent and undervalued if it is below 50 percent. But, investment decisions should not be based on this alone and investors should use other indicators to make the right call.
The most important factor, apart from market capitalisation, which determines this indicator is the GDP of the economy. Many economies trade at a MCap/GDP ratio of more than 100 which raises doubts on current valuations.
But, for India, as long as we are trading below 100, bulls have nothing to fear and the rally will continue. We saw a small blip in the momentum in the month of August, but any correction owing to geopolitical concerns should be used to buy quality stocks.
"Market cap to GDP is certainly an important indicator. As an economy develops the ratio also increases. Many developed markets have market cap/GDP ratio in excess of 100, but this doesn't signify market excesses," Dr. VK Vijayakumar, Chief Investment Strategist at Geojit Financial Services told Moneycontrol.
"Market exuberance is when PE multiples go much beyond historical averages. So, market cap to GDP ratio has to be seen along with other ratios," he said.
What does history tell us?
The anecdotal evidence suggests no big bang rally was seen when Mcap/GDP indicator moved below historical averages. The indicator is directly related to the performance of the market. The market gave a negative return in FY08, FY12, and FY16 when the Buffett indicator moved below historical averages.
There are two running parts to the Buffet Indicator. The denominator which keeps on going by up 6-7 percent every year due to the annual GDP growth rate. The Indian economy grew 5.7 percent in April-June quarter.
The numerator going up is a function of a rally in secondary stock prices and additional market cap getting added due to IPOs.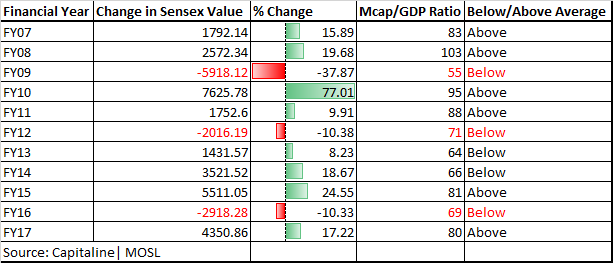 "Many developed countries have M Cap/GDP ratio of more than 100 and still, they are sustaining due to global rally (led by liquidity and fewer options of making money in the debt market). In case of India, we need to worry when the M.Cap/GDP ratio goes above 100," Rusmik Oza, Vice President at Kotak Securities told Moneycontrol.
"The steep correction in markets makes the ratio of MCap/GDP look poor. A closer look at the data suggests two things. 1) Steep market correction at regular intervals of ~2-3 years is a regular phenomenon, which reduces the numerator sharply at a time when the denominator keeps on increasing by ~6-7 percent annually.
2) Based on past data the MCap/GDP ratio has already corrected in FY16 so it should repeat after 2-3 years unless any geopolitical risk escalates into a real war like situation," he said.
He further added the lower MCap/GDP ratio in the past has been on three occasions when the cumulative past two year returns have been fabulous (in the range of 30-40 percent).
In FY09 there was Lehman Collapse and subsequent global financial crisis; FY12 was marked by multiple scams during and FY16 was due to base effect and disappointment of hopes that were built in immediately after the NDA government came to power, said Oza.
Liquidity, the main culprit:
The market momentum that we witnessed so far in the year 2017 was largely driven by the excess liquidity generated during demonetisation regime as well as foreign money chasing returns.
The foreign portfolio investors have poured in over Rs 40,000 crore in Indian equity markets so far in the year 2017 while domestic institutional investors have also poured in a similar amount in the same period.
"Market Cap to GDP ratio is very broad & all inclusive indicator and in that sense, it helps to assess if there is any Bubble formation in the market," Anita Gandhi, Whole Time Director at Arihant Capital Markets told Moneycontrol.
"Very high Market Cap to GDP is only warranted if there is going to be a big expansion in the GDP of the country. Otherwise, it indicates liquidity has dominated over fundamentals & growth potential," he said.
First Published on Sep 8, 2017 09:05 am