Many people invest in physical gold, but for new-age retail investors other ways to invest could be through gold finance companies, gold ETFs, sovereign gold bonds, etc.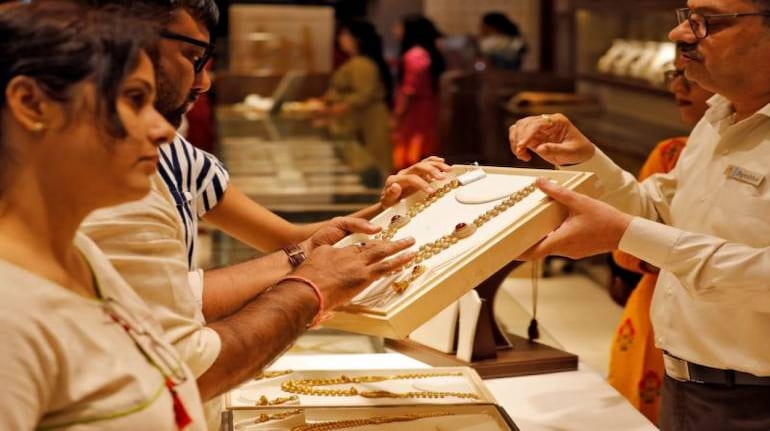 While equity market had a roller-coaster ride in 2020 so far, there was one asset class that glittered the most, and that is 'Gold'. Gold in rupee terms rose by nearly 30 percent compared to over 8 percent fall seen in Nifty year-to-date.
Gold has been consistent in delivering returns, especially in the last 2 years. If expert commentary is anything to go by, the momentum in the yellow metal could last for another 4-6 months. It might hit Rs 55,000 per 10 gm by Diwali, say experts.
India Gold surpassed Rs 52,000 per 10 gm mark during the week while International spot prices came closer to $2,000/ounce. The large part of the rally in 2020 could be attributed to the onset of COVID-19 pandemic, and in 2019, the US-China trade war worries fuelled the precious metal.
"Internationally, gold has rallied 22% in 2020 till date, while, domestically, it has rallied over 27% in 2020 till date.  The onset of the COVID-19 pandemic saw global economies slump due to the lockdowns imposed to curb the virus," Sriram Iyer, Senior Research Analyst at Reliance Securities told Moneycontrol.
"So to support their respective economies all the major central banks launched a stimulus package not seen since the U.S. financial crisis in 2008. Additionally, renewed tensions between the largest economies of the world also supported the safe-haven appeal of the commodity," he said.
Iyer further added that the economic activity globally will take its time to recover due to the second wave of COVID -19. "We see a U-shaped recovery rather than a V-shaped one. So prices could continue to move higher in the next 4-6 months' time frame," he said.
How can one play the theme?
Gold is an inherent part of life for Indian households and the pandemic has caused large destruction and devastation in the global economy, making investments in the safe haven more appealing.
Gold Finance companies:
One way to play the gold theme is by investing in Gold Finance companies. Muthoot Finance is up over 70 percent so far in 2020 while Manappuram Finance outperformed the benchmark index and is up over 1 percent in the same period.
"In today's environment where there is stress in the economy, many micro businessmen and households would resort to gold finance to tide over the difficult times. This coupled with higher prices benefits gold finance companies like Muthoot Finance and Malappuram Finance," Rusmik Oza, Executive Vice President, Head of Fundamental Research at Kotak Securities told Moneycontrol.
"Overall, gold imports in the country have contracted sharply which means jewellers are also not importing in a big way. After the sharp run-up in gold prices people would also postpone their buying thereby impacting demand for gold jewellery," he said.
Investing in gold ETFs (Exchange Traded Funds) (not so popular in India):
Prathamesh Mallya, AVP Research, Non-Agri Commodities & Currencies, Angel Broking Ltd. says that investors could resort to Gold ETF's but it does not enjoy much popularity in India. It is popular for international investors, hence this option is ruled out for Indian investors."Gold ETF or funds are also good options as one can buy in small units and get the benefit of averaging out however the expense ratio needs to be considered. Also, not all funds invest completely in physical gold so it is imperative to choose the right fund," Ravindra Rao, VP- Head Commodity Research at Kotak Securities told Moneycontrol.
Gold Accumulation Plans (GAP) (gaining momentum):
One can buy gold online via mobile wallets such as Paytm, Phonepe, and under the Gold Rush plan of Stock Holding Corporation of India. These gold buying options are offered either in association with MMTC-PAMP or SafeGold or both, says Mallya of Angel Broking Ltd.
New platforms are available to buy physical gold like through the Google pay app, Paytm and others, where one can buy gold and take delivery at a later date.
"Recently, we have witnessed that paper or electronic form has gathered momentum. However, Demat account is required for the electronic form. The advantage of the electronic form is the ease of transacting like a share on the stock exchange and retail investors could get access to the international benchmarks with good liquidity," says Iyer of Reliance Securities.
Buying/selling gold on futures/options platform:
Mallya of Angel Broking Ltd highlighted that this option is purely from a trade perspective, wherein one wants to trade in gold by keeping margins in their accounts and benefit out of the price volatility.
Investing in Sovereign Gold Bonds issued by the Government of India:
In a bid to turn gold into a productive asset in India, the government introduced Gold Monetization Scheme (GMS) on 5th November 2015 to help one earn interest on the unused gold lying idle in bank lockers.
"Sovereign gold bonds is a good investment avenue as it gives additional interest income however it is recommended for long term investors due to lock in period of minimum 5 years," says Rao of Kotak Securities.
What should investors do?
Gold has rallied by about 30 percent so far in 2020 and investors would think twice before putting in fresh money into the asset class.
But, the rally is not new. The yellow metal has been in an uptrend since the second half of 2018, suggest experts – the rally only intensified in 2020 given the virus concerns.
Investors holding the precious metal could remain invested while fresh money should be invested on dips, suggest experts.
"Gold has been on an up move since the second half of 2018. The rally intensified this year as the virus outbreak rattled global markets forcing central banks and governments to undertake unprecedented measures. This along with the strong ETF buying has pushed gold up by nearly 30% so far this year," says Rao of Kotak Securities.
"While the overall outlook is still positive, the rally seen this year is largely due to the pandemic. Investors who are already in the market might continue to hold until uncertainty subsides while fresh investors will have to wait for corrective dips or risk getting hit by sharp volatility," he said.
Gold and silver, have been really precious for investors in 2020 with returns of more around 28 percent (YTD) for both the metals respectively.
With the global output to contract and the economies in a deeper recession than most anticipate, gold as an asset class is a safe bet for investors across the globe.
"The global economy is already in a recession and the IMF views the current recession as the worst since the 1930s Great Depression, which saw global GDP shrink 10%, however, the $10 trillion in fiscal support and massive easing by central banks had so far prevented large-scale bankruptcies," highlights Mallya of Angel Broking Ltd.
"Rise in investment demand as evident in the iShares ETF trust wherein the holdings stands at record highs of 16379.08 tonnes also helps silver prices rally. We hope this momentum to continue in the months ahead and the rally might further extend towards Rs.55000/10 gms for gold (CMP: Rs.52500/10 gms and Rs.70000/kg for silver (CMP: Rs.65765/kg) till this Diwali," he said.
Disclaimer: The views and investment tips expressed by experts on Moneycontrol.com are their own and not those of the website or its management. Moneycontrol.com advises users to check with certified experts before taking any investment decisions.
First Published on Jul 31, 2020 11:45 am