Madhusudan Sarda in an interview to Moneycontrol Research's Shishir Asthana shares the recipe for his successful investment strategy.

"Both our operating and investment experience cause us to conclude that turnarounds seldom turn…and the same energies and talent are much better employed in a good business purchased at a fair price than in a poor business purchased at a bargain price."….Warren Buffett, Letters to Shareholders, 1979.
When the guru of value investing, Warren Buffett asks you to stay away from a type of investing, you pay heed. Unless you are the kind who does not believe in taking sermons at face value. That is exactly how Madhusudan Sarda is.
Sarda, the Executive Director of Vallum Capital, who has about 18 years of market experience under his belt, likes to test every thesis and hypothesis. A chemical engineer by qualification, Madhu, as he is commonly known, attributes this aspect of probing to his educational background.
Madhu has been dabbling in stocks from the age of 15 when he used to monitor his father's portfolio. He approaches investing like a businessman would before a joint venture. The obsession with a thorough due diligence before every investment also comes from the pressure of managing other people's money. This discipline, he says, can be attributed to the business background he has.
Madhu, currently co-manages a fund with Manish Bhandari at Vallum Capital. With their "Catch them young and ride them to their prime" strategy, the firm has, in its seven years in existence, grown clients' money at a compounded annual growth rate of 40 percent. To add the cherry on top, the growth excludes the firm's commission on trades. In fact, in the calendar year 2017 Vallum Capital gave a return of 68 percent excluding commissions.
Simply put, if Rs 1 lakh was invested with Vallum Capital on its inception, the investor would be sitting on around Rs 10.5 lakh now — a 10-fold increase in just seven years.
Madhu is a voracious reader and uses his free time to catch up on reading on latest developments in industry and technology to keep abreast with the fast-changing global economy.
Madhusudan Sarda in an interview to Moneycontrol Research's Shishir Asthana shares the recipe for his successful investment strategy.
Q: Madhu the first question I would like to pop up to you is Vallum Capital has a unique investment strategy, can you take us through your buying and selling decision-making process?
A. We look at businesses that are turning around, the ones that have had a difficult past. But the difficult past should not be for the company alone but for the entire sector. Their scenario will change only when external environment changes, either because of macroeconomic issues or on account of regulatory issues.
Take for example the steel sector which saw a change after the government put hurdles for importing cheap steel.
So our investment will only be after there is clarity on the external environment. We will have our list of companies where we would wait for a catalyst to trigger the investment call. Our hypothesis for the company that we are looking at would be that it would do better than the others because of its inherent competitive advantage.
Business turnarounds do not happen overnight, it takes time. This enables us to invest in companies with a substantial margin of safety. If times would have been good these shares would have been available at either fair price or at a premium. We prefer to pick up stock with sufficient margin of safety.
The key, however, is to bet on businesses within the sector that have a competitive advantage over others.
Q: Do you only invest in turnaround stocks.
A. These turnarounds are not regular occurrences. In a year there might be very few cases. But in the portfolio management service (PMS) structure that we operate in we have to buy when the client gives us money.
But at the time of initiation or our first buying around 80-90 percent of our investments have been in turnaround stocks. As we grew many of these companies became growth story which coincided with the money that came in our fund so they became growth stories for the subsequent investors. We continue to buy these businesses as we feel there is still enough steam left.
We do not tend to buy in a company where the investment timeframe is less than three years. If a turnaround is a cyclical small turnaround we would not look at it. Like agro commodities do not have a structural turnaround lasting for a longer time. We prefer to bet on structural turnarounds. Our time horizon for investing is minimum of three to five years. We prefer to have investors in our fund who also have a similar timeframe.
Q: Have there been cases where you thought that turnaround would take place and it did not.
A. Sure there has. In nearly 20 percent of the cases, it has happened. As Warren Buffett says turnarounds seldom turn, we are always worried about holding companies that fail to turn, that is our biggest fear.
Q: So when do you exit your investment, does it coincide with the turn in industry cycle?
A. Turn of the business cycle can be one of the reasons, but as a fund house, we have a risk management strategy in place. As a portfolio, we would not like to have a stock to weigh more than 15 percent of our fund. If it goes to 15 percent we may trim it down to 10 percent. We use this trimming to manage the portfolio risk.
We completely exit a stock only if we feel that the business has lost its competitive advantage.
Since our inception, we would have bought 60-65 stocks and would have sold around 25 stocks. The average holding period is three years and we intended to hold them for a few more year. As long as the company grows its profit by 15 percent year-on-year we are comfortable.
Q: Madhu you do not have a finance background can you walk you us through how you ventured into investing
A. I am a Chemical Engineer but do not have any formal educational qualification in finance. However, I now have 18 years of professional experience in finance.
I started looking at the share market from the age of 15. My father had a portfolio which I used to monitor during the early 1990s. I saw valuation shoot up and fall during this time.
My own baptism by fire in the market started from my engineering college days. I made mistakes but learned from them and moved forward. In those, I used to understand businesses and then invested without giving too much weight to financials. I tried to get information from various papers and magazines, especially industry magazine. A simple approach I used then was to monitor advertisement of companies. If a company increased the size of advertisement then there was some interesting happening in the company.
I got my first job in Atul Ltd but after a year realized I was not cut out to be in the manufacturing sector.  There is a big transition from being a science student to an engineer. I was a good engineer but an average science student. Engineers generally have an analytical mindset.
I then searched for a job in the financial markets and found one where I worked as an analyst and later headed the research team. We used to look for companies in the micro and small-cap space and looked for interesting businesses which had a competitive advantage but were out of favour. We followed a scuttlebutt approach to investing (see box below).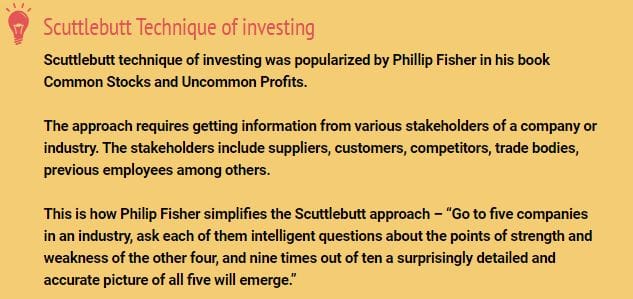 Q: In your scuttlebutt approach to investing can you describe the depth of your research?
A. Our analysis has changed its dimensions over the year. Earlier we used to do a third party reference check of the promoter from someone from the industry. Then we realized this is not enough and we need to check each and every aspect of the company's business.
We now check the company's customers, suppliers, its HR policies, compliance, government engagements, accounts, legal and some other aspect. We have a checklist which needs to be filled to the extent of 80-90 percent for each company. Earlier this checklist had 5-7 components, these have now increased to 15-20.
Since we generally hire interns it is normally difficult for them to get access to competitors and other stakeholders. But then we attend industry seminars, annual general meetings to get a viewpoint on the company.
We try to touch as many points in the ecosystem of the company as possible. The checklist keeps on growing as we learn from our mistakes. Before investing in any company we do the checks religiously and post investing we monitor it regularly.
In cases where we do not trust the accounts of the company, we call for a third party forensic check. Otherwise, we have internal systems to do forensic checks. For us, these tools decide the long-term quality of our investment.
Q: Going back to your early days, how did you invest in a company without using too many financial analysis tools.
A. I looked at every investment as a business opportunity. I would analyze the business by stripping through its cost sheet. I would get an idea of the contribution of fixed cost to the cost structure of a product. Variable cost is generally available with the industry. You then know the gross and operating margin of the product. To me, this is the minimum I should know about the company, without which I am not comfortable investing in it.
Q: So what changed in your analysis process when you became an analyst?
A. A number of tools were added to my arsenal. I would look at the quality of the balance sheet, more importantly, the stress in the balance sheet, the quality of receivables, the quality of payables among other things. I would check if a company has a history of pricing power during good as well as bad times.
As an analyst, I was focused on small and mid-cap companies. We were required to come out with a good idea every month. So between 2004-06, we might have come out with around 50-55 ideas some of which were at ridiculous valuations if ones look at it now.
Like we picked Mayur Uniquoters at Rs 30 crore market capitalization (current MCap is Rs 2,370 crore), Poly Medicure at Rs 50 crore MCap (Current Rs 2,300 crore) among many others. I picked up Atul Ltd at a Mcap of Rs 100 crore (current Rs 8,560 crore) since I had been an employee I understood the business well.
Q: And how did your progression from an analyst to a fund manager change the way you look at a company?
A. The biggest change is to look for companies that are substantial value compounders. It would thus require looking at companies beyond the operating matrix of the company and beyond its current financials.
Fund managers and investors have in India invested in many value stocks, but there have been very few value compounders. In a country like India with a population of 120 crores we have produced only 200 odd value compounders. There is enough scope to produce more either through innovation or creating brands. We have been a country of manufacturers.
So to cut the story short I would prefer to have companies that have graduated from operating efficiency based positive cash flow model to one that has created a brand and franchise of their own. But having said that I would still be happy to bet on a company with a solid operating efficiency model and walk with them in their journey to create a brand, their own franchise or their own customer base because of the value system they have created.
But in the last seven years of existence of Vallum Capital, we have not got an opportunity to invest in a company with branded franchises at a good value. So we have invested in companies which have good operating efficiencies and believe that if cash flows come these companies will be in a position to create a franchise and brand.
The downturn of 2008-2013 of these companies has thought them that operating efficiency has been a key to their sustainability and the future of their business depended on creating a brand or a franchise for their company, be it a product or a service or a business-to-business kind of business.
Q: Madhu, let's take an example over here for the benefit of our readers of one of your investment where this transition has taken place.
A. Let's look at a pharmaceutical company, Shilpa Medicare which I have tracked as an analyst when it had an MCap of Rs 200 crore to Rs 1,500 crore when we picked it up in our fund and currently is valued at around Rs 5,000 crore.
What I liked about Shilpa Medicare when I first researched it there were only two companies in the space it was operating in – oncology. The other player was Fresenius Kabi. Fresenius' India operation was a small part of the bigger company and the Indian arm was focused on only local operations. Shilpa Medicare, on the other hand, was developing molecules that would also reduce the price of the API (active pharmaceutical ingredient) and would be exported.
The cash flow from this high margin business was used by the company to add other APIs but in different therapeutic segments. The company also tied up with other global players for technology transfer to produce their APIs in India, a typical contract manufacturing model followed by many pharmaceutical companies.
Where Shilpa Medicare differentiated from others is that it added a formulation division to its business, created world-class plants to cater to the most developed markets and created a library of new molecules to launch through their ANDAs (Abbreviated New Drug Applications) filings.
Apart from these initiatives the company has invested money in start-ups that are focused on developing novel drug discovery systems (NDDS). It has acquired a company that is in bio-similar research and was on the verge of transitioning itself into manufacturing.
What we have here is a company that used its expertise in growing a single line of business into many diversified lines with each contributing to its future growth and cash flows for further opportunities.
Q: So what you have essentially captured is uniqueness in business, a good promoter, and good valuation to invest. Is this the model you follow in all your investments and what is the order of preference?
A. Yes, that's basically it. For us, we prefer companies with unique attributes, unique business or a product line. On promoters, we take a leap of faith initially but only after we do a thorough reference check and finally it is valuation which should give us a good margin of safety.
Q: Madhu turnaround is something that excites a lot of retail buyers, what would be your advice to them on how to approach this style of investing.
A.
I completely agree with Buffett's statement that turnarounds are seldom sustainable. So if these investors understand the business only then they should venture into turnaround investing. I have seen a lot of investors do very well in turnaround investments only because they belong to that business. Only when you have that kind of insight should you venture into this type of investing. Otherwise, investors should stick to growth companies.
First Published on Jan 20, 2018 01:28 pm