As long as Nifty trades above 10,300 levels on closing basis, bulls have nothing to fear.
The Nifty recouped losses from intraday lows to close just around its crucial 100-days exponential moving average (DEMA), which is placed around 10,410. On the daily candlestick charts, it made a 'Hammer' like the pattern.
A Hammer is a bullish reversal pattern. It consists of no upper shadow, a small body, and long lower shadow which suggests that bulls pushed the index towards its opening levels towards the close of the trade.
The long lower shadow of the Hammer signifies that it tested its support where demand was located and then bounced back. The Nifty tested its 5-DEMA placed around 10,372.
The index opened at 10,393 and rose to an intraday high of 10,420. It slipped to an intraday low of 10,336 before closing the day at 10410, down 15 points.
As long as Nifty trades above 10,300 levels on closing basis, bulls have nothing to fear. Hence, for all the long positions, traders should keep a trailing stop loss of 10,300.
"It was heartening to see Nifty50 recovering from day's low of 10336 levels before signing off the day with a Hammer kind of formation. This kind of price behaviour, especially after Tuesday's bull trap with an intraday flash crash which created brief panic among bulls, certainly augurs well for markets," Mazhar Mohammad, Chief Strategist – Technical Research & Trading Advisory, Chartviewindia.in, told Moneycontrol.
"The bounce back suggests that the Nifty50 can continue to remain range bound between 10490 – 10300 without much downsides in the near term. Meanwhile to retain bullish bias Nifty50 shall continue to sustain above 10300 levels on closing basis," he said
Mohammad further added that on a close above 10490 levels, bulls shall make one more attempt to resume their short-term upmove which shall eventually take the indices towards critical resistance point of 10630.
India VIX fell down marginally by 0.69 percent at 14.36. The volatility should decline below 13-13.50 to extend its recent bounce back move.
We have collated the top 15 data points to help you spot profitable trades:
Key support and resistance level for Nifty:
The Nifty closed at 10,410.9 on Wednesday. According to Pivot charts, the key support level is placed at 10,358.03, followed by 10,305.17. If the index starts to move higher, key resistance levels to watch out are 10,442.03 and 10,473.17.
Nifty Bank:
The Nifty Bank closed at 24,851.7 on Wednesday. The important Pivot level, which will act as crucial support for the index, is placed at 24,594.37, followed by 24,337.03. On the upside, key resistance levels are placed at 25,001.67, followed by 25,151.63.
Call Options data:
In open interest, 10,500 has seen most call writing at 44.98 lakh contracts. This could act as a crucial resistance level for the index in the March series. The second-highest build-up has taken place at 10,400, which has seen 40.90 lakh contracts, and 10,700 strike price, which has accumulated 39.09 lakh contracts.
Call writing was seen at the strike price of 10,400, which saw an addition of 9.56 lakh contracts.
Call unwinding was seen at the strike price 10,700, which shed 1.74 lakh contracts, followed by strike price of 10,200, which shed 1.19 lakh contracts, and 10,100, which shed 1.04 lakh contracts.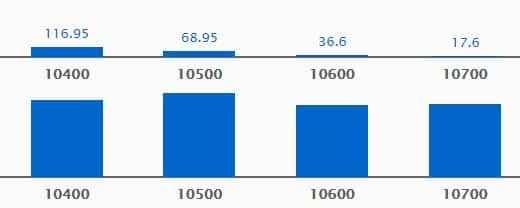 Put Options data:
Maximum put open interest of 49.39 lakh contracts was seen at strike price 10,000, which will act as a crucial base for the index in March series; followed by 10,400, which now holds 45.45 lakh contracts, and 10,200, which has now accumulated 38.18 lakh contracts.
Put writing was seen at the strike price of 10,100, which saw addition of 4.34 lakh contracts, along with 10,400, which added 1.42 lakh contracts, and 10,000, which added 60,000 contracts.
Put unwinding was seen at the strike price of 10,500, which shed 89,100 lakh contracts, followed by 10,300, which shed 76,265 lakh contracts and 11,000, which shed 45,825 lakh contracts.

FII & DII data:
Foreign institutional investors (FIIs) sold shares worth Rs 258.98 crore, while domestic institutional investors sold shares worth Rs 432.03 crore in the Indian equity market, as per provisional data available on the NSE.
Fund flow picture: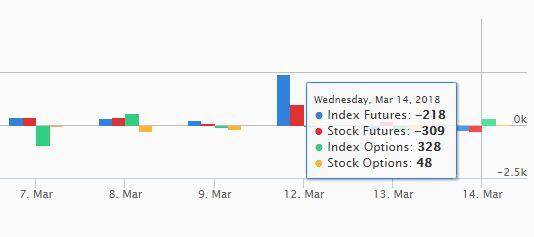 Stocks with high delivery percentage:
High delivery percentage suggests that investors are accepting delivery of the stock, which means that investors are bullish on it.

77 stocks saw long build-up: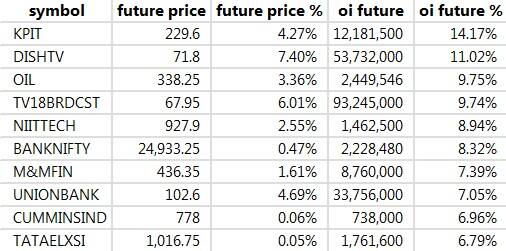 55 stocks saw short covering:
A decrease in open interest along with an increase in price mostly indicates short covering.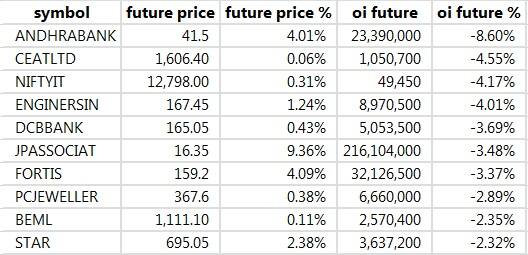 53 stocks saw short build-up:
An increase in open interest along with a decrease in price mostly indicates build-up of short positions.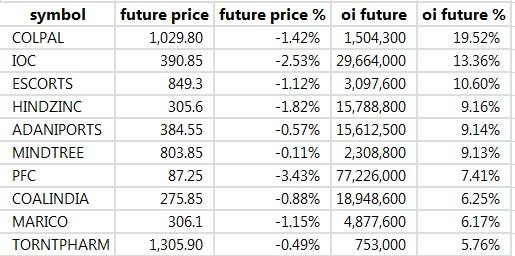 22 stocks saw long unwinding:
Long unwinding happens when there is a decrease in OI as well as in price.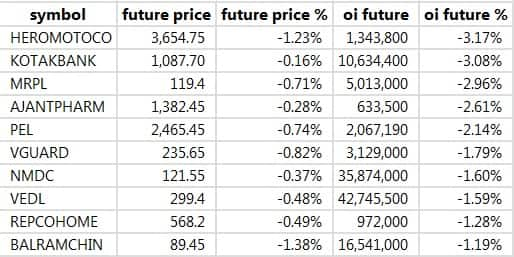 Insider Deals
The following data has been provided by Team Prime Database
Axis Bank: Rajiv Anand is said to have traded around 4 lakh shares at Rs 217.33 apiece.
PVR: Ajay Bijli has traded 52 lakh shares of the firm at Rs 1,319.66.
Alembic Pharma: Parent Alembic has traded around 5.54 crore shares at Rs 537.17 apiece.
Century Plyboards: Vishniprasad Khemani has traded 1.2 crore shares at Rs 328.12.
Bulk Deals:
Tata Consultancy Services Ltd: Tata Sons Limited sold 205,99,356 shares at Rs 2876.46 per share
GSS Infotech Limited: Real Marketing Pvt Ltd. sold 2,22,839 shares at Rs 52.39 per share
Inventure Gro & Sec Ltd: Jayneel Securities Private Limited bought 5,00,000 shares at Rs 22.98 per share
Jindal Cotex Ltd: LTS Investment Fund sold 11,50,000 shares at Rs 7.00 per share
Shyam Century Ferrous Ltd: Mahabir Prasad Agarwal & Sons (HUF) bought 40,00,000 shares at Rs 10.00 per share
(For more bulk deals click here)
Analyst or Board Meet/Briefings:
ACC-Ambuja Cement: The company made an investor presentation to analysts on March 13, 2018.
IndusInd Bank: Batlivala and Karani Securities India, Carnegie Folder, York Capital, Manulife AMC, Morgan Stanley, and MSD Partners met the bank on March 14, 2018.
Khadim India: Aditya Birla AMC, Lucky Investment Managers and Subhkam Ventures met the management on March 13, 2018.
Cipla: Enam AMC, Sunidhi Securities, DSP Merrill Lynch, Axis Cap, Stewart Investors, Arohi AMC, HSBC Securities, M&G Investment and Nirmal Bang Equities are meeting the management between March 15 and April 4, 2018.
Stocks in news:
Wipro: Company to divest hosted data center services business to Ensono for USD 405 million
Havells India: It has signed an Agreement With Hyundai Electric For Manufacturing Magnetic Contactors
Andhra Bank: The lender has kept 1-Year MCLR At 8.4 percent.
HDFC Life: Gave 31,65,606 options as ESOPs at Rs 10 face value.
Yes Bank: Malaysia based IHH is said to be eyeing the 17 percent stake it purchased in Fortis Healthcare.
Tata Teleservices to phase out CDMA service in Delhi from Mar 19
Bharti Airtel approves allotment of debentures to raise Rs 3,000 cr
Himadri Speciality to invest additional Rs 1,000 cr in Bengal
Jet Airways adds 144 new weekly flights this summer
Eight stocks under ban period on NSE
Security in ban period for the next day's trade under the F&O segment includes companies in which the security has crossed 95 percent of the market-wide position limit.
Securities which are banned for trading include names such as Andhra Bank, Balrampur Chini, Bank of India, BEML, DHFL, IDBI, JP Associates and TV18 Broadcast.
First Published on Mar 15, 2018 07:36 am