Investors who went long on the index should put a trailing stop loss below 10,300.
The Nifty, which started on a muted note on Thursday, failed to keep the momentum going and slipped below its crucial short-term moving averages, making a bearish candle on the charts.
The index broke below its crucial support, placed at around its 100-days exponential moving average (DEMA) of around 10410, 13-DEMA, and 5-DEMA.
However, last-hour buying kept the momentum in favour of the bulls, experts suggested, adding that investors who went long on the index should put a trailing stop loss below 10,300.
The index opened at 10,405 and rose marginally to hit its intraday high of 10,420, before bears took control. Selling pressure took the index to its intraday low of 10,346 and it ended the session 50 points lower at 10,360.
"Albeit Nifty registered a Bearish candle after moving in a range of 74 points before signing off the day near to its lowest point, its sluggishness of price behavior in last two sessions is suggesting that it is caught up in a consolidation phase in which both bulls and bears lack enough strength to push the indices in their favour for quite some time," Mazhar Mohammad, Chief Strategist – Technical Research & Trading Advisory, Chartviewindia.in
"However, the positive advance-decline ratio of last two sessions can tilt the tide in favour of bulls if 10300 levels on the downside is not breached on a closing basis as breakdown below this critical level may intensify selling pressure," he said.
Mohammad added that on the other hand, for momentum to swing in favour of the bulls, the Nifty needs to decisively close above 10,480. Meanwhile, traders are advised to remain focused on stock-specific opportunities till a directional move begins.
The India VIX fell by 0.22 percent during the session to 14.33. The IVX, which is an indicator of volatility in the market, should ideally decline below 13-13.50 for the Nifty to extend its recent rebound.
We have collated the top 16 data points to help you spot profitable trades:
Key support and resistance level for Nifty
The Nifty closed at 10,360.20 on Thursday. According to Pivot charts, the key support level is placed at 10,330.93, followed by 10,301.67. If the index starts moving upwards, key resistance levels to watch out are 10,404.73 and 10,449.27.
Nifty Bank
The Nifty Bank index closed at 24,791.8 on Thursday. The important Pivot level, which will act as crucial support for the index, is placed at 24,702.60, followed by 24,613.40. On the upside, key resistance levels are placed at 24,910.40, followed by 25,029.00.
Call Options data
In terms of open interest, the 10,500 call option has seen the most call writing so far at 51.13 lakh contracts. This could act as a crucial resistance level for the index in the March series.
The second-highest buildup has taken place in the 10,400 Call option, which has seen 43.23 lakh contracts getting written so far. The 10,700 Call option has accumulated 41.09 lakh contracts.
During the session, Call writing was most seen at the strike price of 10,500, which saw an addition of 6.14 lakh contracts, followed by 10,400, in which 2.32 lakh contracts were added, and 10,700, in which 2 lakh contracts were added.
There was hardly any Call unwinding seen.

Put Options data
Maximum open interest in put options was seen at a strike price of 10,000, in which 46.33 lakh contracts have been added till date. This will act as a crucial base for the index in the March series.
The 10,400 put option comes next, having added 41.44 lakh contracts so far, and the 10,200 put option, which has now accumulated 38.46 lakh contracts.
During the session, put writing was seen the most at a strike price of 9,800, with 1.28 lakh contracts being added.
Put unwinding was seen at a strike price of 10,400, in which 4.01 lakh contracts were shed, followed by 10,000, in which 3.06 lakh contracts were shed. The 10,300 put option saw 1.94 lakh contracts getting shed.

FII & DII data:
Foreign institutional investors (FIIs) sold shares worth Rs 705.4 crore, while domestic institutional investors bought shares worth Rs 256.45 crore in the Indian equity market, as per provisional data available on the NSE.
Fund flow picture:
Stocks with high delivery percentage:
High delivery percentage suggests that investors are accepting delivery of the stock, which means that investors are bullish on it.

81 stocks saw long build-up: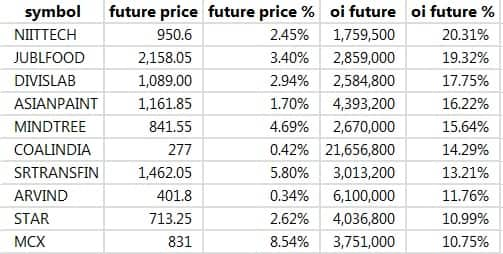 11 stocks saw short covering:
A decrease in open interest along with an increase in price mostly indicates short covering.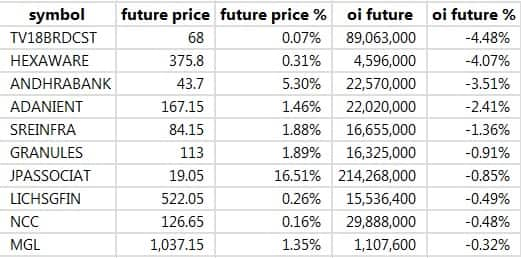 105 stocks saw short build-up:
An increase in open interest along with a decrease in price mostly indicates build-up of short positions.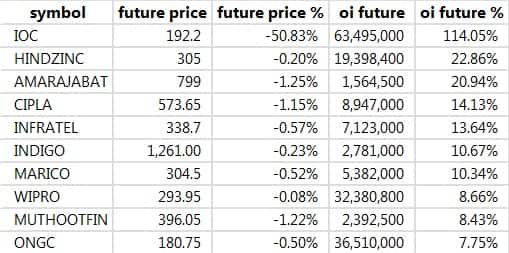 13 stocks saw long unwinding:
Long unwinding happens when there is a decrease in OI as well as in price.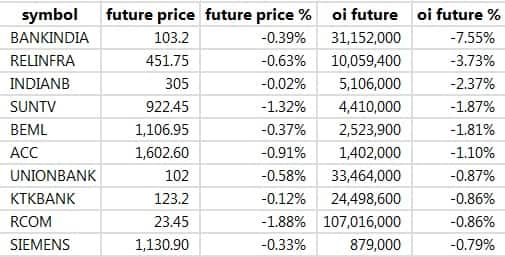 Insider Deals
Ashapura1 Intimates Fashion: Harshad Thakkar purchased 1.16 crore shares at Rs 464.3 apiece.
Axis Bank: V Srinivasan traded 11.8 lakh shares at Rs 248.20.
Chambal Fertilisers: Hindustan Times purchased 5.3 crore shares at Rs 153.
Bulk Deals:
Jaiprakash Associates: RARE Enterprises bought 3,00,00,000 shares at Rs 18.37 per share
Arvind Limited: Nordea 1 Sicav Emerging Stars Equity Fund N2221 LUA sold 24,74,695 shares at Rs 400.03 per share.
Jaypee Infratech: IndusInd Bank Ltd Client A/C sold 134,93,717 shares at Rs 10.12 per share
Milton Industries Limited: Beeline Broking Ltd sold 5,04,000 shares at Rs 22.09 per share
Shyam Century Ferrous Ltd: Brij Bhushan Agarwal bought 164,22,752 shares at Rs 10.85 per share while Shyam Metalics and Energy Limited sold 164,22,752 shares at Rs 10.85 per share.
(For more bulk deals click here)
Analyst or Board Meet/Briefings:
Biocon: Sumitomo AMC, Sumitomo Mitsui Trust, Griffin AMC, Tree Line Advisors, Ishana Capital, Turiya Advisors, Hamon AMC, among others met the management on March 15.
Stocks in news:
Ujjivan: The firm has allotted 63,956 shares under ESOP scheme.
Mindtree: Promoters Sell 4 lakh shares in open market from March 13-14
Jaypee Infra: Promoter Releases Pledge On 6 Cr Shares On March 13
SpiceJet: Will Shift 22 Domestic Flights In 7 Sectors From Delhi Airport's Terminal 1 To Terminal 2 From March 25
Aegis Global signs merger agreement with NYSE listed StarTek
Aurobindo Pharma gets USFDA nod for HIV drug, Abacavir Sulfate Solution
Dilip Buildcon: NHAI declares co as lowest bidder for hybrid annuity model project worth Rs 1,004 crore in MP
Five stocks under ban period on NSE
Security in ban period for the next day's trade under the F&O segment includes companies in which the security has crossed 95 percent of the market-wide position limit.
Securities which are banned for trading include names such as Balrampur Chini, Bank of India, BEML, DHFL, and TV18 Broadcast.
First Published on Mar 16, 2018 07:31 am