The broader market was the worst hit with the S&P BSE Smallcap index falling a little over 11 percent and the S&P BSE Midcap index saw a decline of a little over 10 percent in the same period.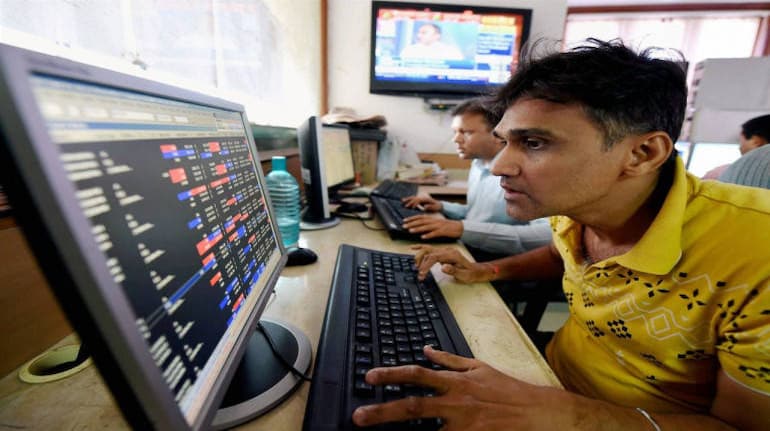 The Sensex might have lost just three percent in the quarter-ended March but nearly 400 stocks in the BSE 500 index slipped up to 62 percent in the same period.
Implementation of Long-Term Capital Gains Tax (LTCG) and banking woes domestically, coupled with global trade war fears, geopolitical tensions in West Asia, fall in global liquidity, Fed rate hike as well as rising crude oil prices weighed on sentiment.
Apart from global headwinds, aggressive political posturing by opposition parties, led by their victory in the UP bypolls, also added to the market worries, experts said.
The broader market was the worst hit with the BSE Smallcap index falling a little over 11 percent and the BSE Midcap index declining a little over 10 percent in the same period.
The larger fall was in individual stocks such as JBF Industries (down 62%), followed by Vakrangee (down 47%), Kwality (down 46%), Hindustan Construction Company (down 45%), Punjab National Bank (down 44%), Unitech (down 42%) and Bank of India (down 39%).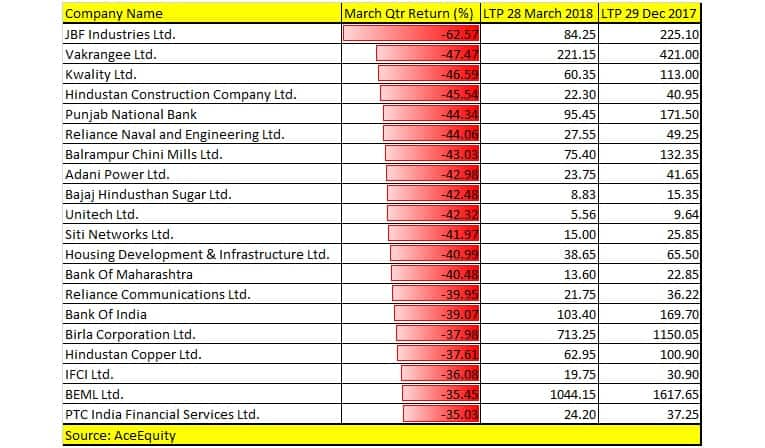 Sanjay Kumar, CIO, PNB MetLife, said the equity market has been in consolidation mode over the last couple of months due to global as well as domestic cues. "The Nifty has declined by about four percent in Q1 of 2018, in-line with the emerging market pack, amid lingering domestic and global uncertainty. We expect markets to remain rangebound in the near-term," he stated.
Going forward, he sees headwinds in the form of monetary policy normalisation by global central banks, particularly the US Fed, increasing fears of a global trade war and consequent risk-off sentiment, triggering potential foreign capital outflows.
However, not everything can be attributed to global factors.
For example, JBF Industries has been in a downtrend since February after it reported its earnings for the quarter-ended December. For the first nine months (April-December) of FY18, it posted a net loss of Rs 43.7 crore as compared to a net profit Rs 24.5 crore during the same period last year. The company, which produces polyester-based products, posted a net loss of Rs 16.3 crore in Q3FY18 against a net profit of Rs 3.5 crore year-on year.
On the other hand, shares of Vakrangee have been under pressure in 2018 after a media report suggested back in February that the company was being probed by market regulator Sebi for possible price manipulation. The company plans to create India's largest last-mile retail points-of-sale network. It also want to potentially enable every Indian to seamlessly benefit from the government's financial inclusion plan. The management said in a written response that it has not received any communication either from the stock exchanges or Sebi. Despite this the stock continues to languish.
March quarter gainers:
Though the BSE 500 was dominated largely by bears in the March quarter, nearly 100 stocks rose up to 39 percent compared to a three percent fall in the Sensex.
Stocks which managed to beat the benchmark index include Venky's India, HEG, NIIT Technologies, Jubilant FoodWorks, Firstsource Solutions, V-Mart Retail, MindTree, Tech Mahindra and IDBI Bank.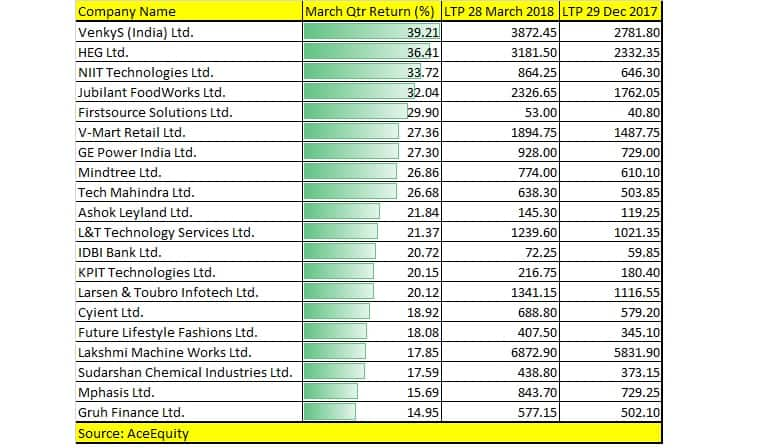 The good news supporting the markets is that the micros have turned positive with clear signs of healthy growth in Q3 corporate earnings, market watchers said.
"Market participants are eagerly awaiting Q4 and FY18 results to further reaffirm the improving trend in earnings growth. Consensus earnings estimates are factoring in an over 20 percent annual growth rate in Sensex earnings over FY18 to FY20," Sharekhan said in a research note. "Though the revision in earnings of some banks and other adjustments could lead to some downward revision in estimates going forward, the healthy growth in earnings would definitely support equity markets," it added.
First Published on Apr 17, 2018 08:38 am