The last two years of consolidation in the Small & midcap indices and double-digit fall was seen in the majority of stocks in the broader market space opens up the possibility of a breakout year.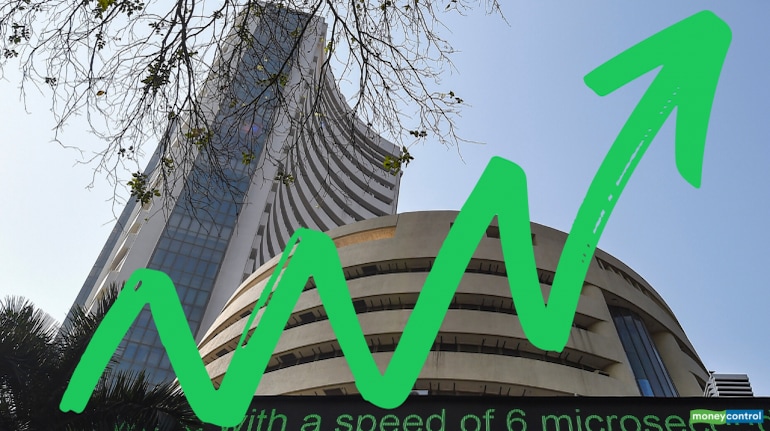 The tide appears to be slowly turning in favour of second-line stocks; more for small caps than midcaps, at this point. After a disastrous 2018 and not a very different 2019, investors are now warming to up to the idea of looking beyond the top 50 stocks. Fund managers and brokers are saying that 2020 could well be the year of mid and small caps as the economy is showing signs of bottoming out.
Over the last one, two and three months, the BSE Smallcap index has been consistently outperforming the BSE Sensex. The BSE Midcap index has performed in line with the Sensex during this period, but this is in stark contrast to the trend for much for the last two years when midcap stocks were getting pummeled.
A combination of technical and fundamental factors had contributed to second-line stocks going from being stock market darlings to fallen angels. The scam at IL&FS choked funding by mutual funds to non-banking finance companies. Besides triggering a massive sell-off in NBFC stocks which then spread to the rest of the market, it also cut off the money supply to bulge bracket traders who took big bets on borrowed funds.
SEBI's decision asking mutual funds to classify the holdings of their schemes as large, mid and smallcap stocks, aggravated the sell-off as fund houses rationalised their schemes to comply with the directive. A slowing economy, interest rates remaining high despite RBI cutting rates and a string of corporate bond defaults all accelerated the flight to safety with investors preferring to pay high prices for top tier companies and ignoring second-line stocks altogether.
All this has led to a situation where largecaps have gotten expensive to the point that near to medium-term returns are likely to be muted, even if these companies report strong earnings growth.
"We also believe that few large-cap stocks are trading at unreasonably high valuations and it is not possible for them to continue to trade at these valuations and correction of 10-15 percent is inevitable in large-caps. It is a time for the retail investor to build a portfolio of quality midcaps and smallcaps as we expect a good run in midcaps and smallcaps," Atish Matlawala, Sr Analyst, SSJ Finance & Securities told Moneycontrol.
It is a view echoed by other experts as well.
"Investors are realizing that upside in largecap stocks is limited from these levels," Gaurav Garg, Head of Research at CapitalVia Global Research Limited- Investment Advisor told Moneycontrol.
"Smart money is slowly shifty to the mid and smallcap names," he said.
Yet, even if this trend sustains, the rally in the broader market is unlikely to be of the kind witnessed in 2016 and 2017.
Data from ICICIdirect showed that the performance of individual midcap, smallcap stocks were skewed by ~33 stocks outperforming the index and ~56 stocks underperforming in the past three years. "However, we observed that almost all large outperformance was mainly driven by strong fundamentals and robust growth in earnings," it said.
"We believe the interest would sustain for broader markets given the valuation comfort at these levels," Ajit Mishra, VP – Research, Religare Broking Ltd told Moneycontrol.
"However, we do not expect the rally to be broad-based and only stocks with strong corporate governance and sound fundamental track record would attract interest from HNIs," he said.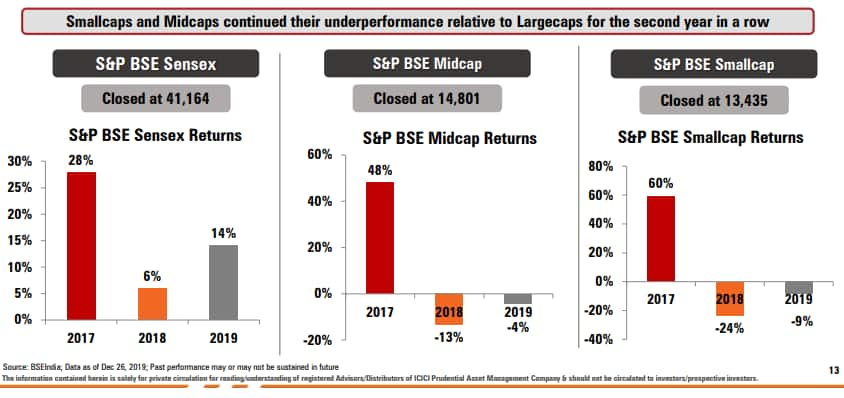 Govt Spending to boost growth:
History suggests pre-Budget rallies have not been kind to second-line stocks. Small & Midcap indices have closed in the red, one month prior to the Budget in at least 3 out of 4 months.
But, after 18-24 months of consolidation, many experts are factoring economic recovery which could fuel buying momentum in the broader markets which are likely to benefit the most.
Small and midcap stocks have started to rally as the better ones among them look enticing at the low valuations given the hope of economic turnaround over the next 2 quarters, suggest experts.
"A Budget which assures growth resumption while not going overboard in terms of fiscal estimates could bring more stability and momentum to the equity markets. This could bring more retail and HNI investors into the markets," Deepak Jasani, Head of Retail Research, HDFC Securities told Moneycontrol.
"HNIs are also coming back to the markets in a gradual way in the face of a host of uncertainties faced by the markets in terms of Budget, geopolitics, fiscal situation, etc.," he said.
Valuation:
"Over the last 1 year, PE for Nifty has increased from 26x to 29x. However, for midcaps it has reduced from 42x to 25x and for Smallcap from 56x to 23 times. Thus large-cap has become expensive and Mid and Small caps are getting cheaper," said Matlawala.
"Many midcaps with good corporate governance and good prospects have corrected 50-60 percent from their highs and hence presents a good buying opportunity," he said.
Matlawala further added that HNIs are using this opportunity to buy quality midcaps as they believe largecaps have had a good run over the last 1 year and are due for a correction.
Retail Participation:
A large part of participation from the retail investors happens via mutual funds. The mutual fund industry saw its highest ever monthly inflows through systematic investment plans or SIPs in the month of December.
"The retail participation in the market has picked up in the last month or so if one were to go by the increase in SIP inflows into equity mutual funds," Ajit Mishra, VP – Research, Religare Broking Ltd told Moneycontrol.
"We believe the attractive valuation of broader markets and hopes of investor-friendly sops and reforms in the budget 2020, is leading the increase in retail investor participation," he said.
According to the data on the Association of Mutual Funds in India, the MF industry registered total SIP inflows of Rs 8,518.47 crore in December, a growth of 3 percent over November and a six percent growth year-on-year.
Retail investors who went overweight in small & midcap stocks in 2017 learned that a fall is inevitable after every steep rise, and the portfolios are more balanced in 2019.
But, if someone is looking for wealth creation then mix if good small & midcaps could well juice up returns in a short span of time.
Global Markets:
ICICIDirect in a report said that the Nifty Midcap index is at the cusp of a breakout from a well-defined falling channel encompassing past two years price action, which will be a classic bull market signal.
Investors should align/construct their long term portfolios to benefit from changing market dynamics with incremental weightage on quality midcaps, they say.
The report further added that the Indian midcaps enjoy consistent positive correlation with global peers, with the latter being a lead indicator.
Global equity markets have posted their best year since the aftermath of the financial crisis a decade ago as investors appear unconcerned about US-China trade tensions and warnings of slowing growth in major economies.
As US and European midcap indices are touching new life-time highs after two-year hibernation, empirical evidence favours Indian midcaps following in their footprint, it said.
Disclaimer: The views and investment tips expressed by investment experts on moneycontrol.com are their own and not those of the website or its management. Moneycontrol.com advises users to check with certified experts before taking any investment decisions.
First Published on Jan 12, 2020 08:54 pm