In conclusion, it would be great if the market presented a correction to buy into stocks but if not, rather than wait.

The Indian market climbed a wall of worries and rose by about 19 percent which pushed benchmark indices to record highs in a matter of just 7 months. Hence, analysts termed it as one of the hated bull runs ever because very few people participated.
But, that's not all true. Yes, Indian markets rallied in a matter of months but that was on the back of some solid reforms from the Modi-led government, good macros, stable currency and economic growth, which still remains above its peers and developed market economies.
Solid macroeconomic fundamentals attracted a lot of foreign investors' interest towards India and gush of domestic liquidity helped mutual funds clock assets under management (AUMs) of over Rs 20 lakh crore, the highest ever.
Hence, it will be unfair to say that it is one of the hated bull markets but it is possibly cleanest bull markets ever in India, say, experts. The liquidity driven rally not just pushed prices of midcaps where there was growth comfort but even quality stocks didn't disappoint investors as well.
"This is possibly the cleanest bull market ever in India," That is the word coming in from renowned economist and investor, Ruchir Sharma. Speaking to CNBC-TV18's Shereen Bhan in an exclusive chat he says that quality stocks have worked like never before.
The most remarkable feature I find of this bull market is that this has possibly been the cleanest bull market in India's history, he said.
I have been tracking this now for over 25 years and typically when you get a bull market in India, a lot of low-quality companies do very well and yet what we find in this bull market is that quality has worked like never before and that is a major break from the past, he added.
Analysts have been advising investors to gradually buy into quality stocks. A bull market top may be created at any point in the future looking at the carnage happened last week when Indian markets saw a cut of 3.5 percent.
If quality stocks, especially of companies with secular growth dynamics and strong balance sheet, are bought at peaks; they will not only protect capital but deliver inflation beating returns in the long run post bull markets, suggest experts.
A list of top 20 stocks emerged as winners from the immediately preceding bull market top of 10th January 2008 to the present day and the results reiterate that quality companies bought at highs deliver decent returns.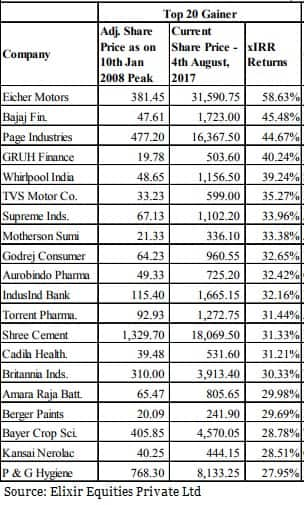 Blue-chip names in private sector banking / NBFCs and consumer oriented sectors such as automobiles (including ancillaries), FMCG and paint companies delivered the best returns in bear markets and the next bull market which followed.
On the other hand, weak or highly leveraged companies with doubtful corporate governance standards witnessed significant impairment of value.
"The common thread amongst the winning stocks, be it Eicher Motors or IndusInd Bank or even a commodity stock like Shree Cement was that their business was robust, strong and capable of generating earnings growth on a consistent basis," Dipan Mehta, Member, BSE & NSE told Moneycontrol.
"The losers were counters which were hyped during the preceding bull market and management misled investors with their grand plans which never materialized," he said.
In conclusion, it would be great if the market presented a correction to buy into stocks but if not, rather than wait. Mehta advises investors to buy into high-quality blue-chip companies with a long-term view.
"Even if the market turns and a bull market top is created, these companies will protect capital and deliver a decent return over the next few years," he said.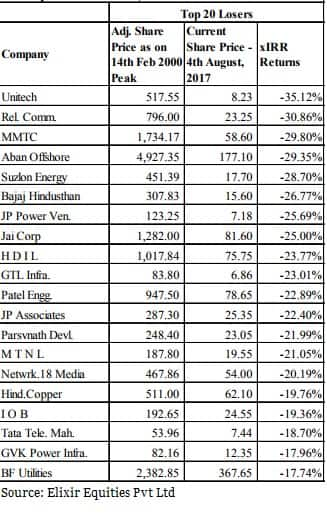 First Published on Aug 14, 2017 10:33 am