Experts say going ahead auto, pharma and chemicals sector look attractive. Analysts name 20 stocks that have a potential to outperform in August. These include Wockhardt, PI Industries and Rallis India
Indian market rallied by over 7 percent in July pushing benchmark indices above crucial resistance levels. Sensex reclaimed 38,000, while Nifty had a touch-and-go moment with 11,300 levels during the month.
Tracking the momentum, select small & mid-cap stocks dominated the price action on D-Street. As many as 73 stocks in the S&P BSE 500 index hit fresh 52-week highs in July, and 50 of them rose 10-80 percent during the month.
Strong price action in select stocks makes you wonder what is driving the prices higher. Well, experts are of the view that investors should focus on specific sectors and leaders among those sectors could help them catch winners.
Stocks which hit fresh 52-week high include Cadila Healthcare, Ipca Laboratories, Ambuja Cements, Bharat Dynamics, Info Edge, Muthoot Finance and Laurus Labs.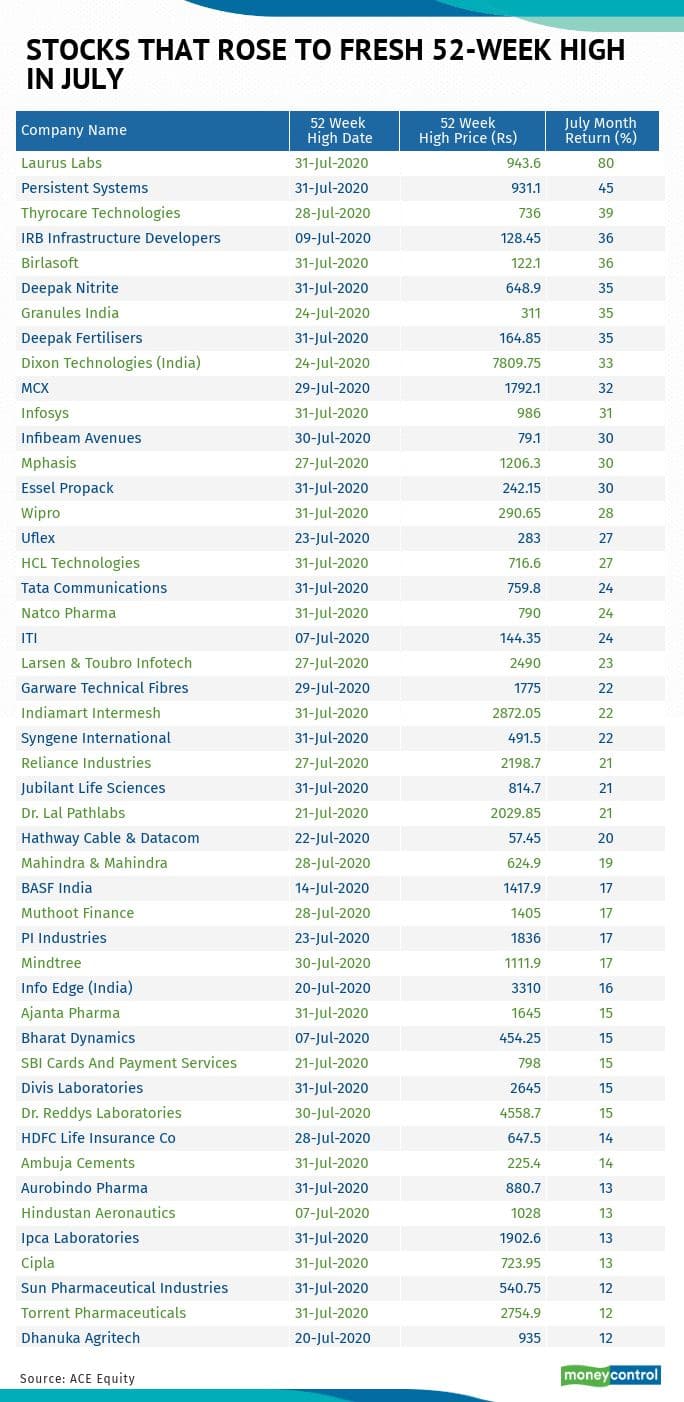 The rally in small & midcaps is likely to continue, suggest experts, and investors could selectively take a call on specific names on a dip.
"Practically speaking, in pre-COVID time, we were observing a strong divergence between the benchmark index Nifty and the small/ midcap indices for more than a year," Sameet Chavan, Chief Analyst Technical, and Derivatives at Angel Broking Ltd told Moneycontrol.
"Post the coronavirus outbreak in March, we witnessed a massive fall in heavyweight counter to bring them to equilibrium and with this, the divergence between the benchmark and small/midcap spaces narrowed down drastically," he said.
Chavan further added that with markets recovering in the last three months, a lot of individual themes played out and in the midst of all, lot of small and midcap stocks attracted buyers' attention, leading to a colossal rally in few quality smaller names.
Experts are of the view that healthcare especially pharma stocks which have been witnessing some consolidation in the 2-3 months' consolidation are now ready for a big rally.
Under the healthcare/pharma/API theme, there are many stocks that hit fresh 52-week high which include names like Laurus Labs, Thyrocare Technologies, Natco Pharma, Syngene International, Dr. Lal Pathlabs, Ajanta Pharma, Divis Laboratories and Dr. Reddy's Laboratories, etc. among others.
"Despite Donald Trump's orders to restrict the pricing power in generics, pharma stocks did not correct significantly. In fact they bounced back shortly thereafter. This shows the resilience and positive sentiment in the pharma sector. The results too portray some sound operating efficiency despite the dip in toplines," Umesh Mehta, Head of Research, Samco Group told Moneycontrol.
Another theme that has got the attention of investors is the IT pack. Most of the stocks in the technology sector touched fresh 52-week high that includes names like Persistent Systems, Thyrocare Technologies, Infosys, Wipro, HCL Technologies, L&T Infotech, MindTree and TCS, etc. among others.
The recent outperformance in IT stocks has been driven by the better than expected Q1 results and positive management commentary regarding demand going forward.
Except for some minor disappointments, most of the companies have posted better than expected set of numbers for the quarter led by Infosys, suggest experts.
"Large IT companies like Infosys, TCS and HCL Tech too have provided positive commentary on demand and growth going forward. Given improving demand outlook and strong revenue visibility we expect the IT will continue to do outperform the markets in the near term," Jyoti Roy, DVP Equity Strategist, Angel Broking Ltd told Moneycontrol.
"However, post the rally we believe that investors will need to be a bit more circumspect and take a bottom s up approach in the sector. In the large cap space HCL tech is our top picks given the company's exposure to the Infrastructure management space which is expected to benefit from greater adoption of Hybrid cloud," he said.
Roy further added that in the mid-cap space Persistent Systems is are our top picks given attractive valuations and high exposure to the Hi-Tech vertical which is the least impacted due to the COVID-19 outbreak.
Stocks that have a potential to outperform in August–
Gaurav Garg, Head of Research at CapitalVia Global Research Limited
Investment Advisor shortlisted three stocks that could outperform in August as well.
This stock gave a trend line breakout in its weekly charts and seems bullish for the month of August. Also, the pharma sector is expected to remain positive for the month. Therefore, this stock is expected to continue its rally if it holds above 280.
ICICI Lombard General Insurance:
This stock is trading above its important moving averages. It has also formed an insider bar pattern in its weekly charts and has a support level placed at 1280. The overall trend of this stock is bullish and thus is expected to remain positive above 1350.
This stock has given a consolidation level breakout in its weekly charts and is trading above its important moving averages. After trading on a positive note for two consecutive months, this stock is expected to continue its rally above 980.
Expert: Viral Chheda, Analyst, SSJ Finance & Securities.
In the month of July, we have seen broad-based rally in the market. This makes us believe that the worst is over for the markets. Indices are likely to consolidate in a range before making a fresh up move.
More than half the stocks in the list belong to either the pharma sector or chemical sector. We also believe that these 2 sectors have the potential to deliver good returns over the next 3-5 years.
Few stocks we like are Aarti Drugs, Alkyl Amines, Balaji Amines, Deepak Nitrite, Dixon Technologies, JB Chemicals, PI Industries and Rallis India as these have strong fundamentals and good growth prospects. Some of these companies will also be benefitted from countries looking for alternatives to China.
Expert: Ajit Mishra, VP Research, Religare Broking
The auto stocks ,especially the tractor, 2-wheelers and PVs, have the potential to continue their winning run as the monsoon continues to remain normal and agriculture activity has also improved.
Within the broader market space, we would prefer investing in selective stocks such as Alembic Pharma, Coromandel, Escorts, Gujarat gas, PI Industries, Rallis, Tata consumers, Bayer, ICICI securities, Bayer Crop Science and Biocon as these stocks have decent financials, strong long term growth prospects and prudent management.
Also, sectors in which they are present have too shown resilient growth during lockdown due to high demand. Investors willing to invest for 1-2 years can accumulate them in a staggered manner.
Disclaimer: The views and investment tips expressed by experts on Moneycontrol.com are their own and not those of the website or its management. Moneycontrol.com advises users to check with certified experts before taking any investment decisions.
First Published on Aug 5, 2020 10:19 am