For the current bull phase, stocks which gave over 100 percent return include names like Bajaj Finance, Bajaj Finserv, Vedanta, Titan Company, and Maruti Suzuki.
It seems the football world cups' 'champions curse' holds true on D-Street as well. Anecdotal evidence suggests that leaders of previous bull markets usually struggle in the post-bull market stage.
A note by Kotak draws parallels between the football world cup and the D-Street which have one common similarity – inconsistency. The inglorious exit of defending champions in the first round of the last six football world cups has some remarkable parallels in the Indian stock market and perhaps life, Kotak Institutional Equities said in a note.
The leaders of a bull cycle usually struggle over the next few years. However, 'champion' stocks like champion football teams usually make a comeback. On the other hand, owners of 'expensive' stocks may want to keep football history in mind.
Defending champions have a history of crashing out of the tournament in the first round (France - 2002, Italy - 2010, Spain - 2014 and Germany - 2018).
France (winners in 1998) exited in the group stage (first round) of the 2002 championship, Italy (winners in 2006) was eliminated in the group stage of 2010 championship, Spain (winners in 2010) suffered the same fate in the 2014 championship and Germany (winners in 2014) had a similar disappointing exit in 2018.
If we look at the performance of stocks, the names that do well in the previous bull market usually struggle for some time after the rally, but are capable of making a comeback. Infosys was the biggest contributor (up over 2000 percent) to the 1998-99 bull market, performed poorly until 2004 and periodically after that.
Similarly, RIL, the biggest contributor to the 2005-07 bull market (gaining over 1000 percent), struggled over 2008-16 but has been a strong performer over the past 1.5 years.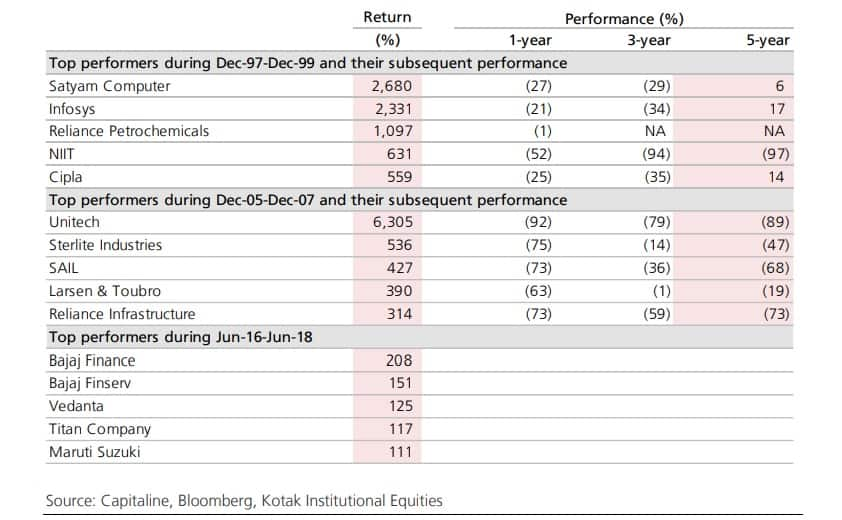 In the bull run from December 2005 to 2007, Unitech rose over 6000 percent but failed to deliver returns in the subsequent 1-year, 3-year and 5-year periods. Similarly, Sterlite Industries, which rose over 500 percent, and L&T rallied nearly 400 percent in the same period failed to consistently perform in the subsequent years after the bull market.
One thing is certain that investment does matter although good stocks will deliver consistent returns over most periods. For the current bull phase, stocks which gave over 100 percent return include names like Bajaj Finance, Bajaj Finserv, Vedanta, Titan Company, and Maruti Suzuki.
It remains to be seen how these stocks will perform after the bull phase. But, one thing is certain just like strong football nations are 'repeat' World Cup champions despite their periodic struggles.
Similarly, good stocks are similar — they may have their periods of weak performance but generally deliver solid performance over long periods of time.
"We can argue the same for good investors and people in all walks of life (failure can follow success and success failure). However, dedication, perseverance, and self-belief can drive individuals to achieve their own 'goals'. As Lionel Messi puts it—"It took me 17 years and 114 days to become an overnight success," highlighted the report.
Disclaimer: Reliance Industries Ltd. is the sole beneficiary of Independent Media Trust which controls Network18 Media & Investments Ltd.
First Published on Jul 4, 2018 07:23 am