An ideal strategy for investors would be to book profits and enter at lower levels in high beta stocks, experts said.
The S&P BSE Sensex has rallied over 10 percent since February 19 when it hit a low of 35,287, and a little over 8 percent so far in 2019. Though many small & midcap high beta stocks rose 20-50 percent year-to-date.
Sensex hit a record high of 39,487 on April 18
So, what are high beta stocks? A beta coefficient is a measure of volatility or systematic risk of a stock in comparison to the unsystematic risk of the market.
According to Investopedia, the market has a beta of 1, and the stock that swings more than the market over time has a beta above 1. If a stock moves less than the market, the stock's beta is less than 1.0.
High-beta stocks are supposed to be riskier but provide a potential for higher returns; low-beta stocks pose less risk but also lower returns, it said.
Among BSE500, as many as 24 stocks, which have a beta over 1, rose 20-50 percent in 2019. They include Merck, Bank of Maharashtra, REC, UPL, Granules India, Indiabulls Real Estate, PC Jeweller and Godrej Properties.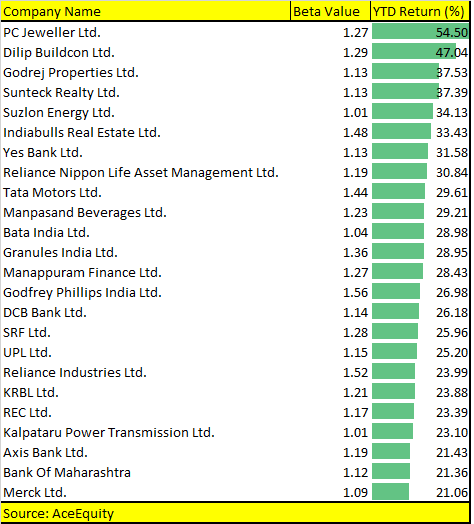 So should one book profit in high beta stocks after the recent rally? Experts feel that investors should look at booking profits in select high beta counters and then probably re-enter at lower levels.
"An ideal strategy for investors would be to book profits and enter at lower levels in high beta stocks. Since the broader markets have turned, high beta names would also eventually give up and turn downwards," Umesh Mehta, Head of Research, SAMCO Securities told Moneycontrol.
"Hence, rather than inaction, investors must exit now and enter again at lower levels. This will increase their margin of safety as the stocks will provide higher returns," he said.
As we step into the month where election results are scheduled to come out – volatility is something which will keep traders on their toes. Traders should filter out stocks where there is no valuation comfort and are also illiquid, suggest experts.
"High beta names are prone to higher correction if Nifty falls due to rising crude prices. In this scenario investors need to identify high beta names where earnings growth is likely to be high in FY20-21 and valuations are reasonable," Rusmik Oza – Head of Fundamental Research, Kotak Securities Ltd told Moneycontrol.
"Avoid high beta stocks where earnings expectations are muted and valuation comfort is not there. Investors can accumulate high beta stocks having high earnings growth and reasonable valuations spread across pre and post-election period," he said.
Disclaimer: The views and investment tips expressed by investment experts on moneycontrol.com are their own and not that of the website or its management. Moneycontrol.com advises users to check with certified experts before taking any investment decisions.
First Published on Apr 30, 2019 02:09 pm