In an interview with Moneycontrol, Alpha Invesco founder Chetan Phalke speaks in detail about his investment philosophy and his self-taught journey in investing.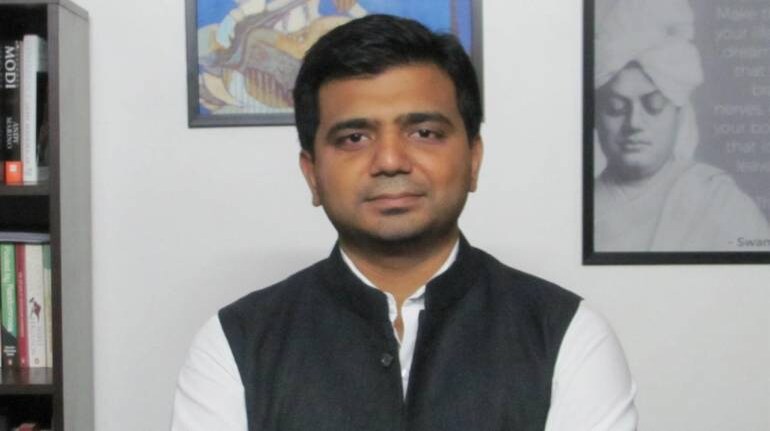 Shishir Asthana
Motivation speaker Jim Rohn says "Formal education will make you a living; self-education will make you a fortune."
Fund management is a skill that most managers pick up on their job. Starting out as analysts, they hone their skills and grow up to be fund managers. Several traders are self-taught but few successful investors scale up on a professional level. One such self-taught investor Chetan Phalke, from Ahmednagar, Maharashtra, after a chance visit to a broker's office took to investing like fish to water. He took up courses which would help him in being a better investor apart from being. An MBA and a post-graduation degree in Economics could have been good to qualify for an analyst job, but Phalke completed his education in 2008, right in the middle of the biggest financial crisis since 1929.
Rather than taking up any job available in the finance sector Chetan preferred to go it alone and sharpen his investing skills. He published his research on his website and soon found takers for it. And thus Alpha Invesco which took birth as a research publication entity transformed into an advisor. Since inception in November 2009, Alpha Invesco has compounded annual returns of over 32 percent.
In an interview with Moneycontrol, founder Phalke speaks in detail about his investment philosophy and his self-taught journey in investing.
Q: How did it start for you?
A: I come from a middle-class family in Ahmednagar, Maharashtra, where no one was even distantly associated with the stock markets. I moved to Pune to pursue my MBA from Symbiosis and a post-graduation in Economics from Fergusson College.
I heard about stock markets in 2003-04 for the first time. During the first year of graduation (computers) I had accompanied a friend to a broker's office to deposit some share transfer slip. I knew that I was not cut out to pursue computers as a career option. I always wanted to do some sort of business.
The visit to the broker's office triggered my interest in the subject. I started reading as much I could on the subject. My reading on the stock markets and how it works cemented my belief that there is no better business to be in that the business of businesses – investing.
From the beginning, I was not keen on the trading side of markets. My college library introduced me to Warren Buffett, Peter Lynch and others and their style of investing. I was hooked. I used to go to the broker's office once or twice a week to understand more about the markets.
Meanwhile, I started investing in my small account and some of my family members account. I witnessed the rally from 2003-07 without getting my feet too wet. By 2007-08 I gained enough confidence in managing money.
As far as I am concerned, the 2008-09 crash could not have been better timed. Stocks were available at 2-3 times their cash flow valuations at a time when I had just completed my education and was ready for my baptism by fire.
Those were the days when there were few jobs in the broking industry. I was clear on what I wanted to do with my life so I did not venture into any other stream by taking a banking job or some other similar jobs that were available in those days.
I preferred to continue on my journey of investing. I started Alpha Invesco in November 2009 with the aim of doing my own research and publishing it. The research publication platform took its own time to pick up but I continued on the journey undeterred. Finally, as the markets picked up and my stock recommendations did well subscriptions increased. I then decided to branch out to managing more money and give advisory service.
Today Alpha Invesco has a strong research team which is supported by interns.
Q: Without any on-the-job experience in research, how did you develop your investing philosophy?
A: Reading investing books have guided me in my journey. Like Peter Lynch, I prefer to pick up simple companies where the business is easier to understand. My degree in Economics helps me in set a big picture to build my case.
But having said that I am a bottom-up stock picker. I like to pick up companies that are dirt cheap and where there is a high degree of certainty in terms of business growth.
For me, the formative years were very helpful. Between 2009 and 2011 I was able to pick up stocks that were cheap as markets were not interested in looking at them. But that changed as market picked up.
Earlier, we were looking at smaller consumer-centric companies at good valuation but as markets moved up there were few opportunities in this space. We then went in for bigger companies and cyclical, but the underlying philosophy never changed.
We were looking at sectors which were showing points of maximum pessimism. This point of maximum pessimism changes with the sector where no one is interested. The sector can be in trouble on account of any reason – capital misallocation, promoters mistake or a cyclical downturn.
Secondly, we like to look at companies where there is haziness in terms of earnings for the next four quarters. This is because the street is fixated with knowing what the earnings will be next year. Unless they have a clarity on this they are not willing to touch the stock. We are willing to overlook the near-term uncertainty. Here I must point out that there is a clear distinction between uncertainty and risk. We expand our horizon beyond the next four quarters of earnings.
Another point I would like to mention here is that cheapness in a stock can be on account of valuation as well as the sector being out of favour. So we have two ways of picking up a stock. One is we look at a theme and then search for cheap stocks in them or we run screeners and check whether the stock fit into the theme of socio-economic relevance.
Q: Can you elaborate your process?
A: One sector that no one wanted to look at till recently was the steel sector. This sector was in a downtrend since 2008-09 when almost all companies announced huge expansions or went ahead and acquired companies. All these were debt funded.
These capacities came on stream in 2012 just when the economy was going through a policy paralysis. Capacity utilisation dropped from 95 percent to 72 percent. China was also witnessing an issue of over-capacity at a time of global slowdown and their cheap imports only aggravated the situation. To cut a long story short, steel companies started defaulting on their loans. Analysts and fund managers took the sector out of their radar.
We started looking at the sector when the government decided to interfere by introducing safeguard duties and anti-dumping duties. We expected that the government would be able to stabilise prices and help the industry. But the main logic was that the sector will benefit as the economy improves the steel sector will pick up.
Infrastructure spending will help steel demand as infra accounts for 65 percent of steel demand, Further, the sensitivity of steel to GDP growth is high. When the GDP grows at 6 percent steel sector grows at 5 percent but when GDP grows at a higher 8 percent steel demand picks up to 8-9 percent.
We expected that the steel sector would not see new capacities coming up anytime soon. Because of the default, no banks were willing to lend to the steel companies. This became a big entry barrier for the sector. Further, it takes nearly 4 years for a steel plant to be commissioned from the day of the announcement.
Companies would be more focused on cleaning their balance sheet, improving capacity utilization before they announced setting up of new capacities.
Our expectation was that the first such announcement should come in 2020 and the steel plants in 2024. Now that we had a good visibility on the sector we looked for a stock.
We zeroed in on Steel Authority (SAIL). The stock was dirt cheap available at Rs 25,000 crore. Nearly 17-18 percent of India's capacity was available at Rs 25,000 crore. Our rationale was that as the cycle turns the least efficient guy would have the maximum delta. SAIL was a story which had a combination of earnings, operational efficiency and sector dynamics behind it.
The company was improving on its operating leverage. SAIL is witnessing a retirement of nearly 5,000 employees every year. Nearly 20 years back the company had a capacity of 10 million tonnes and had an employee strength of 1.8 lakh. In 2008 it had a capacity of 13 million tonnes with 1.3 lakh employees. Now with a capacity of 21 million tonnes the company employees 74,000 people.
SAIL has also gone through a modernization exercise of its blast furnaces. As utilization in the company improves the EBIDTA (earnings before interest depreciation and tax) per tonne will be high.
I am okay with buying a company that is in losses today as far as there is visibility of improvement going forward. Some sectors that are in a down-cycle will see a lot of companies in losses. I will look for companies that are trading at a significant discount to its peers and lower than their replacement cost.
Q: Any recent themes you are looking at?
A: We are looking at PSU banks that is one sector which many market participants would not look at. We are closely looking at the merged entity of Bank of Baroda, Dena Bank, and Vijaya Bank. The combined entity is available at a market capitalization of Rs 35,000 crore.
The combined entity will have around 8,000 branches but there is an overlap in 2,000 pin codes. The cost of operation of each branch is around Rs 50-60 lakh. Assuming that there is a phasing out only 1,000 branches the bank can save Rs 500-600 crore.
There are other benefits of synergy like excess workforce. The banks would stop hiring and use the workforce for diversifying in services where they are not present like high yielding personal loans or car loans. Three headquarters will then be reduced to one. SBI saved Rs 1,200 crore in their first-year post their mergers with smaller banks.
But our main bet is one the capex sector and renewed lending by these banks. Credit growth has been negative for the PSU Banks over the last three years but provisioning has been high. In the case of the combined entities that we are talking of provisioning has been to the tune of Rs 65,000 crore but lending was only Rs 60,000 crore. So the banks have not lent much fresh money but have provided for the old ones. Chances of slippages are low as the economy picks up.
Further, if credit growth of these banks increases to 10-12 percent the impact on the bottomline will be high. The banks have almost finished providing for most of the bad loans. Thus chances are high that Return on Assets (RoA) which are around 0.1-0.2 percent can go up to 1 percent on an asset base of Rs 12-15 lakh crore. The potential of peak profit of the entity is Rs 15,000 crore. This may not happen over the next four quarters but over the next three years, the chances are good. Further, the bank is cheap and is available at 0.5 time its trailing book value.
For us, the odds are in our favour and the entry price is good. We will start nibbling at the stock.
There is one more thing that I have learned is that entry valuation is important and that will decide the money we make. We have now changed our way of buying into a company. Earlier I used to buy as soon as I liked a company after doing the research. Now we scale up only if our thesis is proven right. As the company behaves in the way we expected our allocation increases.
We are also betting on the revival of capex cycle – basically de-bottlenecking trades. Companies where volumes are high but they are moving up the value chain.
Q: What is your exit strategy?
A: Our holding period is normally around three years. We tend to give the management a long rope as the stories we play are structural in nature. There is either a new management, new product or an expansion which will have an impact over time.
We decide to switch from the current investment to a new one or to cash if the theme that we envisaged is not working out. We also decide to switch if the stock's valuation has gone above its long-term valuation zone.
If the story is intact and the company is growing with a stable cash flow we would continue with the investment. It is difficult to put a valuation number for the exit for such companies as the valuation matrix grows as the business grows.
This is especially true when a small company with limited products decides to expand and bring more stability to its numbers. In the formative years of the company earnings are volatile but as the company grows, adds more product lines or expands there is a stability in its cash flows. The market then rewards these cash flows. Valuation band of the company also changes as it comes in the limelight.
It is difficult to contemplate the valuation at which we want to exit when we are buying a stock. What I have realized is that it is difficult to get the timing right for the story to unfold but the thesis will play out sooner or later. So in such a case, we have to give the company and its management a long rope to play out.
Q: How do you play the cyclicals?
A: In cyclical we look at the supply side scenario rather than the demand side. A company operating in this space should have some sort of entry barrier which can be something like we discussed in the case of steel – new capacities taking time to come on-stream.
We then look at the valuations where the company should be at the lower end of some valuation parameters like – replacement cost to enterprise value or peak profit potential to market capitalization. We would also like some external parameter to support like a global supply-demand mismatch. Such an environment will throw up interesting opportunities. We look for companies with the lowest multiple if all the parameter discussed are met. In the case of the steel sector we tracked the sector and companies for nearly a year before we made our first move.
Q: What are the top three things that you look at in a company?
A: What goes unsaid is that we would ideally look for companies with good management. But at the same time, we would not like to overpay for good management. We are okay with compromising a little on the management quality as long as the entry valuation is factoring in the worst case scenarios. For us the entry valuation is important.
What we look for in a company is that it should have survived multiple business cycles and knows how to deal with the ups and downs. The company should be among the leaders in the sector and have scaled up its business regularly.
The next criteria are that the company should have a balance sheet to survive tough times. Now there is three kind of balance sheets – highly risky, moderately risky and with near-zero risk, measured on the basis of debt it carries in its books.
While the highly risky ones are a complete no in our stock picking, we also do not invest in zero risk ones. What we have seen is that when cycles turn the company with zero risks do not have that much delta to reflect the overall improvement.
A moderately risky balance sheet is our area of interest. An essential point is that there should be no solvency risk in the business. As the scenario improves the company will be generating enough cash flow to retire its debt. So even if the enterprise value remains same the reduction in debt will be taken care of by higher market capitalization.
Q: What have been your hits and misses and what are you looking at now?
A: Despite the entry criteria we have made our set of mistakes. Portfolio quality goes down towards the end of the bull market as investors tend to compromise on a lot of things while chasing momentum. The last purchase of the bull market will always teach you the costliest lesson. Very important to stay away from the hysteria. Fortunately, we stayed away from NBFC's & midcap/small cap pockets in the recent bull run.
We transitioned from a diversified portfolio to a much more concentrated portfolio.  During 2015-2016-2017, we added only 3 new stocks to our portfolios and exited almost 15-16 stocks. Though this resulted in a big underperformance over the last couple of years, it was okay since we managed to avoid blunders. In the current year – 2018, as on date, we have added 4-5 stocks and few more are in the pipeline.
We have made mistakes in selling our companies early. We sold out Future Retail, Venkys India and Edelweiss in 2016. We bought into these stocks much ahead of the market. However, the businesses picked up much faster than what we thought and all of them went on to go up by 5-7 times, Venky's India moved up more than 10x after we sold.
On the other hand, our wins were IFB, Siyaram, Wim Plast, KRBL, Cera Sanitaryware, Amrutanjan, Take Solutions, Mirza International, among others. We bought into these companies when they were small and struggling but available at throwaway prices. We have exited all of them during 2016 and 2017.
First Published on Dec 1, 2018 12:32 pm