Investors should always follow certain rules before buying or selling a stock. Some of the parameters can be earnings growth, sales and volume growth, margins sustenance and market share increase.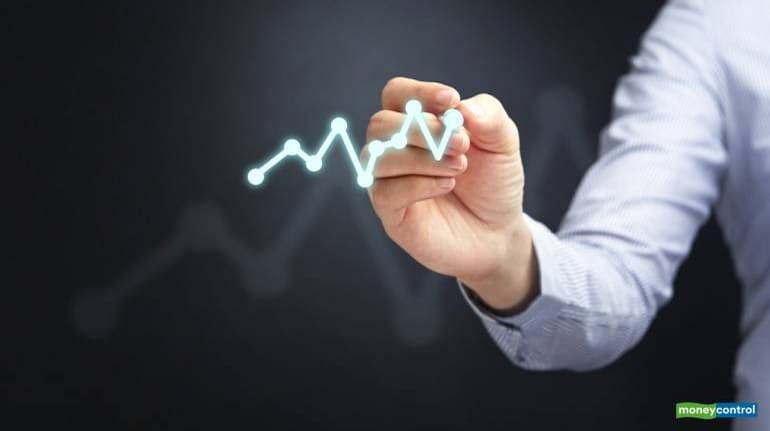 Mutual fund (MF) managers were net sellers in equities and net buyers in the debt segment in the September quarter. MFs pulled out nearly Rs 20,000 crore from the equity segment and were net buyers of about Rs 60,000 crore in the debt segment, data shows. Indian market rose steadily in the September quarter. The Nifty50 added about 1,000 points and recorded gains of more than 9 percent during the period.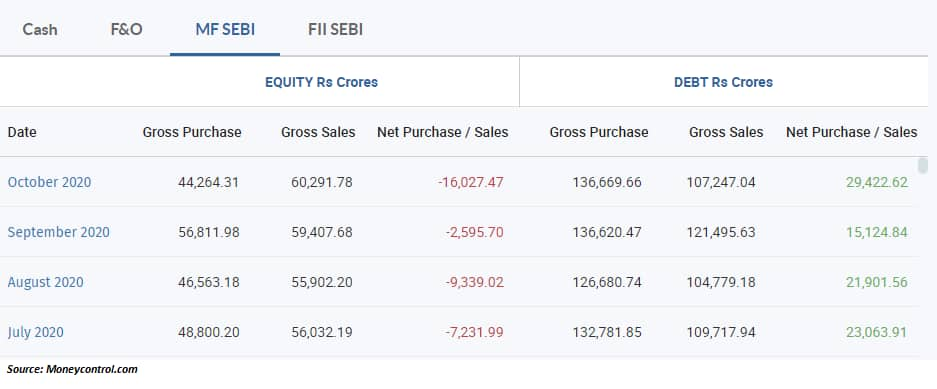 Fund managers raised stake sequentially in marquee names such as TCS, Infosys, HCL Technologies, Maruti, ITC, Wipro, Nestle India, Adani Green Bajaj Finserv, Britannia, ONGC, BPCL and M&M.
However, what grabbed the attention was their new-found love for the small and midcap names. Mutual funds raised stake in 53 stocks that rose 100-500 percent from March-end to October-end.
Stocks that more than doubled investors' wealth include JSW Steel, Thyrocare Technologies, Zensar Technologies, Persistent Systems, Mphasis, JK Cement, Uflex, Granules India, Firstsource Solutions, KPIT Technologies, Tata Communications and Ramco Systems.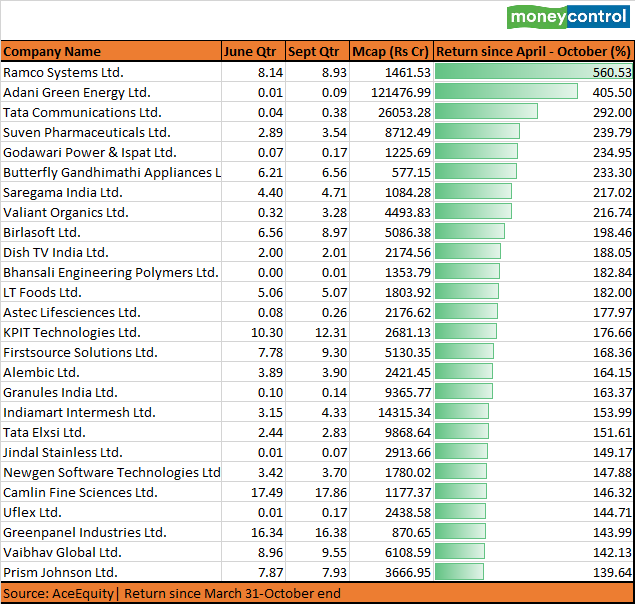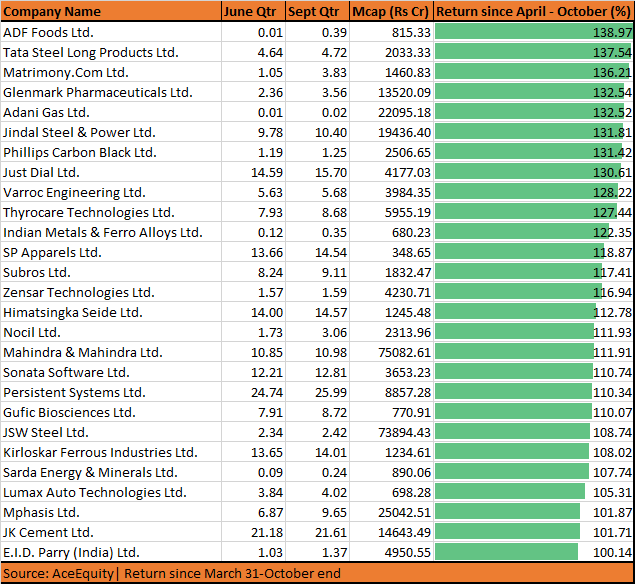 The June quarter earnings were not as bad as was expected at the beginning of the earnings season. Apart from strong management commentary, stable micro and macro cues also laid the foundation of a risk-on rally.
Small & midcaps that underperformed for the past two years came into the limelight after SEBI's called for multi-cap funds to be true to the label and green shoots in the economy highlighted their potential.
"The broader market has underperformed since 2018 with some of the quality names in the segment facing a similar spillover effect in price. This provided an opportunity for the investors, including the fund managers, to tap in the segment given a favourable risk-reward trade-off with a higher margin of safety compared to large-cap companies that were trading at a higher valuation," Dinesh Rohira, Founder, CEO 5nance.com, told Moneycontrol.
"Further on the hindsight, the majority of the fund managers might be realigning the portfolio in the multicap category as per SEBI's recent circular which favours small and midcap companies," he said.
What should investors do?
Investors can look at booking profits in stocks that have more than doubled investors' wealth in the period. Investment decisions should be taken based on the fundamentals of the company and not the price action, experts said.
Investors should always follow certain rules before making a buy or a sell decision. Some of the parameters are earnings growth, sales and volume growth, margins sustenance and expansion, and market share increase.
"Share price's short-term big moves are cheered by investors, but ultimately one has to be consistent in making money. Some stocks rise to great heights at times due to temporary reasons, and some due to sustainable development by new products, new technology, Capex completion driven high sales achievement," Pritam Deuskar, Founder of Wealthyvia.com told Moneycontrol.
"Investor should gauge a company on two categories: 1. Transient multibagger 2. Consistent company. If a small-cap is driven by temporary sector opportunity with sudden and non-sustainable margins or sales growth, it can be transient," he said.
If the company has been consistent, business by nature is big and if it is making progress in terms of fixed assets' growth, debt reduction, margin sustainability, and growth with the addition of volumes, clients, orders with ROE ROCE improvements, then it can be a consistent category, Deuskar said.
A factor like fund managers' activity should not be studied in silo but it should be taken on a holistic approach that defines the base of investments. Fund managers' activity along with the participation of FII/DII should be one layer to screen the stocks, experts said.
"After understanding the risk-taking capacity, investors should evaluate the companies in terms of their earnings growth which is the ultimate component in price action. A stable earnings growth in the past coupled with a strong outlook for the future growth prospect will help understand the investment thesis," says Rohira of 5nance.com.
"It is equally important to evaluate the strength and capacity of the management running the company which should be backed by strong corporate governance. Also, understand the competitive advantage of product, and understand the leverage position of the company, and its capacity to service the obligations by evaluating the cash flow strength," he said.
Disclaimer: The views and investment tips expressed by experts on Moneycontrol.com are their own and not those of the website or its management. Moneycontrol.com advises users to check with certified experts before taking any investment decisions.
First Published on Nov 20, 2020 10:02 am