All experts agree that India is now in a bull market phase and that a person with a five-year view should not be worried about investing in stocks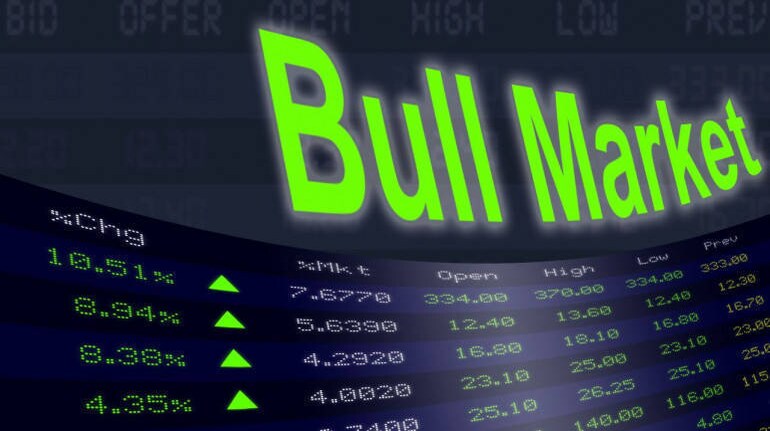 The 50-share NSE Nifty finally managed to hit a fresh record high of 11,172.20 on the day of expiry of July derivative contracts while the 30-share BSE Sensex crossed the 37,000-mark.
This was the Nifty's 14th record high in 2018 and the Sensex's 20th, but the Nifty took 123 sessions to reclaim its earlier record.
The Sensex's and Nifty's rallies of 8 percent and 6 percent, respectively, was entirely driven by domestic inflows and not by foreign investor money.
However, both benchmark indices had fallen more than 10 percent in the correction that took place in February and March, after the Union Budget.
The market now seems to have factored in all the negatives, be it the volatility in crude oil prices, the weakness in the rupee, concerns of a trade war between the US and China, and others like GST and demonetisation.
All experts agree that India is now in a bull market phase and that a person with a five-year view should not be worried about investing in stocks.
Bajaj Finance (up 58 percent), Bajaj Finserv (39 percent), Asian Paints (27 percent), TCS (25 percent), M&M (20 percent), HUL (19 percent), Kotak Mahindra Bank (18 percent), Infosys (16 percent), Reliance Industries (15 percent) and IndusInd Bank (12 percent) are the top gainers among Nifty stocks since January 29, when the index hit its previous record high.
The biggest losers since January 29 are Vedanta (down 37 percent), Tata Motors (35 percent), Tata Steel (29 percent), HPCL (24 percent), ONGC (23 percent), ICICI Bank (23 percent), Bajaj Auto (21 percent), UPL (20 percent), Hindalco (20 percent), Bharti Infratel (19 percent), Bharti Airtel (19 percent) and IOC (17 percent).
The biggest causes of worry are mid-cap stocks, which are still not at attractive valuations despite their recent corrections.
The Nifty Midcap index and the Nifty Smallcap index had rallied 47 percent and 57 percent, respectively, in 2017, which primarily why there has been a huge selloff this year. The former has fallen around 12 percent this year and latter has lost around 16 percent.
So if one wants to invest in mid-cap and small-cap stocks, one has to look for quality names that have good structural businesses and strong pedigree.
Here are some experts' views after the Nifty hit a fresh record high:
Sanjiv Bhasin, EVP-Markets & Corporate Affairs, IIFL
I have been one of the contrarians who has been saying that equity will be best performing asset. Globally, India is in a very sweet spot, most macros are turning positive as far as bonds, rupee and oil are concerned.
Corporate results are very pleasing as well. Even though it is a narrow rally and people may have doubted and missed it by being in the wrong stocks, if you can sit through the volatility, in the next three months, midcaps should give very good returns.
In the next three years, one could see 30 percent growth and hence, the target by next year's Diwali for Nifty is at 15,000.
We have not seen this type of financialisation. The only caveat is the general elections next year, which could stall the markets for a while. That would largely be a knee-jerk reaction and hence the target of 15K is till Diwali.
Hemang Jani, Head - Advisory at Sharekhan
Nifty and Sensex are at all time high levels, but one is not sensing the exuberance or excitement across participants as the rally has been primarily led by heavyweights such as TCS, Reliance Industries, Kotak Mahindra Bank and the HDFC twins which have given spectacular returns over the last one year, whereas the Midcap index and stocks are still significantly lower than their highs.
We feel that from here on earnings will play a major role in determining further upside.
Factors such as Global trade wars and upcoming general elections in India will keep investors cautious in the short term. However the longer term picture for Indian equities looks positive and we continue to prefer sectors such as private banking, consumer discretionary, Information technology and Pharma.
With the rupee hovering close to 69 mark we feel certain IT and pharma companies will benefit from these tailwinds.
Jayant Manglik, President, Religare Broking
Indian stock market achieving record milestones is always just a matter of time. However, the key takeaway this time around has been the faith of Indian investors in equities as an asset class, which has acted as an important pillar of strength in times when FIIs have been selling India and emerging markets in general.
Moreover, despite domestic and global concerns in the backdrop with respect to higher inflation, rising interest rates, global trade war scenario, etc., the market has chosen to climb these wall of worries and focus more on the medium-to-long-term outlook for Indian equities.
The other reasons for the strong bounce back in the Indian stock market can be attributed to the economic recovery which is currently underway with key beneficial policy decisions like the GST now better entrenched into the system and corporate earnings also indicating some pick-up.
Admittedly, factors like the underperformance of competing asset classes like Real Estate and Bullion have also supported capital flow into equities. Going forward, considering the market momentum, one should expect newer milestones to be achieved in the coming months.
Vineeta Sharma, Head of Research, Narnolia Financial Advisors
Amid volatile global and trade environment, Nifty hitting a fresh new high is a major relief for Indian equity investors. Unlike in the past when FIIs selling used to make Indian bourses paralysed, the current rally shows domestic resilience to global issues.
The current earnings season has started very positively. Results announced till date suggests that we are getting out of earnings downgrade cycle.
Stock Market is also taking cues from encouraging Monsoon and strong tax collection and this will lead to stabilising macro environment going forward.
Also, the possibility of NPA being a drag on Indian corporate numbers appears receding. If current earning season remains robust, the trading range of Nifty in August series would shift to 11,000- 11,500.
Saurabh Mukherjee, Independent Market Expert (to CNBC-TV18)
We are at last stage of five year bulls market and the rally has entirely been driven by domestic money and not by foreign money.
Currently the stock market is a good way to make money as economy is healthy. Among healthy pockets, export oriented stocks are going to be see benefits.
Gautam Shah, Associate Director & Technical Analyst, JM Financial (to CNBC-TV18)
The consolidation started since Budget digested entire gain of 2017 and the market is heading for next phase of bull market.
After reclaiming earlier record high of 11,171, the Nifty50 is expected to see 11,300-11,400 levels in short term and likely to hit 12,000-mark by end of 2018 which looks doable while the Nifty Midcap is seen at around 19,500 levels.
The shift has been taking place in the market as stocks which rallied in last four months are seeing some profit taking while stocks which did not participate in the run are gaining strenght.
Banking is the one sector which has not participated in the rally. So the next stage of rally is likely to be bat by banks. Next 1,000 points rally on the Bank index will help Nifty50 to run sharply.
Nifty Bank index started trading above 27,000 levels, rising 116 points to 27,148.15.
Dipen Sheth, Head- Institutional Research at HDFC Securities (to CNBC-TV18)
The market climbing all wall of worries like volatility in crude oil prices & rupee, monsoon playing funny games initially and trade war concerns.
For the long term, India is clearly a best economy among emerging markets at global level.
So investors are not going to run away from India, even if government changes. So for long term investors, India is going to be the best place to be in at least for next five years.
At this time we hate to sound like a party pooper but the reality is among Nifty 10 stocks delivered 10 percent kind of returns while 20 stocks fell more than 10 percent.
In the midcap space or broader space, I mentioned couple of weeks ago also that one has to be choosy and look for quality stocks.
Companies which have high quality and durable business always buy in the trouble. For example, Jubilant Foodworks franchise, which faced big trouble 1.5-year ago. Look at the first quarter FY19 results, which showed that all troubles are behind.
Ajay Srivastava, Managing Director of Dimensions Corporate Financial Services (to CNBC-TV18)
It is not a celebrating moment for all people due to correction in the broader space.
First Published on Jul 26, 2018 10:54 am