The bank seems well positioned to capture market share
Karur Vysya Bank (KVB), the Tamil Nadu headquartered mid-sized old private sector bank reported a modest performance in the second quarter of FY19. While the reduction in slippage was a positive, business growth remains tepid.
The initiatives on technology implementation is gathering steam and the new CEO (ex- Citi banker) appears to be guiding the bank in the right direction although the overt results aren't fully visible yet.
The stock has corrected by over 20 percent in the past six months and is now attractively valued at 0.9X FY20 book and 1.1X FY20 adjusted book thereby making it an ideal accumulation candidate.
In line Q2 FY19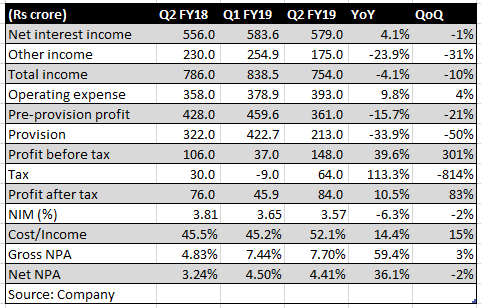 The muted rise in Net Interest Income (the difference between interest income and expenses) was on account of modest growth in advances of 9 percent and 24 basis points year on year (YoY) decline in interest margin to 3.57 percent. A slower rise in yield on advances coupled with a decline in yield on investments impacted margins.
Despite a healthy growth in core fees, an overall non-interest income of the bank declined as it booked losses on the treasury book in the process of reducing the duration of its investment portfolio. Lower other income also led to an optical spike in the cost to income ratio.
However, despite 15.7 percent decline in pre-provision profit, lower provision (with improvement in asset quality position) resulted in over 10% growth in after-tax profit.
NPA – much better
In Q1FY19 the bank saw gross slippage to the tune of Rs 785 crore that declined to Rs 190 crore in the quarter under review. The moderation in slippage from the commercial banking book is especially heartening.
The bank guided to almost an end to asset quality woes from the corporate book as the outstanding non-funded watchlist is Rs 165 crore, exposure under 5/25 scheme is Rs 75 crore and standard restructured assets is Rs 45 crore. The overall stress pool (including Security Receipts) is now 3.67 percent of total assets.
However, the bank did announce its exposure of Rs 330 crore to IL&FS and group companies, of which close to half is to the parent. The entire exposure is still standard in its books and warrants close monitoring.
Advances – below par but efforts on to de-risk the lending book
The bank has a diversified loan book and it is working towards increasing the share of its granular exposure through the better adoption of technology. As of now, home loan, loans against property, unsecured personal loan and working capital renewal is on the digital platform and the bank is putting commercial banking on this platform which will enable better pricing of risk.
The management attributed the below average loan book growth to stabilisation of the technology platform along with the conscious decision to increase exposure only to high-quality assets on the corporate side.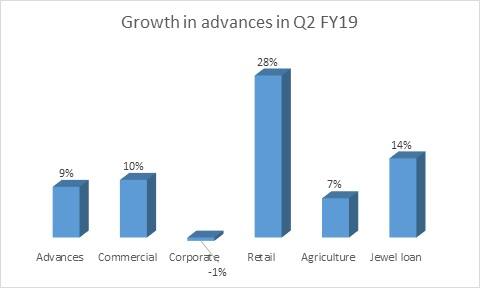 Source: Company
Internal risk management is being strengthened to improve the quality of the portfolio. The focus is clearly on risk-adjusted growth and it expects a near-term growth in the mid-teens.
Quality of deposits improving
Overall deposits grew by modest 3.3 percent, savings deposits grew by 12.2 percent leading to over 10.4 percent growth in CASA (low-cost current and savings account) deposits. Consequently, CASA share has remained stable at 29.5%. The management targets to take its CASA share to 31.5 percent by the FY19 end and expects the roll-out of digital banking and improvement in transaction banking to aid this effort.
It is important to note that deposits are granular with 93% of term deposits coming from retail.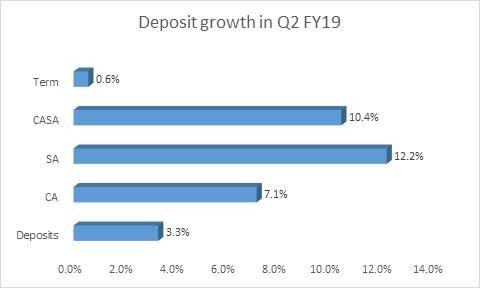 Source: Company
Adequate capital and reduced competition from PSU augur well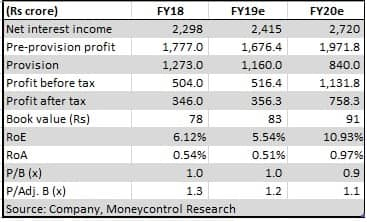 The bank has a healthy Capital adequacy ratio of 14.22 percent and seems well positioned to capture market share especially since PSU banks continue to vacate the market. We expect a revival in earnings in FY20 riding on a much lower credit cost.
First Published on Nov 2, 2018 08:28 pm