Radhakishan Damani's shareholding remained unchanged in six companies in June quarter compared to March quarter 2020
Radhakishan Shivkishan Damani, promoter of Avenue Supermarts (which runs hypermarkets retail chain D-Mart), added 3 stocks to his portfolio, increased stake in one and retained holdings in 6 companies in the June quarter.
Apart from Avenue Supermarts, where he and his family members/entities own 74.99 percent stake in total, Damani holds more than 1 percent stake in 10 companies, according to the June quarter shareholding pattern available on exchanges.
We have collated data only from companies where Radhakishan Damani has direct holdings.
During the quarter ended June 2020, Radhakishan Damani made fresh entry into defense company Astra Microwave Products with 1.03 percent stake, Kalyani Group company BF Utilities with 1.3 percent and Mangalam Organics with 2.17 percent.
Astra Microwave manufactures sub-systems for RF and microwave systems used in defense, space, meteorology and telecommunication, while BF Utilities is a infrastructure company and Mangalam Organics (erstwhile Dujodwala Products) has a strong foothold in pine chemicals industry.
During the quarter, Damani raised his shareholding only in one company, which is India Cements. In fact, he has steadily been increasing stake in the smallcap cement company and he as a single entity also has a largest shareholding in the company.
Radhakishan S Damani raised his stake in the company to 10.8 percent in the June quarter, up by 0.51 percent from 10.29 percent held at the end of March quarter.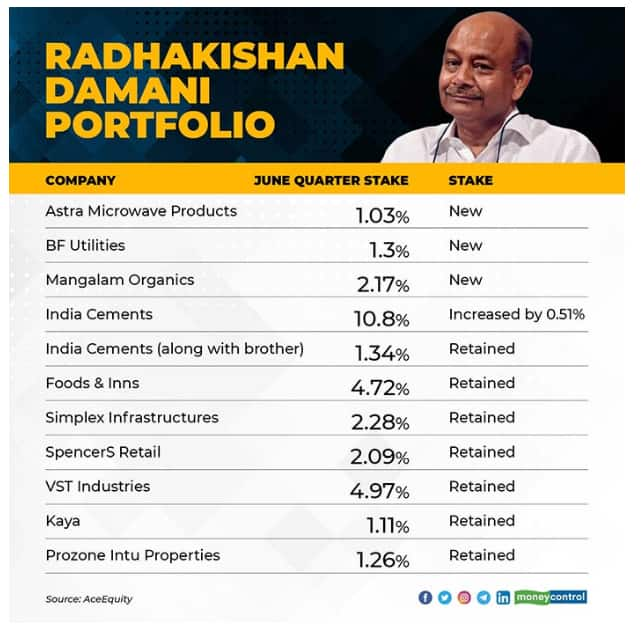 He along with his brother Gopikishan S Damani also held 1.34 percent shareholding in India Cements and his brother in his own name had 8.26 percent stake in the company. Therefore, their total stake in the company stood at 20.4 percent as of June 2020.
Furthermore, Radhakishan Damani's shareholding remained unchanged in six companies in June quarter compared to March quarter 2020, which are Foods & Inns (4.72 percent), Simplex Infrastructures (2.28 percent), Spencers Retail (2.09 percent), VST Industries (4.97 percent), Kaya (1.11 percent) and Prozone Intu Properties (1.26 percent).
In the shareholding pattern, companies report to exchanges holdings by public investors only for entities that have one percent stake or more.
Meanwhile, Damani pared stake in Delta Corp in the June quarter.
Trendlyne data indicated that Damani's shareholding in Delta Corp fell below one percent mark for the first time. His name was first spotted in public shareholding list in September quarter 2019 with 1.53 percent stake, since then he has consistently reduced stake to 1.32 percent in December quarter 2019 and 1.17 percent in March quarter 2020.
Disclaimer: Moneycontrol.com advises users to check with certified experts before taking any investment decisions.
First Published on Aug 3, 2020 02:38 pm