If you want to continue to stay invested in stocks, a good idea to seek stability in your portfolio would be dividend stocks.
Most investors don't like volatility, such as what we are currently seeing in equities, thanks to the local and global cues. But if you want to continue to stay invested in stocks, a good idea to seek stability in your portfolio would be dividend stocks.
Investors usually tend to not pay attention to dividends when market returns are strong — the Sensex has risen at 11.8 percent CAGR over the last 5 years.
But even as dividends may look small on a first-glance, they add up over the long term, in a big way.
Here's the data: If you had invested Rs 100 in dividend-paying stocks 20 years back, and reinvested the dividends received back in the same stocks, your money would have risen by over 10 times. Strip out dividends and your returns were only a little over eight times.
"Taking into account reinvested dividends, total shareholder returns over the same period were 13.3 percent CAGR," Karvy Stock Broking said in a report. "An investment of Rs 100 made 20 years back is worth Rs. 822. But with reinvested dividends, the value of the investment is Rs. 1152."
Investing in stocks with healthy dividend yields and high dividend payouts is a stable format of investing, it said.
Further, the interest on bank fixed deposits is taxable whereas no tax is payable on dividends until Rs 10 lakh, making the latter investing option a more efficient post-tax outcome, the Karvy report said.
In the current economy, where bank fixed deposits offer interest rates to the tune of 6-7 percent, investing in stocks with a good investment yield do make for a good investment.
This is not to say that you should bet the house on dividend stocks -- they aren't necessarily a haven from volatility. "For instance, a stock may have a dividend yield of 4 percent, but it is likely that stock may decline by more than 4 percent with respect to its current price," Dinesh Rohira, CEO, 5nance.com told Moneycontrol.
But the purpose of dividend stocks is to lend some stability to a portfolio by offering a steady dividend, or a way to book regular profits in some senses, added Rohira.
He pointed out that from a point of capital appreciation, growth stocks, which typically offer low growth, can even beat dividend stocks.
It is then prudent that investors spread out their bets -- or in other words build a diversified portfolio comprising both growth and dividend stocks.
"Companies which have high return on invested capital (RoIC) are better off investing the excess capital in their businesses than returning the capital in the form of a dividend," Harish Krishnan, Fund Manager-Equity, Kotak Mutual Fund told Moneycontrol.
"To summarise while dividend track-record is an important parameter to analyse, ultimate wealth creation comes from tracking the fundamentals of companies, depending on whether the management rewards shareholder with near-term dividends or deploys the capital in more value creating opportunities for the future," he said.
Other parameters:
Investors should make use of other parameters to evaluate companies before committing fresh money towards these stocks. A conservative investor can allocate a larger chunk of his portfolio to dividend-paying stocks while those who can take some risks can look at stocks which also delivers on the growth front.
However, in a booming stock market, an investor may not be happy with market returns and is likely to stock up more 'hot' stocks but they should adhere to these three guidelines.
"Investors should analyse the stability of the underlying business of the company- for this one need to study a whole lot of factors like industry dynamics, company's positioning and future strategy, etc.," Nidhi Agrawal- Sr. Research Analyst at Angel Broking told Moneycontrol.
"The second factor is the ability of the company to generate cash flows to pay a dividend- for this one need to again revert to its profitability, capex plans, dividend payout ratio," he said.
The last point to consider is the dividend yield.
In its report, Karvy offered a list of 10 stocks that offered high yields. It considered the stability of dividends as well while looking for stocks with that could continue to offer high dividend yields.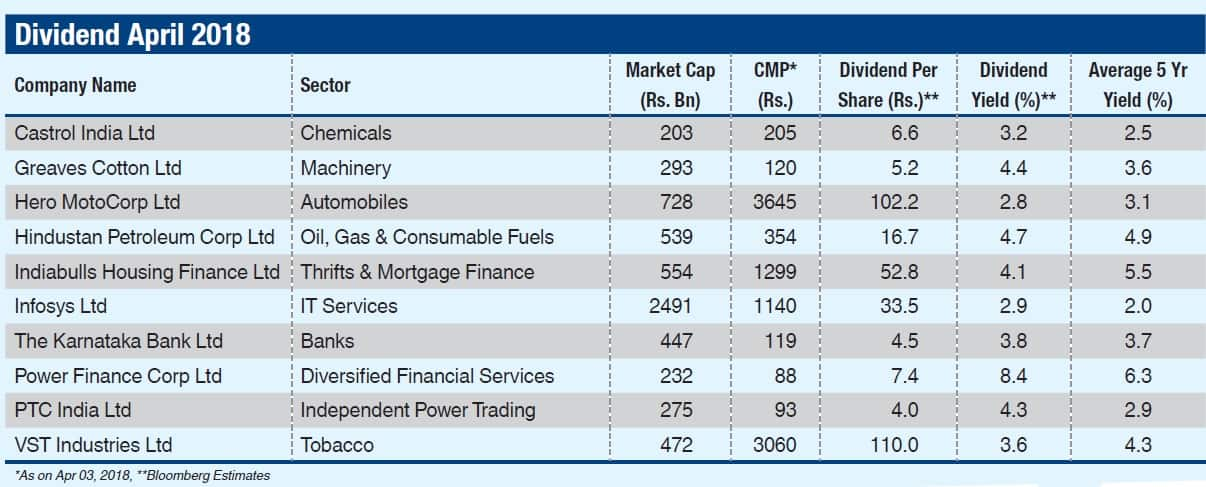 Castrol India: Dividend per Share (DPS) 6.6| Dividend Yields 3.2
During CY17, the company actively focused on distribution expansion which led to 1 percent market share gain to 21 percent in the automotive segment. Castrol has ended CY17 with highest ever sales volume, clocking 205 mn Litres, gaining most of it in the last Q4CY17.
Greaves Cotton Ltd: Dividend/share 5.2| Dividend Yield 4.4
Greaves Cotton Ltd. (GCL) is a leading diversified engineering company manufacturing machinery and equipment. Greaves' cost leadership enables it to be a major source of 3-W auto engines in India with partnerships over 35 auto manufacturers.
Greaves products for Agri and Auxiliary power segment crossed 3 mn pump sets and 1 mn generator sets mark recently.
Hero MotoCorp Ltd: Dividend/Share 102.2| Dividend Yield 2.8
Hero Moto Corp Ltd manufactures 2-wheelers predominantly catering to the motorcycle segment with 51 percent domestic market share. Hero is continually expanding its presence across various countries like Colombia, Bangladesh and also across African, Middle East, Asian and American countries.
In addition to this, the company has indicated a capex of Rs. 25 bn to be deployed over the next two years to ramp up existing facilities and also for a new facility at Andhra Pradesh taking the capacity to 10 mn units from the current capacity of ~9.0 mn units.
HPCL: Dividend/share 16.7| Dividend Yield 4.7
Hindustan Petroleum Corporation Ltd, a Fortune 500 company, is one of the major integrated oil refining and marketing companies in India.
The company operates through two coastal refineries, one at Mumbai (West Coast) of 6.5 million Metric Tonnes per annum (MMTPA) and the other at Visakhapatnam (East Coast) with a capacity of 8.3 MMTPA.
In the decade ending FY17, earnings grew by 19.7 percent CAGR and RoCE reached 21.2 percent by end of FY17. The Government of India as a part of fiscal management divested its 51.11 percent stake in HPCL to ONGC for Rs. 369 bn for which ONGC raised debt from the market.
Indiabulls Housing Finance: Dividend/share 52.8| Dividend Yield 4.1
Indiabulls Housing Finance Ltd (IBHF) is one of the leading housing finance company in India. The company has launched e-home loans, one of its kind in the home loan industry.
IBHF is one of the largest housing finance company with AUM of more than 1 tn. By Q3FY18, IBHF's borrowings were balanced between debentures & securities (53 percent), bank loans (34 percent), sell downs (10 percent) and ECB's (3 percent).
Infosys Ltd: Dividend/share 33.5| Dividend Yield 2.9
Infosys is India's second-largest software services company, with USUSD 10.7 bn in revenues in FY17. The company is an end-to-end IT and BPO services provider, offering services ranging from software development, maintenance, technology and management consulting, testing, systems integration, engineering services, BPO and package implementation.
The Karnataka Bank Ltd: Dividend/share 4.5| Dividend Yield 3.8
Karnataka Bank is one of India's region focused private sector bank. Major business area for the bank is the state of Karnataka. The bank was originally incorporated in the year 1924 at Mangalore.
The bank has crossed a business turnover of Rs.1.02 trillion in Q3FY18. The bank heavily relies on retail deposits (70.8 percent) and CASA standing at only 22.4 percent by Dec'17.
Power Finance Corp Ltd: Dividend/share 7.4| Dividend Yield 8.4
Power Finance Corporation Ltd (PFC) is a state-owned Navratna non-banking financial company engaged in the business of financing companies in power sector related activities, particularly generation activities.
PFC offers fund-based and non-fund-based financial assistance apart from offering consultancy and capital advisory services related to power sector financing. By 9MFY18, PFC's borrowings distributed as bonds (89 percent), short-term loans (6 percent) and term loans (5 percent) of which 94 percent is rupee-denominated loans and rest is foreign currency loans.
PTC India Ltd: Dividend/share 4| Dividend Yield 4.3
PTC India is India's largest power trading company with over 40 percent of market share in the power trading market. PTC has traded 327 billion units of power since inception and generated cumulative revenue of USUSD 16.7 bn over the years.
PTC thrives on the spread (Rs.0.48/unit). PTC operates two subsidiaries; PTC Financial Services which funds power projects predominantly renewable energy sector and PTC Energy owns and operates a portfolio of renewable energy projects totalling over 290MW.
VST Industries Ltd: Dividend/share 110| Dividend Yield 3.6
VST Industries an associate arm of British American Tobacco Plc (32.16 percent stake in the company) is a Hyderabad based cigarette manufacturing company incorporated in the year 1930. Company's principal activities involve manufacturing and sale of cigarettes, unmanufactured and cut tobacco.
It enjoys a strong presence in Southern and Eastern India and is also increasing its presence in few northern states such as Uttar Pradesh and Bihar. VST is cash rich and has zero debt. It enjoys high returns on equity (36.9 percent), on asset (20.6 percent) and capital employed (54.4 percent).
Disclaimer: The views and investment tips expressed by investment experts on moneycontrol.com are their own and not that of the website or its management. Moneycontrol.com advises users to check with certified experts before taking any investment decisions.
First Published on Apr 11, 2018 10:48 am