Most of the stocks in the NiftyBank index fell 20-70 percent that include names like Kotak Mahindra Bank, Bank of Baroda, ICICI Bank, Axis Bank, RBL Bank, and IndusInd Bank.

The Indian market has broken crucial support levels in March as benchmark indices slipped in bear territory. One of the big contributors to the fall were financials, which hold approximately 25 percent weight in the index, followed by technology and Oil & Gas.
Experts feel that the smart money seems to be moving out of financials into defensive sectors such as FMCG and pharma. If we look at the data from March to April 3, Nifty Bank underperformed Nifty50 while Nifty FMCG, as well as Nifty Pharma, outperformed.
The Nifty50 plunged by about 28 percent since March while NiftyBank plunged by about 40 percent. The Nifty FMCG was down over 9 percent while the Nifty Pharma fell nearly 3 percent, data from AceEquity showed.
The worst fear which has clouded the outlook for the financial sector in the near term is fall in economic activity which could seriously impact the debt servicing ability of borrowers.
According to a report by ICRA, stressed assets are likely to spike which could well lead to a rise in reported NPAs that would be visible only over the next few quarters
"SME and retail segments to be more affected than corporate segments. Resumption of timely repayments after moratorium remains suspect, especially for the unorganized segments with limited alternative funding avenues," said the report.
Most of the stocks in the NiftyBank index fell 20-70 percent that include names like Kotak Mahindra Bank, Bank of Baroda, ICICI Bank, Axis Bank, RBL Bank, and IndusInd Bank.
"Financials are likely to be under pressure given the fact that even considering hypothetically the crisis is solved today itself, it will take the economy significant time to restart & get back to working at the previous levels," Paras Bothra, President of Equity Research, Ashika Stock Broking told Moneycontrol.
"The fall out of the same is rising NPAs and dismal intermittent credit growth. Thus, at this present moment defensives are clear favorites," he said.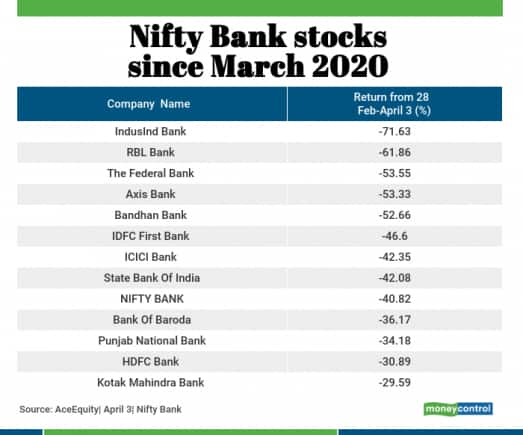 "It looks like the money has moved to Pharma and FMCG. Pharma stocks, which had lost the tag of safe stocks, have partially got it back courtesy the Virus," VK Sharma, Head PCG & Capital Markets Strategy, HDFC Securities told Moneycontrol.
"While the finance boys have been hit badly the better-managed ones will emerge stronger after the turmoil settles. So there is still a lot of time for these stocks to turnaround. Top banks will low NPAs and good margins should be picked again when the tide turns," he said.
Pharma is likely to report strong earnings led by domestic formulations in the coming quarters, suggest experts. Given the severe hit to the real economy and uncertainly over the intensity, spread and duration of COVID-19 pandemic, investors are advised to stay with defensives.
"Based on our earnings sensitivity analysis, IT, Consumer Staples, Pharma, and Chemicals will ride out the current turbulence with low earnings hit and should form key portfolio weights," HDFC Securities said in a report.
Kotak Institutional Equities expects the domestic formulations segment to see a healthy quarter with 9-12% YoY organic growth for the sector, with the limited impact of COVID-19 on domestic sales for the quarter, given most companies have a cut-off date of around March 20 for booking sales.
"We expect US revenues for Sun, Lupin, and Aurobindo to increase sequentially by US$5-10 mn, led by new launches on a largely stable base. DRRD's US base will likely recover to US$235 mn led by new launches," it said.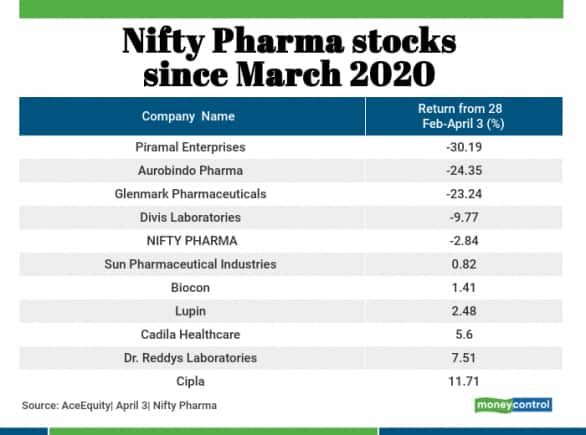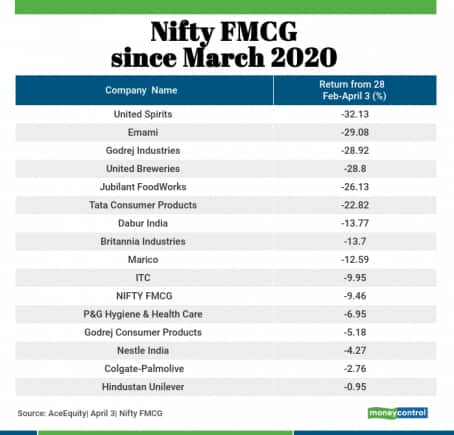 Disclaimer: The views and investment tips expressed by investment experts on Moneycontrol.com are their own and not that of the website or its management. Moneycontrol.com advises users to check with certified experts before taking any investment decisions.
Moneycontrol Ready Reckoner
Now that
payment deadlines have been relaxed
due to COVID-19, the Moneycontrol Ready Reckoner will help keep your date with insurance premiums, tax-saving investments and EMIs, among others.
Get best insights into Options Trading. Join the webinar by Mr. Vishal B Malkan on May 28 only on Moneycontrol. Register Now!
First Published on Apr 7, 2020 01:59 pm