Investors should do their own research rather than blindly following the strategy of foreign investors. India is in a bull market and investors should take advantage and invest wisely.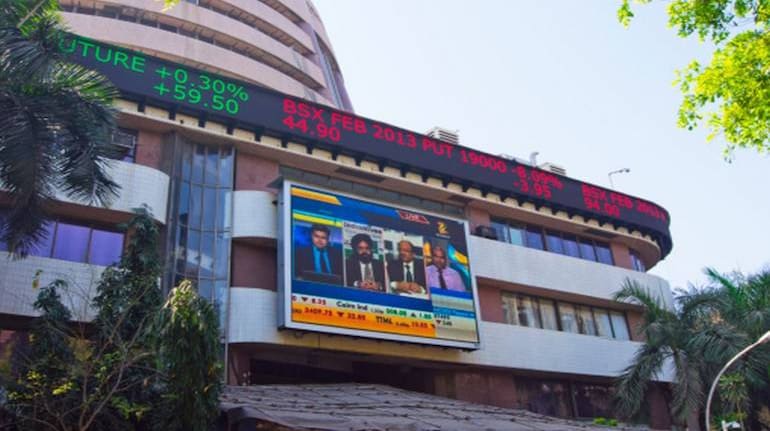 When market turns hot, investors should use the opportunity to book some profits. The market usually turns volatile when it is trading near record highs.
The right strategy for investors is to look for opportunities to buy stocks on declines, and book profits when the markets trade near highs to maximize their profit.
Warren Buffett once said investors should look at market fluctuations as your friend rather than your enemy; profit from folly rather than participate in it. Investors might not be able to avoid volatility but they could use the swing and turn into a profitable trade.
Foreign investors pulled out money from Indian equity markets in the last 6 out of 12 months. However, on a net basis they are still net buyers to the tune of Rs 9,000 crore, while domestic investors have poured in over Rs 100,000 crore in the same period, Moneycontrol.com showed.
The Indian market witnessed a strong liquidity wave which took benchmark indices to record highs in the year 2017. Top 20 stocks where foreign investors pared their holding in the last three quarters are the ones which have more than doubled investors' wealth in the year 2017.
Stocks, where FPI pared their stake, include names like Graphite India, Bombay Dyeing, Gravita India, GVK Power, Future Enterprises, Edelweiss Financial Services, Dewan Housing Finance etc. among others.
Note: The actual holding could vary from company's actual holding based on calculations
Many stocks which have more than doubled investors wealth saw some profit booking which is a healthy sign for the markets. Investors should also regularly book profits in quality stocks and later buy them on declines.
Some analysts' see churning in FPI portfolio but that should not be your base case for buying or selling stocks, suggest experts. Investors should evaluate each and every stock based on their own risk profile before they take the decision to exit or even to book partial profits.
"The fall in FIIs holdings can be conspicuously seen in cyclical stocks which have outperformed the markets by a wide margin. The right way to play the cyclical stocks is to sell them when the underlying commodity prices in which they deal are roaring ahead," Jimeet Modi, Founder & CEO, SAMCO Securities told Moneycontrol.
"For Ex: Graphite India Ltd is selling graphite electrodes which are commanding high prices due to international factors. But, soon the supply will increase of electrodes and prices will cool, but by that time it would be too late to sell the stock. Hence, FIIs are selling such cyclical when the going is good," he said.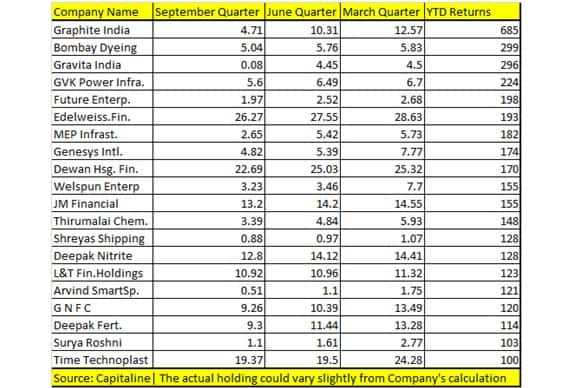 Riding on the liquidity wave many stocks especially in the small and midcap space witnessed strong rally which pushed the valuations beyond historical averages. Investors can look at booking profits in some stocks while holding the rest of them for the long term.
The Indian markets now trade at historical highs with Nifty trading at a PE of 26.9x TTM basis compared to PE of 22.5x TTM prior to demonetisation, with banks and NBFCs being major gainers.
The S&P BSE Midcap index is trading at a P/E of 41.66x and a P/B of 2.87 while the S&P BSE Smallcap index is trading at a P/E of 85.67x and a P/B of 2.54, according to BSEIndia.com.
"Our view is to stick with high-quality stocks and sectors within the mid-caps as they are likely to continue its outperformance in the long-term. Secondly, the valuation parameter like Price/Earnings of midcaps are looking very dear, due to increased demand from domestic investors and lower earnings growth due to disruptive developments," Vinod Nair, Head Of Research at Geojit Financial Services.
"Though the valuation needs some normalisation, we feel that the extent of price erosion is limited as you adjust your investment horizon in accordance with the changed investment methodology of retail investors, stabilisation in business activities which will correct the earnings picture and healthy outlook for the Indian economy, as a result P/E's are not very overwhelming," he said.
What should investors do?
Investors should do their own research rather than blindly following the strategy of foreign investors. India is in a bull market and investors should take advantage and invest wisely.
One way to make big money in equity markets is to look at quality mid and smallcap stocks which could offer huge growth potential as compared to their largecap names. Investors should maintain an ideal mix of small and midcap stocks along with largecap names to hedge against extreme volatility.
"Bull market is all about growth investing. In order to take advantage of India's bull market, they have correctly adopted this strategy. Capturing growth in small and the midcap stock is actually the mantra to make big money. Even Indian investors should follow this strategy," said Modi of Samco Securities.
"Following FIIs blindly will not help. Each stock or sector will have to be evaluated on its own merits and one should not be carried away by what FIIs are doing," he said.
First Published on Nov 9, 2017 11:11 am