Investing in front-line stocks has not yet run out of fashion. Amit Gadre comes out a winner by investing in companies that have proven themselves over many business cycles but only at the right price.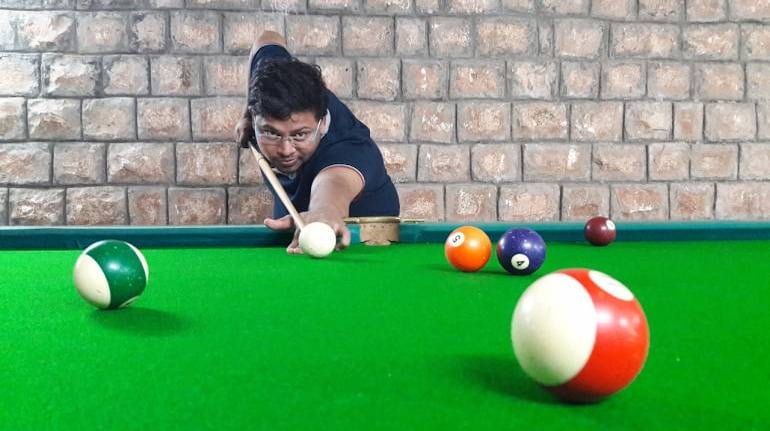 Shishir Asthana
Financial freedom is a mental, emotional and educational process, says Robert Kiyosaki, author of the bestseller Rich Dad Poor Dad. Everyone thrives for financial freedom but few are willing to put in the effort, the hours or the learning to achieve it. Breaking the chains of financial commitments and the requirement to set oneself free is everyone's dream. Those who have achieved it, are the heroes in today's world.
One such hero is Amit Gadre, a 35-year engineering graduate who knew by when he would like to achieve his financial freedom and how to do so even before he worked for a single day. The fact that he managed to do so by quitting his job five years ahead of the initial target is a tribute to his effort. At a time when others were thinking of job promotions and pay hikes, Gadre was focused on achieving financial freedom.
Gadre a self-confessed voracious reader followed the value investing route to liberate himself. Enjoying his freedom in both financial and time front, Gadre lives off the dividend from his investments. A SEBI registered financial advisor Gadre who lives in Nashik helps others achieve their dream. He holds free training sessions for anyone who is willing to listen and put in the effort.
In an interview with Moneycontrol Amit Gadre talks about his approach to investing and his journey to financial freedom.
Even before taking up your first job you had set a retirement target date on yourself and knew the path you will take to achieve it. Few people have this clarity of thought. Can you talk us through your journey?
I come from Kolhapur in Maharashtra and have a Mechanical Engineering degree from VJTI, Mumbai and an MBA from Symbiosis, Pune. My first job was with Siemens in their Nashik unit where I was looking after supply chain management. As part of my job, I was expected to meet my vendors and check their businesses. This process gave me a good insight into various businesses and understand the mindset of entrepreneurs which came in handy during my investing period.
But my journey into investing started much earlier. I was exposed to equities since my childhood. My father, who had a Masters degree in law and my grandmother used to discuss stocks and companies. I was used to seeing dividend cheques and discount coupons coming by mail. Having said that I had little idea of what was happening back then, however, the events were getting registered in my mind.
What really changed for me was when I first read the book Rich Dad Poor Dad during my first year in engineering. I learned what are assets and liabilities in day-to-day life. How small set of right decisions make a huge difference in the future. It was important to keep investing in assets that create passive income streams.
Here the dividend cheques and discount coupons that my father and grandmother were getting made sense. My father used to invest in stocks with a good dividend yield. Heading a panel of lawyers for Bank of Maharashtra gave my father the relevant exposure to understand business and investing.
But for me, I had to re-invent the wheel. Through voracious reading I educated myself in investing that laid the foundation for me. I was convinced that equities are the route to financial freedom.
The first share I bought was in 2003, during my third year of engineering. The share was bought from the scholarship money I used to receive and save. However, this was also the year when I lost my father. I had cleared all my exams for future studies in the US but my father's demise changed the course of my life, for good.
Though I completed my engineering and then my management I was clear that the aim for all that I was doing was to attain financial freedom. For me, a job was just a means of saving enough money to invest and I used to save aggressively. I had set a target of achieving financial freedom by 40. But thankfully I was able to cut short the journey by five years and quit my job at Siemens when I was 35.
How did you invest in your early days or let's be more specific how did you invest in Infosys?
In those days it was purely on hearsay. A friend would tell me or a newspaper recommendation made me buy some stocks. It was mainly investment without investigation. Since the markets were good till 2008 there was not much need for it.
But everything changed after the 2008 crash. I went back to the drawing board and re-learned everything. This time I decided to follow the investing guru and read up on the styles adopted by them. The books changed my orientation towards equities. I learned to communicate with financial numbers.
Now, whenever I was buying a share I knew I was becoming a part owner in the business. This perception changed my investing style. Rather than picking up less known companies and expecting to double my investment in a short time, I looked to put my money in companies which were well established where I could hold them for a long period of time.
How do you zoom in on your investment target?

My investing style has evolved over the years. The first filter that I run is to look for companies with a market capitalization (Mcap) of over Rs 10,000 crore. I avoid smaller companies since it is possible to get multi-bagger companies in bigger companies. Here you have a proven management that has gone through various business cycles and has the expertise to survive business downturns. They are a much better version of themselves when they were a Rs 100 crore company. So basically I am skipping the early learning phase a company goes through and invest only when the graduate at the top of their class. These companies have the ability to grow faster and gain from the economies of scales as compared to smaller ones.
Many people, especially the smaller investors bet on companies with a Mcap of Rs 100 crore with an aim of the company reaching a Mcap of Rs 10,000 crore or a 100 times move. While there may be some, they are few and far between, probably 1 or 2 out of 100. I wait for these 1 or 2 companies. I wait for proven winners. I am willing to ride a winner in its journey ahead from say Rs 20,000 crore to Rs 10 lakh crore over the next 10-20-30 years.
After the first filter, I look for sectors which have a huge growth potential. Say like the housing finance companies. In India, the mortgage to GDP ratio is still only 9-10 percent, while in developed countries it is 60-70 percent. With a growing young population and aspiration, housing finance sector is bound to grow.
Within the sector, I then get down to identifying good businesses, ideally leaders with positive cash flows, high return on equity (RoE) of above 20 percent and return on capital employed (RoCE). Not to mention decent management quality, growth visibility, and a DNA to share profit with shareholders. The icing on the cake would be a company that funds its expansion through internal accruals.
I generally look for companies with a profit growth of 25-26 percent CAGR. As Mohnish Pabrai, author of Dhandho Investor says if have a company growing at 26 percent CAGR it will double in value in three years and will be four times in six years.
Above all these companies that I look out for should be available at reasonable valuations and decent dividend yield.
In the frontline space, do you see opportunities currently?

There is normally a buying opportunity in all phases of the market. Take, for example, the pharmaceutical sector currently. The sector has gone through torrid times over the last few years. Some of the companies are giving global companies a run for their money. These companies are now trading at 15-17 times price to earnings valuation.
They may have trouble going forward too, but the troubles of the last few years have shown that they can navigate the storm.
IT sector also more or less has a similar tale to tell. They have gone through some tough times and have come out learning from their experience.
Housing finance companies are also available at compelling valuations in some cases. Same with some private corporate banks.
The other sector that has caught my eye is the two-wheelers. Here the stocks have taken a beating on account of a price war started by the number two player in the space. But both the top companies are now available at 16-17 price-earnings multiple with no debt on their books. If India has to grow then rural consumption theme will have to come into play. When the rural consumption is playing out the two-wheeler sector will see traction. I am willing to hold them and wait it out now that these globally relevant companies are available at reasonable valuation.
What is important is to stick to the process and to look out for compounding machines and stay invested in good and bad times.
My experience with Siemens, a German company, has taught me that outcome is a by-product of the process. You need to stick to the process of picking stocks and the companies will deliver, some sooner others later. If the process is right and we have picked a good company all that is needed is to sit tight and be patient.
While valuations are important, I generally look to invest in either one or all the top three companies. So in the pharmaceutical sector, I am holding the top three companies. Here I have used a basket approach of investing as the sector is not yet out of the woods and in the clear. It is not yet known which companies may or may not be affected by the US administration rules and the competitive environment globally.
However, in IT space we have already seen a re-rating in many stocks especially the top two. But here the third largest player, which has just completed it buy-back is available at a reasonable valuation. So here I have looked at peer valuation disparity to pick up a stock.
Can you walk us through your strategy and your thought process by talking about one of your multibaggers?

Without naming the company, I will talk about a housing finance company which I invested in 2011 while still being employed. In fact, in 2011 the mortgage to GDP ratio which we had talked about earlier was at 6-7 percent as compared to 9-10 percent now.
After identifying the sector I was looking for a company in the space with which was available at a reasonable valuation and had a good financial matrix.
The company I bought was available at a price to book value of 1.5 times. This has now increased to 2.25 times, but the point to note here is the loan book of the company has grown at a rapid pace. The dividend yield at that point in time was at 7 percent and price to earnings was at 10 times.
ROE of the company was at 20 percent in 2011 which is now at 30 percent. More importantly, the company was already working on its cost to income ratio which was showing a declining trend. It further improved since then. In 2011 the cost to income ratio was at 20, it is now at 12.5.
The management had always delivered whatever it said in media or in analyst meets. Its business model was robust and the company was well managed with its process and risk management in place. Rating agency CRISIL had an AAA rating on the company.
Do you meet management or take management commentaries at face value before investing?

The kind of companies I am interested in generally are very well tracked by media as well as analysts. Their disclosure quality and management capability are above par. That is the benefit of investing in bigger companies, the checks and balances have been done and dusted. Analysts drill these companies rigorously and the ease with which the management reply to their queries is reassuring.
The smaller companies need to be screened with a fine comb. A company which has crossed the threshold of Rs 10,000 crore has generally done so after clearing many hurdles.
How extensively do you work on projecting future earnings of a company?

I generally use the discounted cash flow but that is only to get the bull and bear case valuation. This is because even a small change in the assumption of terminal value will change the numbers dramatically.
I rather look at overall sector growth and then come down to relative valuations. If a sector is growing at say 15 percent, the leaders generally will grow at a much faster pace. It is the relative valuation parameters like earning yields or dividend yields that play a much important role in my stock pickings.
Are there any no-go sectors for you and when do you sell?

I generally avoid cyclical as timing is important in these businesses. Entry and exit timings play a very important role in this kind of stocks. I am a passive investor I rarely sell my stocks.
As Philip Fisher says, if the buying is right selling happens in only three conditions. First when the management is diversifying into non-core businesses. Second is when the valuations have run much ahead of its fundamentals. Like say, if the FMCG sector is available at 80 PEs but its growth expectation is only 10 percent.
Finally, selling happens when there is a new investing idea. In such case, the least conventional idea goes out and makes room for the new one.
Though I buy with an assumption to hold it for a long time I monitor my stocks very closely on a quarterly basis. Any variation from my assumption for a quarter or two is tolerable but if the basic assumption has gone awry then I do not hesitate in selling.
Say if my assumption for growth was 22 percent and the company is managing only 5 percent for few quarters, there is definitely something that has gone out of control I do not hesitate in selling such companies.
Secondly, if there is a problem with the management where they are not walking the talk or there are reports of miss-appropriation of funds or other red flags then to I get out of such investments.
Though my success rate in picking companies to invest in is 75-80 percent in my style of investing value buys can turn out to value traps occasionally. As I invest against the crowd such occurrences do take place, I acknowledge the mistake that my assumptions of the sector or growth were wrong and I sell the stock. It is surgical if the premise is not right there is no point in waiting for the price to come up.
What do you intend to do now?
I am helping others achieve their dream. I conduct lectures for free where I talk about the nuances of investing. I am also a Sebi registered financial advisor and help people restructure their portfolio based on their risk profile for a fee.
First Published on Sep 1, 2018 11:20 am