Out of 254 companies, 93 have fallen more than 50 percent in the last one year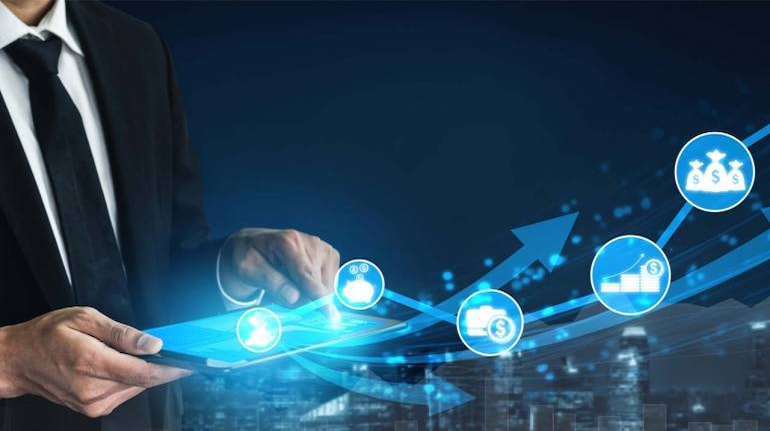 Foreign investors who were net sellers in 8 out of the last 12 months have reduced stake in over 250 companies in the 4 quarters of the past year. Although on an overall basis, FIIs were net buyers with little over Rs 5,000 crore, data from AceEquity showed.
Foreign investors' selling decisions could be based on valuations, corporate governance issues, fall in demand, or just profit-taking. Many of the stocks in which FIIs have pulled down their stake are from financials, pharma, capital goods, tourism, and infrastructure companies.
There are as many as 254 companies in which FIIs have reduced their stake, including Sun Pharma, Dabur India, Cipla, HCL Technologies and Jubilant FoodWorks.
Out of 254 companies, 93 have fallen more than 50 percent in the last one year. These include PC Jeweller, Future Retail, Sadbhav Engineering, Cox & Kings, Manpasand Beverages, Magma Fincorp, and Dewan Housing Finance.
"FIIs reduce stakes for many reasons like stretched valuations, bad corporate governance, increasing competition etc. As you pointed out FIIs have reduced stake in many bluechip companies like Jubilant FoodWorks, Nestle India, Alembic Pharma, Cipla, Dabur," Atish Matlawala, Sr Analyst, SSJ Finance & Securities told Moneycontrol.
"We believe FIIs have sold these companies purely on the basis of valuations and would buy again when valuations become attractive. There are also few companies in the list where the standard of corporate governance is way below par so that could be the reason why FIIs exited the stocks," he said.
Note: Here is the list of those 93 stocks. They have fallen more than 50% in the last 1 year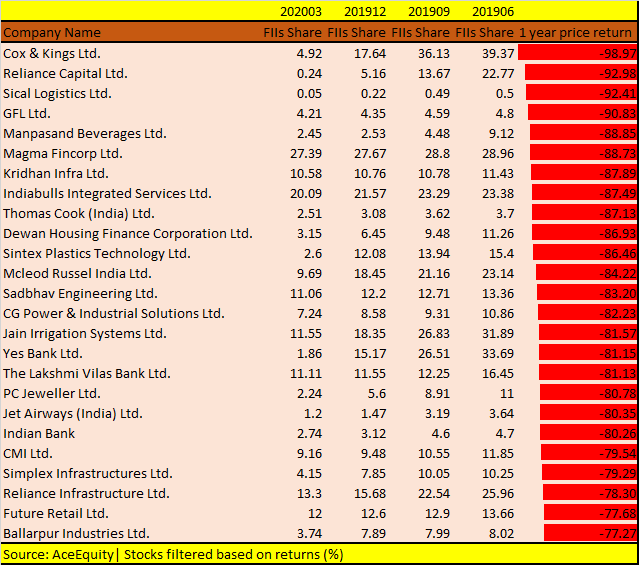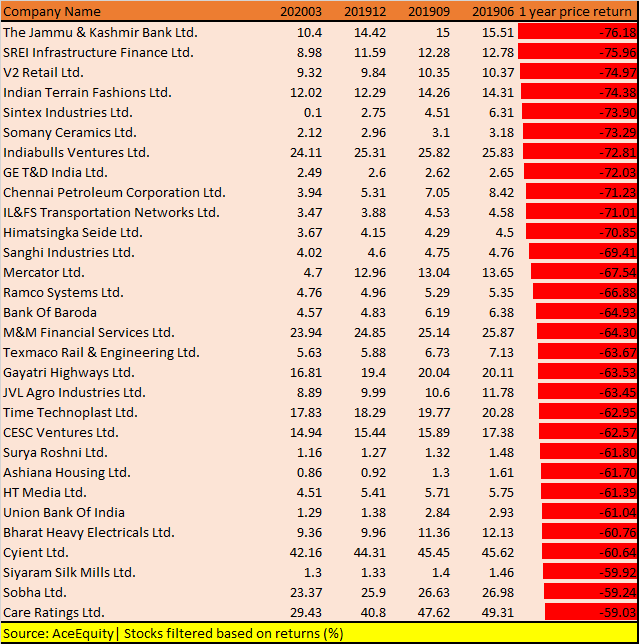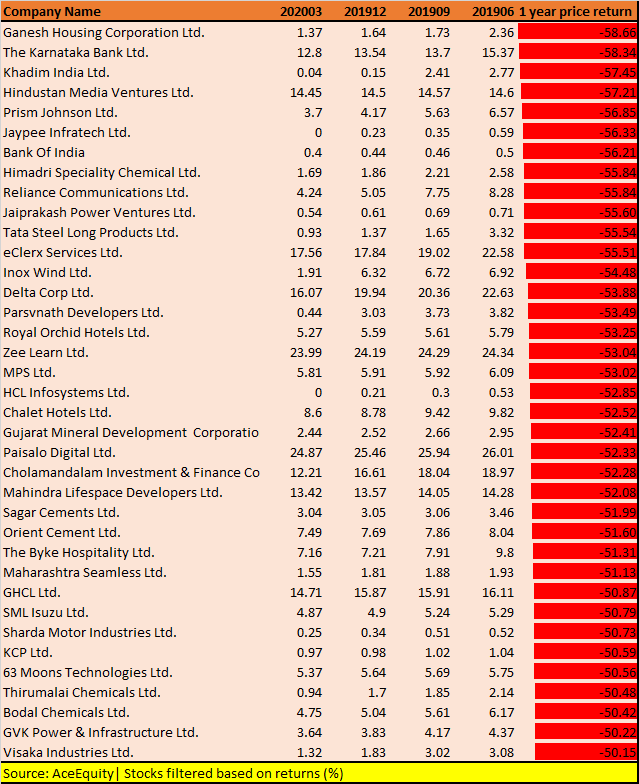 What should investors do?
There are many small & midcap companies in which FIIs have reduced their stake consistently in the last four quarters. One possible reason as pointed out by analysts is a slowdown in demand and a fall in economic activity.
Small & midcap stocks have been in a bear market since 2018 while benchmark indices entered the bear market only in 2020. However, investors should take note of the list as a reference point to shortlist stocks.
"Apart from FIIs interest, analysing company's past financial track record, promoter background, balance sheet, cash flows, valuations, and growth prospects are extremely important," Ajit Mishra, VP Research, Religare Broking told Moneycontrol.
Booking profits or exiting completely from the stocks should be based on doing a proper study of the recent management commentary related to the previous quarter results and future prospects of the business especially during COVID times.
Apart from that, any policy changes in the sector due to COVID could impact the sector and the companies in a negative way. Stock with any kind of corporate governance issues should be altogether avoided, suggest experts.
Which are top buys?
So can we say all stocks in which FIIs have reduced stake are sell? Analysts are of the view that there are select stocks which investors can look at for the long term.
"Keeping purview of COVID-19 and its effects, in my opinion, Polycab India Ltd., Avanti Feeds Ltd., HDFC Life Insurance Co Ltd., and Vinati Organics Ltd. might do well in coming time if investors keep these stocks for a long term," Gaurav Garg, Head of Research CapitalVia Global Research Limited- Investment Advisor told Moneycontrol.
"Manpasand Beverages Ltd., Jet Airways (India) Ltd., Eveready Industries (India) Ltd., are the stocks which investors should avoid due to challenged corporate governance norms and their own fundamental problems," he said.
Matlawala of SSJ Finance & Securities said that he would advise investors to stay away from companies like Reliance Capital, Cox & Kings, Manpasand beverages, Dewan Housing, Sintex Plastics, etc which are on the verge of collapse or have already collapsed.
"Companies like Dabur India, Page Industries, Tata Metaliks, 3M India, United breweries, Gillette India, VIP Industries is on our buy list," he said.
Disclaimer: The views and investment tips expressed by investment experts on Moneycontrol.com are their own and not that of the website or its management. Moneycontrol.com advises users to check with certified experts before taking any investment decisions.
First Published on Jun 30, 2020 09:52 am