The Indian Meteorological Department (IMD)'s prediction of an "above normal" summer is bad news for most, and yet music to the ears of investors in a dozen stocks that could gain from the heat wave.
The Indian Meteorological Department (IMD)'s prediction of an "above normal" summer is bad news for most, and yet music to the ears of investors in a dozen stocks that could gain from the heat wave.
These companies have multiple tailwinds working for them  – a shift in business from unorganised to organised sector post GST (due to reduced tax advantage of the unorganised players), increased power availability thereby improving the usage of a host of consumer durables, and a slow but steadily rising affordability and aspirations that augur well for demand. Finally, the long and hot summer months provide the ideal setting for latent demand to get translated into sales numbers.
The biggest beneficiary of all this is the air conditioner sector. With a penetration of 3-4 percent, the sector is at an inflection point. At 4.5 million units/ year, it is not a huge market. But it has been growing at 10-12 percent compounded annually over the last 4-5 years and it could grow at a 15-18 percent going ahead as nearly stagnant real cost of purchase and improved energy efficiency supports penetration. The market is highly competitive but is undergoing rapid changes with inverter AC gaining currency. Margin pressures for larger players like Voltas or its key competitors like Blue Star, Hitachi and Whirlpool in the coming quarter may provide a good buying opportunity if the stocks correct meaningfully. We are optimistic about the long-term structural tailwinds of this business. The leading players in this business like Voltas and Blue Star derive more than 50 percent revenue from the cooling product segment. For Whirlpool, it is around 72 percent. The contribution of cooling products to margin is even more significant.
The growth in AC has a positive rub-off on the supplier ecosystem and we focus on companies that are supplying refrigerant gases to the sector. Although this segment is just one of the many businesses of chemical companies, it is growing at a faster clip thanks to the end user demand for ACs, thereby resulting in decent margins. Gujarat Fluorochemical supplies refrigerant Refron 22, Navin Fluorine derives 33 percent of revenue from sales of refrigerants and SRF is the domestic leader in India's refrigerant market and has successfully transitioned from ozone-depleting gases (R11, R12, and R22) to new-generation refrigerant gases (R134a). Nearly 30 percent of its speciality chemicals business comes from refrigerants.
The other businesses that would benefit from the summer heat are predominantly electrical companies like Havells, V Guard and CG Consumers. Most of the players are witnessing a shift in favour of the premium category in fans which is showing a much higher growth than the category average. Many of the savvy players are broadening their product offerings and transforming themselves to multi-product entities, offering a gamut of products from cables to ACs. Havells, for instance, made an inorganic entry to the fast growing cooling product market by acquiring Lloyd's AC business. For V Guard, hot summer means more business as 35 percent of the portfolio are linked to summer products like stabiliser, UPS and fans. Crompton Greaves Consumer Electrical has also embarked upon an exciting journey with a strong product portfolio (leading player in fans and a top-5 player in domestic lighting and pumps) established brand, market leadership position, wide distribution network, and robust return ratios.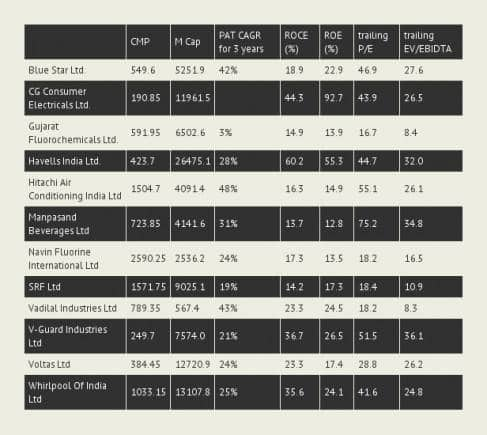 Robust GDP growth, a push for affordable housing and Pay Commission largesse provide a further boost for these players.
Not just cool air, but cool drinks will also find a lot of takers in the most Indian of Indian summers. Manpasand Beverage, being the only efficient beverage player has the TINA (there is no alternative) factor working for it. The company has 5 percent market share in the Rs 132 billion fruit juice market. Low penetration and per capita annual consumption of soft drinks in India provide significant market opportunities for growth. Mango Sip contributed 80 percent to revenues and Fruits Up contributed 19 percent in FY16. The road ahead looks interesting as the company is increasing available capacity; enhancing penetration and distribution and launching new products.
Albeit the superior growth outlook, the price performance leaves little room for error for these companies. While in the coming months we stare at multiple imponderables ranging from US rate hike, Trump's policies to domestic growth outlook, any significant gyration could present opportunities to grab a share of this hotcake.
First Published on Mar 16, 2017 02:17 pm