D-Street has always been exposed to greed as well as fear and it is the fear that helps long-term investors build wealth, say experts.
Friday the 13th, 2020 could turn out to be a dream opportunity for those who went shopping for blue-chip names, especially went D-Street was locked in lower circuit for the first time in 12 years.
Anecdotal evidence suggests that 209 stocks in the S&P BSE 500 index have risen more than 100 percent since January 22, 2008, when the Sensex and the Nifty hit the lower circuit. Sixty of these have delivered more than 1,000 percent returns.
Stocks that rallied more than 1,000 percent include Nestle India, NIIT Technologies, VIP Industries, Aurobindo Pharma, Bajaj Finance, Avanti Feeds, Ajanta Pharma, Relaxo Footwear and Symphony.
D-Street has always been exposed to greed as well as fear, and it is the fear that helps long-term investors to build wealth over a period of time, say experts.
The stocks to buy might be different this time but the ideal strategy is to catch the fear and invest in quality and stay away from stocks with weak fundamentals.
"There is only one rule for investors in panic—'Buy'. The market-wide lower freeze is the loudest signal Mr Market is giving with fear at its peak. No one is buying and therefore it is the signal of the decade to buy," Umesh Mehta, Head of Research, Samco Securities, said.
"We think such panic bottoms are a great opportunity to buy quality stocks. Near-term bounces will keep on happening but eventually, volatility will subside and markets will give opportunities to 'accumulate'. For investors, this is a buy-on-dips opportunity," he said.
Mehta added that given the recent correction, one should plan to invest in resilient businesses with predictable earnings and massive perceived earnings growth like Kotak Mahindra Bank, TCS, Dabur, Bajaj Finance, Titan and HUL, which would possibly turn out as wealth creators for the next decade or the next bull run.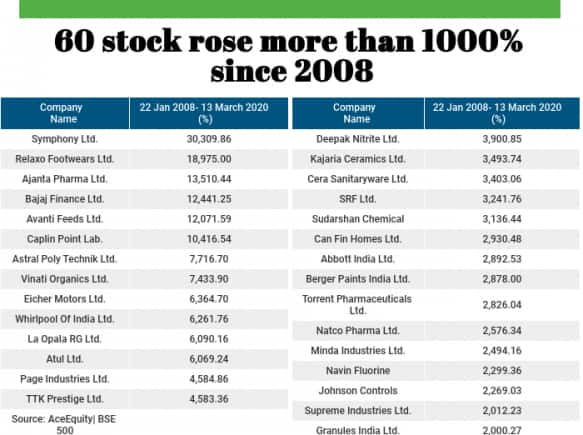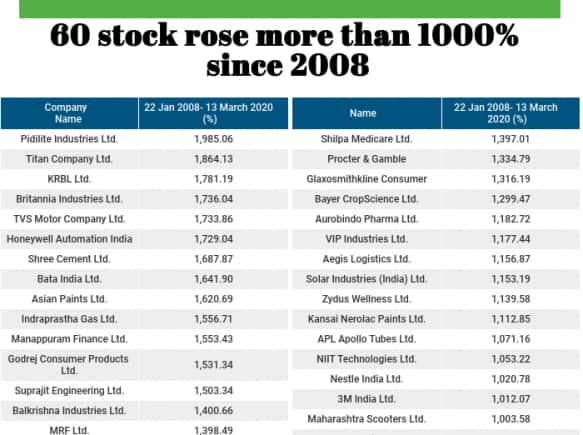 But not all stocks in the S&P BSE 500 made it big. Nearly 100 stocks have given negative returns in the last 12 years, with 67 of them eroding more than 50 percent.
The stocks that have lost more than half of their value include Reliance Capital, Suzlon Energy, Jain Irrigations, Jai Corp, Allahabad Bank, Bank of India, BHEL, Dish TV, Indiabulls Real Estate, SAIL, and DLF, according to data collated from AceEquity.
This the reason why investors should review their portfolio on regular intervals and exit stocks that are not performing or are not showing signs of growth.
The idea is to stay with largecaps and stay with sectors that are likely to do well in the near-term. It could be because of tailwinds arising out of government policies, trade, crude oil prices or it could be product related.
"In today's market, all stocks have fallen sharply from their 52-week highs. Mega caps (ie Nifty heavyweights) look more appealing right now as compared to other largecaps and midcaps," Rusmik Oza, Executive Vice President, Head of Fundamental Research- PCG, Kotak Securities Ltd, told Moneycontrol.
"In terms of market-cap orientation, preference should be megacaps followed by largecaps. It is best to avoid midcaps for some time till clarity emerges in the Nifty-50. It is worth averaging leaders, and good quality stocks in sectors like banking, NBFC, telecom, pharma, oil marketing, insurance, city gas distribution, and capital goods."
2008 once again?
The fear is similar to what D-Street witnessed in 2008 but the situation in 2020 is better compared then it was in the year of "financial meltdown".
The 2008 crisis was triggered due to bloated economy of the US that relied mainly on instruments that derived value from bad assets, while the selloff in 2020 is largely led by fear of coronavirus that has spread to more than 110 countries, creating panic as there is no cure for the virus, so far.
"Though no two bear markets can be compared directly, we can gauge from the psychological setup that one can approach the market by spreading the buying over a period of time to mitigate any sudden shocks," Arun Kumar, Market Strategist at Reliance Securities told Moneycontrol.
"This time around the fall was quite vicious. As sanity slowly returns, one can invest with a long-term perspective. We are positive on the markets from a multi-year perspective."
Disclaimer: The views and investment tips expressed by experts on Moneycontrol.com are their own and not those of the website or its management. Moneycontrol.com advises users to check with certified experts before taking any investment decisions.
First Published on Mar 16, 2020 10:20 am