Experts say market has already run ahead of fundamentals and a correction is due
Better-than-expected or in-line earnings in June quarter, which was supposed to be a wash-out period due to lockdown, have raised hopes for strong FY22. Auto sales also saw an improvement in July with higher exports. These two factors helped market scale higher, which were already riding high on the back of global liquidity.
The market has seen 48 percent recovery from its March 23's low, which is very surprising. Experts say market has already run ahead of fundamentals and a correction is due.
"Markets are always forward-looking, rather than looking in the rear view mirror. The market's performance over the past six months has been testimony to this fact. The skepticism in the market regarding the economic slowdown might be a bitter reality but the market seems to have already factored in the worst and is optimistically looking for a recovery in growth. The market rally has also been aided by the ample liquidity which has been provided by central banks and governments globally through various stimulus measures," Sameer Kaul, CEO & MD at TrustPlutus Wealth Managers (India) told Moneycontrol.
Overall, experts continue to advise buying quality stocks.
Moneycontrol collated a list of 13 stocks where brokerages initiated coverage with a buy call in July and expect 13-94 percent return in next one year:
Coromandel International: Buy | Target: Rs 1,000 | Return: 28 percent
Sharekhan has initiated coverage on Coromandel International with a buy rating, valuing it at 20x FY2022 EPS with a target of Rs 1,000.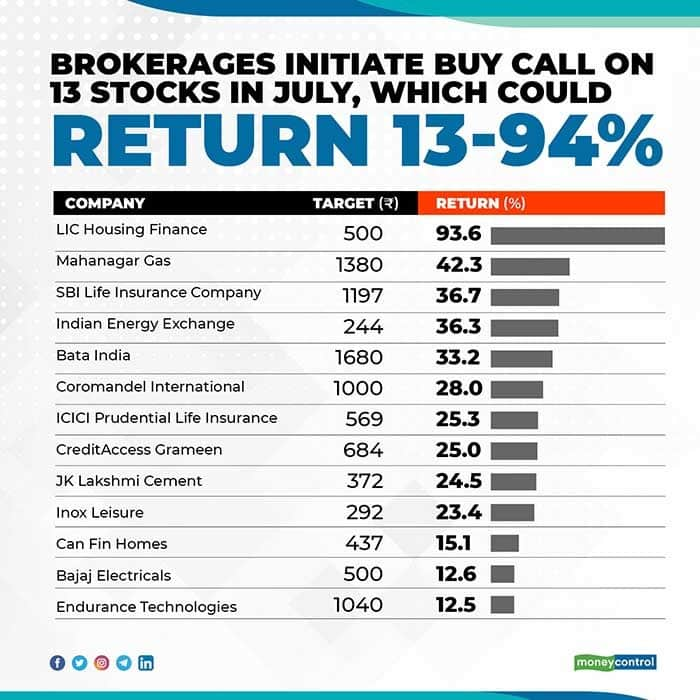 "Company is among India's top integrated agri solutions provider; significant backward integration drove its margins, cashflows and return ratios. Hopes of normal monsoon and MSP hikes for kharif crop bodes well for demand," said the brokerage which believes Coromandel would clock earnings CAGR of 17.5 percent over FY2020-22, led by increase share of non-subsidy business.
Mahanagar Gas: Buy | Target: Rs 1,380 | Return: 42 percent
Sharekhan has initiated coverage on MGL with a buy rating and target of Rs 1,380 given attractive valuation of 12.4x FY22E EPS. "Long-term volume growth is intact on low gas penetration, regulatory push for use of green fuels, volume ramp-up at Raigad; its volume/PAT CAGR will clock 2.5/8 percent CAGR over FY20-FY22," said the brokerage.
"MGL's balance sheet is robust with nil-debt; free cash flow and dividend yield of 7 percent and 3 percent, respectively. Weak gas prices will drive margins, given MGL's pricing power. We model EBITDA margin of Rs 9.8/Rs 10.7 per scm for FY21E/FY22E," it added.
JK Lakshmi Cement: Buy | Target: Rs 372 | Return: 24.5 percent
"We initiated coverage on JK Lakshmi Cement with a buy rating and price target of Rs 372. JKL has trebled consolidated capacities over the past decade, limiting leverage, growing earnings at a healthy pace," said Sharekhan.
"Company will focus to further de-leverage balance sheet; it awaits improvement in macros to further expand capacities. Healthy balance sheet, efficient operations, favourable regional operations and attractive valuation make us positive on stock," the brokerage added.
Bajaj Electricals: Buy | Target: Rs 500 | Return: 12.6 percent
"We initiate coverage on Bajaj Electricals (BJE) with buy rating and a target price of Rs 500 on SOTP basis. We believe BJE is a play on immense growth opportunity in mass market consumer electricals given 1) strong brand with wide portfolio in kitchen appliances 2) deep distribution network (covers 94 percent of districts in India) 3) leadership position in high potential small kitchen appliances and 4) expected gains in profitability, reach and working capital due to RREP implementation," Prabhudas Lilladher said.
"Although near term looks challenging due to COVID, however, less dependence on seasonal products, mass market positioning and deep distribution makes BJE ideal candidate to gain from expected surge in demand from second half of FY21. We believe strengthening of balance sheet through rights issue (Rs 350 crore), realization of receivables and renewed focus on profitability & cash flows in EPC bidding are positives," the brokerage added.
LIC Housing Finance: Buy | Target: Rs 500 | Return: 93.6 percent
"We initiate coverage on LIC Housing Finance with a buy and target at Rs 500. Sovereign holding and salaried share at over 80 percent has led to highest credit rating of CRISIL AAA, which has enabled easier access to cheaper funding sources. Developer/LAP loans are slowing down and credit flow is shifting to housing, driven by affordable disbursements at Rs 11,500 crore for FY20 (31 percent of individual versus 20 percent for FY19)," Centrum Broking said.
"LIC Housing might not merge with IDBI and the former might take over the latter's housing business. Likely spike in FY21 developer/LAP stress is priced in. We see FY22 RoA/RoE scale back to 1.2/12.8 percent," the brokerage added.
Can Fin Homes: Buy | Target: Rs 437 | Return: 15 percent
"We initiate coverage on Can Fin Homes (Canfin) with a buy and target of Rs 437. Consistently maintaining individual housing at 90 percent of loans and a lower ticket size with stringent income assessment has led to best-in-class asset quality (GNPA 0.8 percent). Additionally, sovereign holding, affordable housing skew and reducing leverage has allowed access to cheaper borrowings (banks/NHB) leading to lowest funding cost (7.8 percent)," said Centrum Broking.
"Focus on smaller cities (lower penetration) and affordable loans will provide some growth cushion in a tough FY21E. CAR/CET-1 is strong at 22.3/20.5 percent. We expect FY22 RoA/RoE at 1.9/17 percent. Valuation at 1.7x FY22ABV is attractive," it added.
Inox Leisure: Buy | Target: Rs 292 | Return: 23.4 percent
"While movie exhibitors will suffer in the short term and the pace of recovery will be slower, we believe they will rebound and gain from pent-up demand as home-sheltering subsides and people seek a communal experience on return of normalcy. We are structurally positive on multiplexes, though wary of their re-opening. With that in mind, we assume a lockdown in first half of FY21 and subdued H2 occupancy. Hence, we initiate coverage on Inox Leisure with a buy rating, at a TP of Rs 292 (valuing it at 9x FY22e EBITDA)," said Anand Rathi.
"With significantly reduced fixed costs (monthly Rs 15-17 crore cash-burn; pre-COVID-19: Rs 70-75 crore) and capital spending needed, Inox' cash balance Rs 72 crore and credit available (Rs 75 crore) would suffice for nearly 8-10 months without any revenue coming in. Also, it had Treasury shares of Rs 100 crore market value, which could be liquidated for exigencies and to acquire attractive distressed assets," the brokerage added.
Indian Energy Exchange: Buy | Target: Rs 244 | Return: 36 percent
"Indian Energy Exchange (IEX) is India's leading Power Exchange with a market share of around 95/40 percent of spot/short term market. The IEX offers a transparent pricing mechanism and liquidity to participants on its platform. Increasing traction of short term market with shift of volumes towards the power exchanges and with the launch of new products will aid IEX to garner more market share in the coming years," LKP Securities said.
"Also, with the launch of India's first Gas Exchange, IEX will be at the forefront to lead the gas market in India. Despite the slowdown in the month of April & May owing to the lockdown, volumes on IEX have grown at 14 percent YoY. We expect the company to grow at CAGR of around 16 percent for the next three years (excluding volumes from IGX) capturing a market share of around 47 percent of the short term market. We initiate coverage on IEX with a buy rating and a DCF based target price of Rs 244," the brokerage added.
Endurance Technologies: Buy | Target: Rs 1,040 | Return: 12.5 percent
HDFC Securities initiate coverage on endurance with a buy as the auto parts major is expected to gain 50-75bps in share of component supplies to 2W/3W segment (current value of supplies by the company is estimated at between 5-6 percent).
"The auto parts company is expanding into new components such as ABS brakes, CVTs, paper-based clutches and fully machined castings, thereby moving up the value curve. The company currently has RFQs of Rs 1,280 crore and has won orders of Rs 1,030/ 580 crore over FY19/20. With the recent acquisition of its Italian technology partners – Grimeca and Adler, the company is further enhancing its capabilities for supplies to the premium bike segment," said the brokerage, adding Endurance is amongst its preferred pick in the autos/auto parts sector as the company is well positioned to benefit from a demand recovery over FY22/23.
CreditAccess Grameen: Buy | Target: Rs 684 | Return: 25 percent
"Resumption in around 70 percent of overall collections were in line with management expectations since June 2020 and it expects more than 90 percent of collections by September 2020. Stable liquidity would support gradual recovery in disbursements towards existing customers. Full recovery in business operations is expected in the next financial year. Accordingly, we assign P/ABV multiple of 2.8x to FY22E standalone adjusted book value of Rs 244 per share to arrive at target price of Rs 684 per share and initiate coverage on the company with buy rating," KR Choksey said.
ICICI Prudential Life Insurance: Buy | Target: Rs 569 | Return: 25 percent
Dolat Capital has initiated coverage on IPRU with a buy rating and a 1-year price target of Rs 569 implying a P/EV multiple of 2.8x on the FY22E EV per share.
"IPRU trades at a multiple lower than SBILIFE and HDFCLIFE. The insurer's recent loss of momentum in premium growth has weighed down on the valuations, given its traditionally ULIP-heavy focus and the current slowdown in the segment. However, we believe IPRU's strong moat in protection business and lower balance sheet risk from its desire to stay away from guaranteed business should aid margin expansion. Although weaker topline momentum may persist, we believe IPRU is attractively priced at current levels and will continue to deliver on VNB," said the brokerage.
SBI Life Insurance Company: Buy | Target: Rs 1,197 | Return: 36.7 percent
Dolat Capital has initiated coverage on SBILIFE with a buy rating and a 1-year price target of Rs 1,197 implying a P/EV multiple of 3.5x on the FY22E EV per share.
"SBILIFE has an unrivalled distribution reach through its parent and has penetrated a meagre 2-3 percent of this channel. SBILIFE also has the above industry average agent productivity and its focus on growing this channel over the last 2 years will help consolidate its position as the number 1 private life insurer in India on a NBP basis. Although we expect a slower VNB margin expansion, we believe SBILIFE is well positioned to deliver on topline growth and is attractively priced at current levels," said the brokerage.
Bata India: Buy | Target: Rs 1,680 | Return: 33 percent
"Bata, the largest footwear retailer in the domestic market, has evolved with time and changed its products and store décor to move a notch ahead of the curve. It also endorsed celebrities from film and sports fraternity, who helped to increase the products appeal to target customers," IDBI Capital said.
"After 22.8 perent YoY dip in net sales in FY21, we expect it to grow at a robust 37 percent YoY in FY22. We pencil in EBITDA/PAT to grow at a CAGR of 1/ 9 percent over FY20-22E respectively. We initiate coverage on Bata with a buy rating and target of Rs 1,680, valuing the stock at its 3-year average one-year forward PER of 56x on FY22E," the brokerage added.
Disclaimer: The views and investment tips expressed by investment expert on Moneycontrol.com are his own and not that of the website or its management. Moneycontrol.com advises users to check with certified experts before taking any investment decisions.
First Published on Aug 5, 2020 02:04 pm