The market rose the most during August 2014—just after Narendra Modi-led BJP government came to power on promises of reforms.

August has not started off on a particularly good note for D-Street with indices shedding a little over a percent on trade war concerns, RBI's decision to hike interest rates, inflationary worries, among other things. The market had gained about 6 percent in July.
What's more worrying is that the trend for the month of August over the past decade is not encouraging with indices ending in the red seven out of 10 times over the period.
Of these seven occasions, the market fell the most in the years 2011 --the highest with 9 percent fall -- 2013, 2015 and 2017. Meanwhile, green ticks were visible in 2012, 2014 and 2016. The biggest gain so far was in August 2014—just after the Narendra Modi-led BJP government came to power on promises of reforms.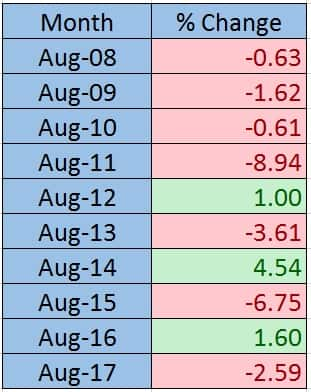 But a few experts that Moneycontrol spoke to suggest looking at a big picture.
"Although historical data point may be pointing that market is in red seven out of 10 times, but it may not repeat this time, as we are largely seeing improvement in earnings of companies that have declared Q1 numbers, which could help market to sustain rally," Goldi Jain, AVP—Advisory at Sharekhan told Moneycontrol.
Meanwhile, experts at Anand Rathi Shares and Stock Brokers reiterate the growth in Indian economy and reforms that could drive the market ahead and boost equity as an asset class.
"However, Inflation and rising interest rates could affect the margins and demand for credit. This can cause some resistance," Siddharth Sedani, Vice President — Equity Advisory, Anand Rathi Shares and Stock Brokers said.
So, what is it that will support the market ahead? Earnings could be the big bet for the market to move ahead, analysts that Moneycontrol spoke to, said. "Stable earnings growth will support the markets — and it is important to be invested in companies where the outlook for earnings is good," Sedani added.
Meanwhile, good monsoons, recently announced GST cuts, government infra spend are some of that factors that are likely to provide support to the market, Jain of Sharekhan said. But investors also need to keep an eye on crude price hikes, rate increases along with trade war concerns too.
First Published on Aug 3, 2018 07:32 am