Much of the rally that we have seen in Indian market is on the back of global liquidity, and hopes of economic activity coming back to normal post lockdown

The outbreak of COVID-19 triggered a sell-off in markets across the world. In India, equities witnessed a 40 percent decline in no time. Monetary policy support from global and domestic central banks helped bulls' reinforcement.
Sensex has rallied by about 50 percent in a matter of 4 months from the lows – the recovery has been quickest if we compare with other major declines in history.
The S&P BSE Sensex rallied from the lows of 25,638 recorded on March 24 to 38,128 on July 24 - an upside of about 49 percent.
The index is just 10 percent away from the recent highs of 42,273 as on January 20. Historical data suggests that the market usually takes 15-27 months to cross previous highs.
If the momentum continues, this liquidity-driven rally could take the index past the previous high in a short span of time.
"On average, it took 1 year and 5 months for the market to recover to its peak after a crash in the past. The longest time market took to recover was during the Dot-com bubble burst when Sensex crashed 56% and it took 2 years and 3 months to recover," Prabhudas Lilladher said in a report.
"Due to Coronavirus outbreak, the market fell by 38% and volatility reached at its highest since 2008. However, as against earlier trends, liquidity rush has enabled much sharper recovery, with Sensex rising by nearly 40.6% from the bottom and is just 15% below the all-time level reached in Jan 2020," the report added.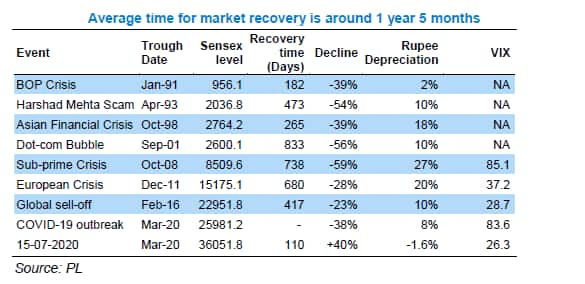 Much of the rally that we have seen in Indian market is on the back of global liquidity, and hopes of things coming back to normal post the lockdown – but can we say we are out of woods? Well, maybe not.
Moneycontrol spoke to various experts to understand the key risks that could spoil the party on D-Street –
COVID-19 remains a stumbling block:
COVID-19 still remains the biggest stumbling block despite India facing a lockdown and restrictions for nearly 4 months now. India has seen close to over 14 lakh COVID cases.
COVID-19 patients are still rising at an increasing pace (29,900 new patients on July 14th as against 11400 on Jun14) with cumulative no 3x in one month, said a report.
Large cities like Mumbai (MMR), Delhi (NCR), Chennai, Hyderabad, Pune, Bangalore, Ahmedabad, etc. are facing the brunt of COVID-19 pandemic."One of the key risks is the escalation of COVID-19 cases in India (India crossed 1 million marks and has 3rd highest cases in the world), which is again prompting lock-down in certain states," Sampath Reddy, CIO, Bajaj Allianz Life told Moneycontrol.
"High-frequency indicators have shown some partial recovery in the economy in June as the economy opened up, but more lock-downs (due to COVID escalation) can hamper this recovery to some extent," he said.
Earnings Growth:
FY20 turned out to be a year with flat Nifty EPS at 444. Prabhudas Lilladher had cut their FY21 and FY22 Nifty EPS by 14.4 percent and 12.1 percent and introduced FY23 EPS nos.
"We now estimate a 3% decline in NIFTY EPS for FY21, 34% growth in FY22, and 18% growth in FY23. As FY22 will be a year over a COVID-29 base FY23 will be the first year of normal growth," said the report.
The brokerage firm has also cut its 12-month Nifty target to 11,919 based on 19.7xJune22 EPS (10-year average). Although markets have seen a sharp post bottom of March 2020 and the near term outlook is uncertain.
Global Factors: US Elections & Reversal of Easy Money:
US presidential elections which will start in November 2020 could well turn out to be important events for equity markets, suggest experts.
"The key obviously is the risk-on environment in the US as India's current valuation will mean that the correlation with global markets will remain high. Any change in sentiment either due to expectation of Fed's reversal of stance (looks unlikely) or worries nearer to the US elections will have a bearing on Indian equities as well," Rahul Singh, CIO-Equities, Tata Mutual Fund said.
On the other hand, recovery in China and mild inflationary comeback will be positive for the cyclical components of the market.
Deepak Jasani- Head of Retail Research at HDFC Securities told Moneycontrol that a resurgence of geopolitical tensions between India and China and/or US and China, social unrest, and spread of financial stress are some other risks faced by India in that period.
"Hints of reversal of easy money policy by the Central Banks across the globe can also spoil the sentiments," he said.
Moratorium period & NPAs:
Over 80 percent on public sector banks' individual borrowers opted for the first round of moratorium announced in March 2020, the Reserve Bank of India (RBI) said in its Financial Stability Report released on Friday.
"In India, the moratorium period would get over by August-end. It is one of its kind of policy decisions by any country and the markets would keenly wait to understand the actual impact of the moratorium on the asset quality of banks & financials when the borrowers have to restart the monthly installments and repay the loans," Gaurav Dua, SVP, Head - Capital Market Strategy, Sharekhan by BNP Paribas told Moneycontrol.
The RBI conducted a macro stress test analyzing the implications of a slowdown in economic activity on the asset quality and capital ratios of banks. It indicated that the GNPA ratio could escalate to 12.5 percent for FY21 under the baseline scenario.
The RBI, in the macro stress test conducted by analyzing various economic assumptions in the wake of the COVID-19 outbreak, suggests that under the baseline scenario, estimated GDP growth could contract to 4.4%, while the contraction could be higher at 8.9% under the very severe stress case.
"The exact impact of the moratorium on the economy is still uncertain; this would be measurable only in the coming quarters. The RBI has warned that the asset quality of the financial system could deteriorate sharply, impacted by lockdown induced disruptions to both supply- and demand-side factors, diminished consumer confidence, and risk aversion," Motilal Oswal said in a report.
Capex cycle revival hinges on Govt. spending
Capex cycle recovery looks bleak given that capacity utilization during pre-COVID had declined to 60-65% and is yet to recover post lockdown. "We expect private sector capex in digitization, automation of packing lines and steps to ensure social distancing, pharma API, etc. FY21 capex intensity would be determined by award and execution of Govt projects," Prabhudas Lilladher said in a report.
Central Public Sector Enterprises (CPSE) have been instructed to spend 50 percent of this CAPEX by the end of 2Q21 which will go a long way in reviving jobs and demand in the economy post-Covid-19.
"A huge amount of liquidity coupled with the possible discovery of COVID vaccine, market supporting regulatory & government interventions, and chances of economic recovery building up further can keep on propelling the markets higher," Atul Bhole, Senior Vice President – Investments, DSP Investment Managers told Moneycontrol.
Disclaimer: The views and investment tips expressed by investment experts on Moneycontrol.com are their own and not that of the website or its management. Moneycontrol.com advises users to check with certified experts before taking any investment decisions.
First Published on Jul 29, 2020 10:11 am