Remember the market adage 'don't catch a falling knife'. Or should you?
A rising tide lifts all boats, or most. With markets hovering at all-time highs, nearly all stocks in the market have appropriately risen.
While some investors and traders choose momentum  as a strategy, in which you chase high-performing stocks, others look at a contrarian approach.
So even as the general complaint in the market is there are not enough lucrative opportunities left anymore, interestingly, there are 51 stocks that are trading at, at least, a 50 percent discount from their 52-week high.
To filter out microcap stocks, we weeded out companies with marketcap below Rs 100 crore.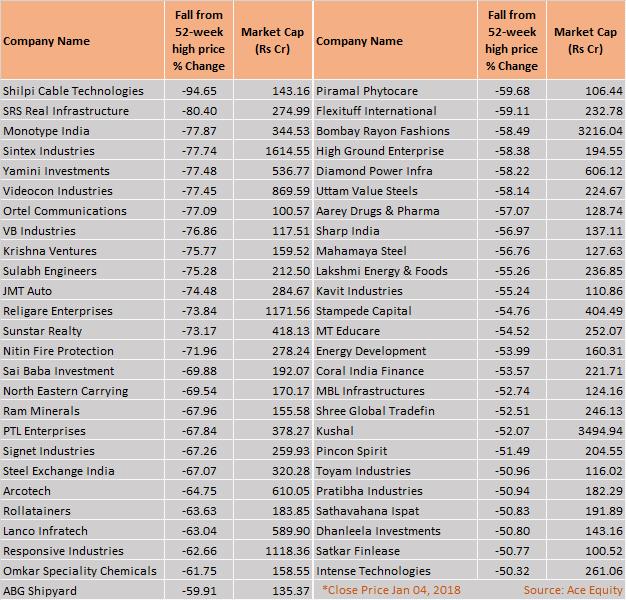 Should you go out and buy these stocks then? Don't -- at least not only because of their fall. Remember the market adage 'don't catch a falling knife'.
But here's a further spin to our numbers.
To assess the fundamentals of the companies whose names turned up in the above list, we looked for those that had posted at least double-digit sales growth and return on equity for each of the last fiscals.
Only two stocks, Kushal and Pincon Spirit, passed our screen.

Price performance: While Kushal has given a sterling 1574 percent absolute return over the past three years, Pincon Spirit has netted a stable 80 percent.
Company's growth: Both the companies have clocked consistent sales and profit growth of 40% over 3 years.
Follow @riteshpresswala
First Published on Jan 10, 2018 08:29 am