Beaten-down stocks make for an interesting investment case, but the challenge is to figure out whether the underperformance is temporary or structural in nature.
Investors are always on a lookout for stocks that could give quick returns and are also available at fair valuations. The year 2018 was not a good one in that sense - while returns from benchmark indices were merely in single digits, many quality stocks corrected in double digits.
Nifty50 recorded gains of little over 3 percent in 2018, while nearly 60 percent of the index components gave negative returns.
So, are all the stocks that have seen a double-digit cut in 2018 attractively valued? Well, that might not be the case always, suggest experts. It does make a good investment case, especially if they are Nifty50 companies, but investors should also study the reason why the stocks fell in the first place, they say.
"Beaten-down stocks make for an interesting investment case, but the challenge is to figure out whether the underperformance is temporary or structural in nature. Heavily beaten-down stocks have major structural challenges like Tata Motors which is seeing a major global slowdown," Naveen Kulkarni, Head of Research, Reliance Securities told Moneycontrol.
"However, if the challenges are internal and the management has the capability and ability to resolve the issues then the stock will make for an investment case. Sun Pharma is one such case and it presents with a good investment case," he said.
Kulkarni further added that in 2019 some beaten-down stocks like Yes Bank and Sun Pharma could perform well if they are able to resolve the internal issues, but if the challenges are structural in nature like in case of Tata Motors and Tata Steel then the time is not ripe for these stocks.
Out of Nifty 50 stocks, 20 counters fell 20-60 percent in 2018, which includes Tata Motors, Yes Bank, Bharti Airtel, HPCL, Vedanta, and BPCL.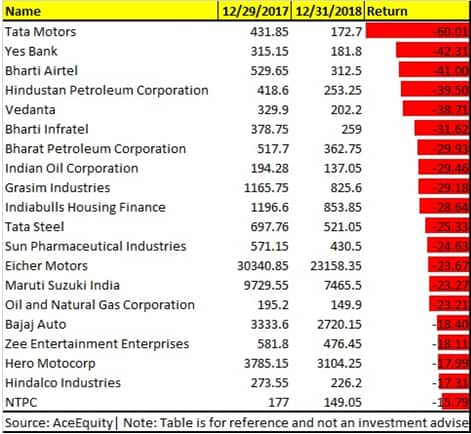 The S&P BSE Largecap index recorded gains of over 1 percent as compared to small & midcap indices which fell by 13 percent and 23 percent, respectively, in 2018.
The first rule of investing is to look at the earnings growth of the company. The divergence between good quality growth-orient companies and value stocks is still very high. Most experts advise investors to stay with quality names or largecaps as volatility could rise ahead of general elections.
Largecaps might not give multibagger returns, but they play a crucial part in protecting your capital in case momentum starts heading south.
"We expect volatility to be high in the first half of CY19. Hence, it will be ideal to stay invested only in good names where one is confident of any earnings improvement or business cycle changing in FY20 (at least till election results come through)," Rusmik Oza, Sr. VP and Head of Fundamental Research at Kotak Securities Ltd told Moneycontrol.
"We would not suggest an across-the-board investment in beaten-down stocks. We would recommend investing in only a few names like Tata Motors, oil & gas companies, and select names like Eicher Motors where valuations have become reasonable," he said.
Oza further added that one should avoid getting into beaten-down companies which have issues beyond fundamentals, like corporate governance or bleak sector outlook. "Post-election results, if we see either a BJP/Congress-led coalition government then one can get into select beaten-down largecaps," he added.
First Published on Jan 3, 2019 09:40 am