Shailendra Kumar of Narnolia said the market around the globe is either entering a bear market or at best would be entering into a consolidation phase.
The Sensex rallied 4 percent till December 24 since last Christmas amid many global and domestic cues. Even though the rally was very small, positive momentum was seen during the year.
"Sustained buying by domestic retail investors — both directly in the market and through mutual funds — has ensured that Sensex ends the year with some stability after the large sell-off that happened earlier during the year," Shailendra Kumar, CIO at Narnolia Financial Advisors told Moneycontrol.
However, the performance of broader indices as well as majority of sectors was quite disappointing since December 26, 2017. The BSE Midcap index plunged 15 percent and Smallcap tanked 25 percent during the period.
Earnings were not be on par hence valuations in broader space turned expensive after sharp run-up in the previous year, volatility in crude oil prices, sharp depreciation in rupee and US-China trade war tensions were among many reasons for dismal performance of sectors and broader space.
"Sell-off during the year in the Indian market had happened primarily due to rising crude prices and elevated valuation. And now valuation has cooled off and also the crude is trading at a much lower level giving relative strength to the Indian market," Shailendra Kumar said.
Among sectors that were worst performers in the past one year are — auto (down 22.6 percent), power (down 17 percent), oil & gas (17 percent), realty (30 percent), healthcare (7 percent), metal (22.5 percent) and capital goods (4 percent).
The sector that rallied the most since last Christmas was Information Technology (up 24 percent), wherein large companies get majority of their business in dollar, on the back of sharp fall in Indian rupee. It was followed by FMCG (up 8.8 percent) and Bankex (3.7 percent).
Looking at stock-specific action, nearly 25 percent names in the BSE 500 index are in the green since the Christmas 2017. Out of these, 15 top stocks gained 41-121%.
The key thing to note among these top 15 stocks is one-third stocks are from the technology sector.
Merck was the top gainer with 121 percent rally, followed by HEG, NIIT Technologies, L&T Technology Services, Larsen & Toubro Infotech, Bata India, Tata Consultancy Services, Bajaj Finance, Radico Khaitan and Tech Mahindra.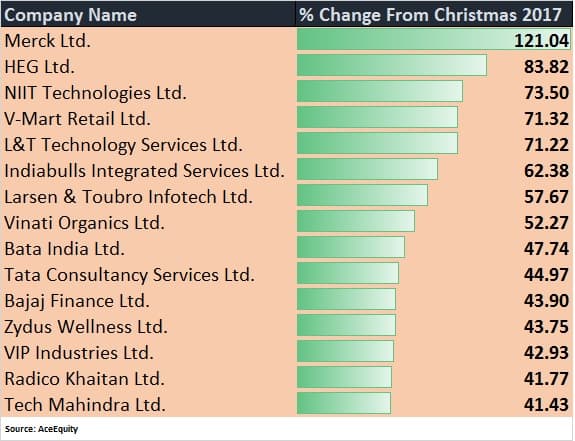 Outlook for next one year
The volatility seen in the last one year is expected to continue till Christmas 2019 due to major events like general elections 2019, US-China trade war, crude oil prices, global growth concerns, Federal Reserve rate hikes, etc., experts said.
Global growth worries, and more recently, ECB deciding to stop further QE and US yield curve getting inverted at the short-end have already triggered a sell-off in developed markets of the US and eurozone. Hence, in last couple of sessions, Indian equities also corrected sharply.
Hence, considering above reasons, the next one year could be stock-specific rather than index returns, experts said.
"Equity portfolio return would be very similar in 2019 as earnings growth and valuation shift would be largely similar for various pockets of the market. And market around the globe is either entering a bear market or at best would be entering into a consolidation phase," Shailendra Kumar said.
Mayuresh Joshi, Fund Manager at Angel Broking believes next one year will largely be a year of stock-specific stories.
"It is unlikely to be a thematic rally either in mid or in largecaps. The focus will be on companies that are able to sustain growth, that are able to sustain healthy ROE and OPMs as well as companies that adhere to high standards of corporate governance and disclosure practices. While consumption will continue to be the overriding theme of the stock markets in 2019, the approach to stocks will be a lot more granular and stock specific," he explained.
First Published on Dec 26, 2018 09:46 am