The issue size of close to Rs 599.3 crore (at the upper end of the price band of Rs 1760 – 1766 per share) is a combination of fresh issue worth Rs 60 crore (0.03 crore shares) and offer for sale of 0.3 crore shares.
Dixon Technologies boasts of unique moats, has the manufacturing prowess to thwart Chinese competition and also enjoys the TINA (there is no alternative) appeal in the markets. However, the bankers have priced this "bag full of goodies" to perfection thereby leaving little on the table for investors. While we are extremely comfortable with Dixon's business, the valuation tempers our excitement. Subscribe for the long term and in the short term look for accumulation opportunities (post listing) on decline.
Issue details
The issue size of close to Rs 599.3 crore (at the upper end of the price band of Rs 1760 – 1766 per share) is a combination of fresh issue worth Rs 60 crore (0.03 crore shares) and offer for sale of 0.3 crore shares predominantly from the private equity investor (64 percent) and the remaining from promoters, friends and family. The issue opens on September 6 and closes on September 8, 2017.The fresh capital infusion will partially be used to retire debt and the rest will go into augmenting capacity and upgrading infrastructure.
Background
Dixon is a leading home-grown EMS (Electronic Manufacturing Service) company that provides fully integrated end-to-end product and solution to Original Equipment Manufacturers (OEM). They are also a leading Original Design Manufacturer (ODM) of lighting products, LED TV and semi-automatic washing machines in India.
The company is engaged in manufacturing of products in the consumer durables, lighting and mobile phones markets in India. It also provides solutions in reverse logistics (repair and refurbishment services) of set top boxes, mobile phones and LED TV panels. The company has six manufacturing units in Noida and Dehradun and a new one coming up in Tirupati (Andhra Pradesh).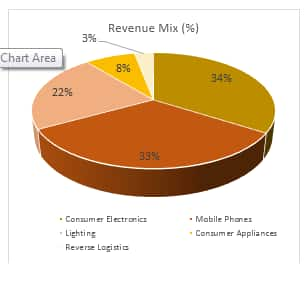 What do we like about Dixon?
Consumer electronics & appliances market – at an inflection point
Indian Consumer Electronics and Appliances market has been witnessing sustained double digit growth. Increasing product awareness, introduction of products at various affordable pricing, innovative products, easy financing options, multiple sales channels and high disposable incomes have aided the strong growth. The market is expected to grow by 16.5 percent between FY16 and FY21.
Most product categories still under-penetrated
Rapidly shrinking replacement cycle for consumer durables is sustaining demand in urban India. The existing low penetration rates of most products (penetration for washing machine is 6 percent, and that of LED television is 15 percent) and the increasing usage of consumer durables have catapulted rural India to a high-growth market as well.
Domestic manufacturing – the way to go
While demand for consumer electronics and appliances is expected to spiral, policy initiatives are influencing a surge momentum in the domestic manufacturing. Spearheading the policy initiatives is the Make in India campaign which emphasizes electronics as one of the focus sectors. The recent tensions in India's border might give a further fillip to this effort. Indian EMS market is growing much faster than the global average growth.
Asset light
The company adopts an asset-light business model. On a total fixed asset base of Rs 139 crore, the company generated a turnover of Rs 2457 crore in FY17. In fact, the new facility that it is setting up in Tirupati has been leased to the company at a very nominal rate. Dixon has a focus on fast payback when incurring fresh investment.
De-risked business model
The outsourcing model is decently de-risked whereby the company doesn't on-board any risk pertaining to raw material, product defects etc. The working capital cycle is only 8 days. Consequently the balance sheet is clean with aggregate debt of Rs 43 crore (long term debt of Rs 10 crore) and a comfortable debt to equity of 0.2. Dixon, therefore, boasts of extremely healthy return ratios (ROCE 36.5 percent and ROE 25.5 percent) although operating in a prima facie low-margin business.
Marquee clientele
The company has backward integration in major manufacturing processes that improves cost efficiency, reduces dependency on third party suppliers and gives better control on production time and quality. It has long and well-established relationship with marquee clients like – Panasonic (consumer electronics), Philips (lighting), Haier, Intex (home appliances), Gionee (mobile phones). In the EMS market, Dixon has 48 percent market share in TV, 53 percent in washing machine and 54 percent in lighting.
Sticky relationship
Most of the client-relationship are long-term and therefore sticky. Globally, big brands focuses energy on brand building and distribution, leaving the manufacturing bit to trusted partners. EMS route offer OEMs flexibility in product design, faster time to market, cost effectiveness, avoid manufacturing challenges besides value added services like design and aftermarket services. In India too, the industry is likely to chart a similar path. With Dixon's focus on customer satisfaction and acquisition, it should be a beneficiary of this trend.
ODM – the margin lever of future
OEM contributes to close to 80 percent of revenue of Dixon and earns margin in low single-digit. ODM contributes 20 percent of the revenue but earns margin which is high single-digit. Going forward, the company wants to expand its presence as an ODM whereby it conceptualises the product, offers its own design and carry out an end to end manufacturing and supply these products to well-known companies in India who in turn distribute these products under their own brands. This should boost margins.
Product extension
The company is continuously looking at expanding in contiguous product categories. From one product television, it has now built expertise in multiple, the latest being mobile phones. The Tirupati facility will witness new products like CCTV cameras and DVR.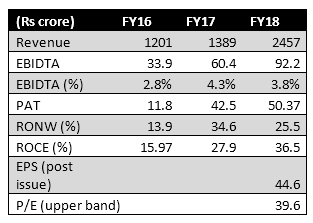 However, investors got to remember that the company is dependent on certain key customers and present in certain products. Any change in contract or end-demand might impact performance.
The consumer goods universe is valued at a premium and although Dixon has no strictly comparable peer, its valuation too isn't undemanding. However, should the growth sustain, valuation would look more reasonable (around 28X on FY19 projected earnings). Hence, go for it, if you have a longer-term investment horizon.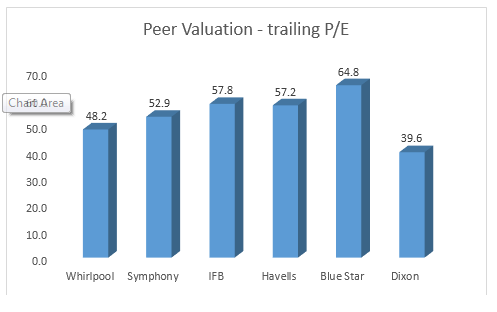 First Published on Sep 5, 2017 09:08 am