The bank's Q2 earnings reinforces our belief that it is on track to deliver targeted returns by June 2020
ICICI Bank reported healthy performance for Q2 FY19, with its core pre-provision operating profit (excluding treasury and dividend income from subsidiaries) increasing 17 percent on year.
The bank's net profit is not comparable year on year as in the same quarter last year, it earned reported a one-off treasury income from the sale of stake in its general insurance subsidiary. As a result, the net profit number was 55 percent lower .
With the bulk of problematic assets already being recognised before the end of FY18 and in Q1 FY19, the bank's slippages (gross additions to non-performing assets) were fewer during the reporting quarter. Should we read this as an end to the bank's asset quality woes?
Well, the Street has been optimistic about ICICI Bank's turnaround for the past couple of years, but it has also been disappointed by the slow progress. The general pattern is that there are a couple of quarters of good asset quality numbers before bad loans spike up again. But this time around, there is more than one reason for us to be decisively positive on the stock.
Our enthusiasm about ICICI Bank is not just because of its receding asset quality problems. The positive reading in its earnings is that despite its asset quality issues, it has continued to improve its retail franchise – in terms of both assets and liabilities.
ICICI Bank's balance sheet is now comparable to the best-in-class and is the first reason for our optimism. The bank's CASA (current accounts and savings accounts) deposits are at 51 percent of overall deposits and retail loans are at 57 percent of its total loan book.
The bank's adequate capitalisation is the second reason that makes us positive on it. In an environment where a large part of the lending system has been crippled because of a shortage of capital (public sector banks) and receding liquidity (NBFCs), ICICI Bank is well poised to leap ahead with more than adequate capital.
Thirdly, we expect an improvement in the bank's return ratios. While the asset quality pain may persist in the near term and FY19 may remain a year of consolidation due to higher credit costs, we expect the reported numbers to improve significantly from FY20 onward.
And last but not least, considering multiple levers that should help drive sustained RoE strength, the bank's valuation is extremely attractive. With the stock currently trading at around 1.2 times its estimated FY20 book value, its current valuation seems to be pricing in most concerns and offers a favourable risk-reward.
Quarter at a glance
ICICI Bank's net interest income increased 12 percent on year as its grew 13 percent but its margins contracted slightly. The slight fall in net interest margin (NIM) for the quarter to 3.3 percent was mainly due to margins compressing on the international book.
On the other hand, margins on the domestic book improved both on a quarterly as well as year-on-year basis. Going forward, the bank's management is hopeful of maintaining margins as any increase in cost will get passed through an increase in MCLR (marginal cost based lending rates).
Growth in fee income was healthy at 17 percent, driven by retail fees (72 percent of total fees).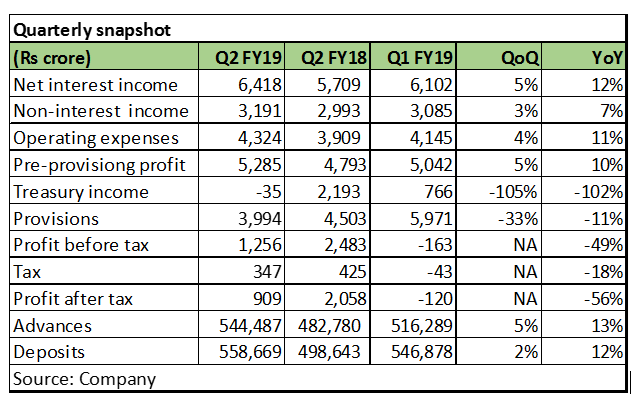 Growth in operating expenses was contained at 11 percent. As a result, core pre-provision operating profit (excluding one-off treasury income) was up 17 percent on year. Despite provisions declining 11 percent YoY, the coverage ratio improved significantly to 69.4 percent (up 330 bps sequentially) due to a decline in non-performing assets (NPAs). This is much faster than the bank's earlier stated objective of improving provision coverage ratio (PCR) to 70 percent by June 2020.
Asset book de-risking continues 
The overall growth in advances stood at 13 percent on year as a healthy 16 percent growth in the bank's domestic loan book was partially negated by a 4 percent de-growth in international loans. A strong focus on retail lending has enabled ICICI Bank to grow its domestic loan book faster than the banking system, despite cyclical weakness in the large corporate segment. Retail assets grew 21 percent on year while corporate loans grew at a muted 6 percent.
In the past few years, the bank has steadily diversified and de-risked its asset book, which is reflected in the change in its advances mix. Retail now constitutes 57 percent of the bank's total loan book, as compared to 37 percent as at the end of March 2015. The proportion of international loans in overall loans continued to decline further and stood at 13 percent, down from 25 percent as at the end of March 2015.
Performance on the liability side continues to be equally impressive. Overall deposits grew 12 percent on year, led by continued traction in CASA (low-cost current accounts and savings accounts) deposits, which grew 15 percent. Consequently, the CASA mix improved 130 bps on year to 50.8 percent at the end of Q2.
Credit cost to decline sharply from FY20
Gross slippages declined in Q2 to Rs 3,117 crore, which was quite encouraging. Thanks to contained slippages and higher provisioning, gross and net NPAs declined in Q2 to 8.54 percent and 3.65 percent of total loans, respectively, at the end of September.
The lender's exposure to List 1 and List 2 of corporates undergoing resolution through the National Company Law Tribunal (NCLT) stood at Rs 4,028 crore and Rs 10,150 crore, respectively. PCR for loans on List 1 and List 2 was quite healthy at 90 percent and 62 percent, respectively, as at the end of September, increasing the likelihood of write backs in future.
Additionally, the bank's disclosed pool of loans to corporate and SMEs rated BB and below (potential stress) declined to Rs 21,788 crore (equivalent to 4 percent of the loan book), which also includes the exposure to IL&FS.
While the management expects asset quality concerns to recede with relatively lesser slippages in FY19, the large pool of stressed loans makes us cautious for the near term. However, we expect credit costs for ICICI Bank to reduce sharply from FY20 onward. Transition to IND-AS (Indian Accounting Standards) will further aid reduction in credit cost. Incremental provisioning would be less on an ECL (Expected Credit Loss) basis, unless macroeconomic conditions or borrower-specific conditions deteriorate significantly after FY19, which is unlikely.
Current stock price factors in known issues; valuation re-rating likely
Earlier this year, ICICI Bank's management articulated an aim that endeavours to achieve by June 2020. It aims to deliver consolidated return on equity (RoE) of 15 percent while improving net NPA ratio to 1.5 percent and maintaining provision cover of over 70 percent.
With its 2020 vision in place, investors should expect much lower NPA formation and normalised credit cost in FY20, mid-teen loan growth, steady interest margin and commencement of the journey to reach RoE of 15 percent. With a strong capital adequacy (tier-I capital ratio at 15.38 percent), we don't see many risks to the targets.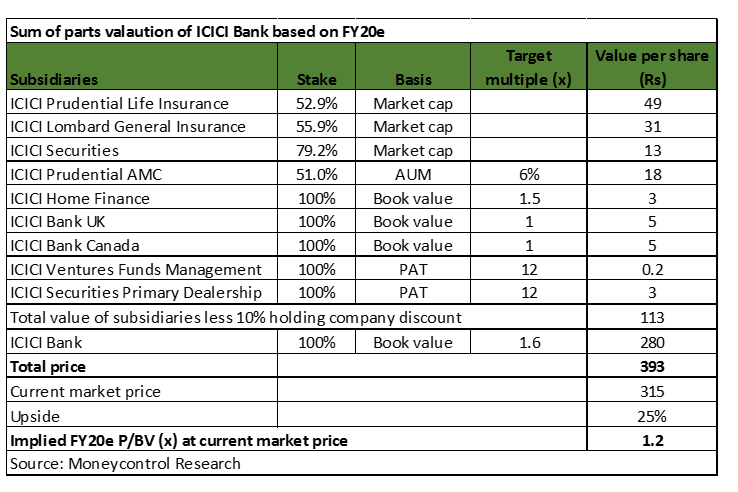 With a potential improvement in return rations, the current valuation of the stock, at 1.2 times FY20e P/BV, looks compelling. While asset quality concerns have not completely abated, the risk-reward is extremely favourable. In fact, ICICI Bank is trading at significant discount of more than 30-40 percent to its closest corporate lending peer facing similar asset quality issues.
The recent exit of Chanda Kochhar and appointment of Sandeep Bakshi as CEO lifted the cloud of management-related uncertainty. The bank's Q2 earnings indicate that the market may not have to wait long for a clear sky on asset quality, making ICICI bank an exciting yet relatively safe investment for the long term.
Follow @nehadave01
For more research articles, visit our Moneycontrol Research page
First Published on Oct 29, 2018 03:35 pm