Among the business segments, Lloyd saw a 56 percent YoY growth in revenue to Rs 280 in Q2 FY21
Electrical goods company Havells reported an 82 percent year-on-year (YoY) increase in its consolidated net profit at Rs 326.36 crore for the July to September quarter (Q2).
The company saw a one-time gain of Rs 43 crore on account of sale of un-utilised land and building at Greater Noida.
Revenue was up 12.3 percent YoY to Rs 2,539 crore in Q2 FY21. The company said that the consumer and residential portfolio registered mid-teens growth across segments. Here electrical consumer durables (ECD) was the bellwether.
ECD revenue saw an 18 percent YoY revenue growth to Rs 580 crore in Q2. Switchgears saw a 2 percent YoY revenue growth to Rs 370 crore. Lighting and fixtures saw a 4 percent YoY increase in revenue in Q2 to Rs 265 crore.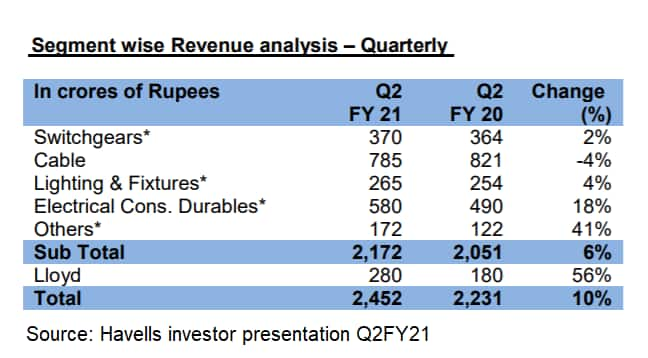 Among the business segments, Lloyd saw a 56 percent YoY growth in revenue to Rs 280 in Q2 FY21. The management said air conditioners led growth, supported by washing machines and recently launched refrigerators.
In its results summary, Havells said that though the Coronavirus-led disruptions are declining, there is a regional impact with local lockdowns. The company's factories are operating at full capacity while its branches, head offices are operating on rotational work-from-home facilities. Havells also said that trade sales is stabilizing.
"There is impetus to 'Atmanirbhar Bharat' (self-reliant India) with prohibition on air conditioner import and positive for integrated manufacturers like Lloyd," said Havells in its investor presentation.
On October 16, the Directorate General of Foreign Trade prohibited the import of fully built air conditioners (with refrigerants). This meant that while components can be imported, a full-built AC cannot be imported into India.

Havells said in its investor presentation that non-essential capital expenditure has been deferred, though gradual increase expected going forward. The consumer durables major also added that land building at Kasna, Uttar Pradesh, being un-utilised, was divested during September quarter for a consideration of Rs 94 crore.
First Published on Oct 29, 2020 02:51 pm