Respondents of FutureBrand Index 2020 rank RIL because it is "very well respected" as well as being associated with "growth", "innovative products" and "great customer service".

​The Mukesh Ambani-owned Reliance Industries Limited (RIL) is next only to the iPhone maker Apple in the list of world's top companies prepared for the future that enjoy the confidence of their employees as well as consumers and have responded well to the coronavirus pandemic.
According to FutureBrand Index 2020, released on August 4, the oil-to-retail behemoth debuts at number 2 because it is "very well respected", is associated with "growth" "innovative products" and "great customer service".
"In particular, people have a strong emotional connection with the organisation," a release by the global brand consultancy FutureBrand, which commissioned the study, said.
The index that reorders PwC's Global Top 100 companies on perception rather than financial strength is the first study of its kind since lockdown began. It gathered data from 3,000 professionals in 17 countries between April 29 and May 11.
Technology companies account for five of the Top 10 positions. Samsung is ranked at number 3 after RIL followed by AI firm Nvidia, world's largest distiller Kweichow Moutai, Nike, Microsoft, chipmaker ASML, digital payments player PayPal and at number 10 is Netflix.
RIL, whose digital arm Jio Platforms has seen global tech giants including Google and Facebook line up for a stake in the last few weeks, is the only Indian company in Top 10 and the second Indian business on the index. Tata is ranked 65 for its technology business.
Jio Platform Limited has raised Rs 1,52,056 crore across 13 investors which includes 
Facebook
, 
Google
, 
Silver Lake
, 
Vista Equity Partners
, 
General Atlantic
, 
KKR
, 
Mubadala
, 
ADIA
, 
TPG
, 
L Catterton
, 
Public Investment Fund of Saudi Arabia
, 
Intel Capital
 and 
Qualcomm
.
The record investments in Jio Platforms and a mega share sale helped it RIL become debt free well ahead of its March 2021 target.
This year's highest entrant at number two, Reliance Industries excels on every attribute, the report says. Part of its success could be attributed to Mukesh Ambani recasting the company as a one-stop-shop for Indians, it says.
"The chairman built on the existing petrochemicals business, transforming it into a digital behemoth designed to meet every customer need," says the report that has put RIL as an oil and gas company but has taken into account its expanding footprint in retail and tech sectors.
"Now that Google and Facebook are taking equity stakes in the firm, we may see Reliance jostling for the top spot in the next Index," it says.
The industries that were examined included financial services, telecommunications and oil and gas, healthcare and pharma, and consumer goods and services.
RIL is among the "the companies of the future" along with Nextera Energy and ASML that suggest that future economies will be high tech, renewable and ethical, the report says.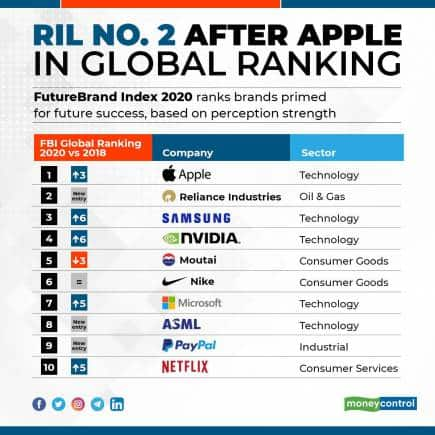 The report says the past few months tested corporates, particularly in terms of how they behaved towards their customers and staff and how it impacted their perception.
It is these perceptions that dictate the brands' people want or not want to work for, do business with and respect.
"The biggest link between the best-performing companies in the index is that they've all shown a highly individual response to COVID-19 as well as other significant market and societal shifts," Jon Tipple, Global Chief Strategy Officer, FutureBrand, said.
The study says the coronavirus outbreak has led to a major shift in the way companies are perceived, saying firms will have to prioritise the needs of their staff if they want to have a competitive edge.
Consumer goods and services have done the best, with L'Oréal, Netflix and Walmart demonstrating how a proactive response to the pandemic has boosted the internal and external perception of these brands.
Though Apple is top of the class, the tech sector remains volatile when compared with healthcare and pharma. Healthcare companies surge are seen to be doing what tech companies were once famous for – innovating for the good of mankind, says the report.
Financial services, including Warren Buffett's investment vehicle Berkshire Hathaway, and telco companies have suffered on how they are thought of.
Telcos have suffered suggesting these brands are losing touch with people.
Disclaimer: "Reliance Industries Ltd. is the sole beneficiary of Independent Media Trust which controls Network18 Media & Investments Ltd which publishes Moneycontrol."
First Published on Aug 4, 2020 04:36 pm