What makes us bullish on Sreeleathers is its ability to outperform peers every quarter on the margin front, underscoring the management's strong execution capabilities.
In an era where competition among consumer-facing businesses has been intensifying by the day and customer loyalty is waning, branding has picked up pace. Brands, besides accomplishing product differentiation, have been used to offset margin compression associated with commoditised variants.
Footwear companies, undeniably, have been at the forefront in this regard. This is evident from their efforts to move up the product value chain, higher spends on promotional activities, periodic branded product launches, and plans to intensify their footprint in new regions.
The FY18 result analysis of footwear companies suggests a steady trajectory. However, the market prices of dominant players like Bata India and Relaxo Footwears already factor in the optimism. Khadim India may be accumulated on downsides. Mirza International's performance leaves us cold. We believe Sreeleathers can hold its own against industry leaders and offers enough room for upside.
FY18 performance review
Bata's revenue growth in FY18 was driven by promotions during the 'end of season sale' schemes and product launches. Sustained efforts towards premiumisation of product mix and cost controls resulted in an uptick in margins.
Khadim's year-on-year (YoY) revenue growth was led by a healthy offtake in its 'retail' and 'distribution' segments that deal in high-value and economical products, respectively. A higher proportion of discount sales during the year impacted margins.
Relaxo registered healthy revenue growth because of store additions, online sales traction, and a YoY increase in revenue from products with high realisations. Cost efficiencies due to optimised inventory management and an improved product portfolio caused margins to rise.
Mirza's tepid revenue growth was, prima facie, attributable to a weak offtake in the shoe segment (barring footwear brand 'Red Tape', sales of which grew 22 percent YoY in FY18). Weakness in the exports business (50-60 percent of yearly turnover) restricted margin expansion.
Sreeleathers' impressive run continued yet again with revenue growing sharply on account of new stores in northern, central, and eastern India. High sale volumes and controlled spends led to a noticeable operating leverage.



What lies ahead?
Bata
Premium products, that fetch high realisations, will be of prime importance in helping Bata achieve its revenue target of $1 billion by FY23-end. Aggressive expansion in smaller Indian cities, focus on specific categories (sports, youth, women), and investments in online channels should augur well.
Bata's store refurbishment initiatives, coupled with reduction in unwanted retail space, will be pivotal in rationalising its rental costs and increase revenue per square feet. To keep the business asset-light and derive higher margins, most of the new outlets will be opened via the franchise route.
Khadim
To facilitate revenue accretion, Khadim plans to add 70-75 stores in its retail segment in FY19, especially in southern and western India. It will increase its distributor count (currently at 455) by 50-60 per annum, predominantly in eastern India.
To limit capex, franchise-driven store expansion will be prioritised. Discount-based sales from the retail segment, by virtue of business normalisation, may reduce to nearly 15-16 percent of the FY19 turnover as against 21 percent in FY18. These measures could help improve margins.
Relaxo
Relaxo will lay emphasis on enhancing its distribution reach in southern and western India. Formalisation of the economy post-GST should help organised players like the company gain market share in the economy footwear category. Going forward, this bodes well for top-line.
Impetus on high-quality footwear, higher sale volumes, and steps taken to optimise working capital efficiencies will be pivotal in boosting Relaxo's margins. With no major capex programme lined up for the next 3 fiscals, free cash flows are estimated to increase as well.
Mirza
Mirza's management is targeting Rs 600 crore in revenue by introducing new products and foraying into women's footwear. 'Bond Street' branded footwear and sports shoes, which constituted 30 percent of domestic sales in FY18, could witness healthy growth in FY19.
Scaling up of utilisation levels in finished leather manufacturing business is likely to be margin-accretive. The company plans to open 100 online-offline exclusive brand outlets in FY19 (primarily in north India). Besides garnering sales of Rs 300 crore per year, this can aid margin growth noticeably.
Sreeleathers
While footwear volumes remain the cornerstone to Sreeleathers' revenue growth, the management is gradually focusing its attention towards branded footwear, especially in eastern India. To augment its top-line further, store additions will gain momentum.
Barring its strategically important markets/locations, Sreeleathers will move to a franchise-run outlet concept in a bid to limit its capex. Outsourcing of footwear manufacturing and cluster-based regional stores may lead to additional economies of scale, thereby improving the margin profile.
Which stock/s should you choose?
Though each footwear company has a unique set of moats as far as earnings visibility is concerned, pricing pressures may persist on the back of steep raw material prices. Additionally, competition from unorganised players, foreign brands and e-commerce portals is pretty stiff too.


The likes of Bata and Relaxo have always commanded superior valuations due to their robust brand appeal and excellent fundamentals. This is unlikely to change. Given the proximity of both stocks to their 52-week peaks, investors are advised to buy these on corrections.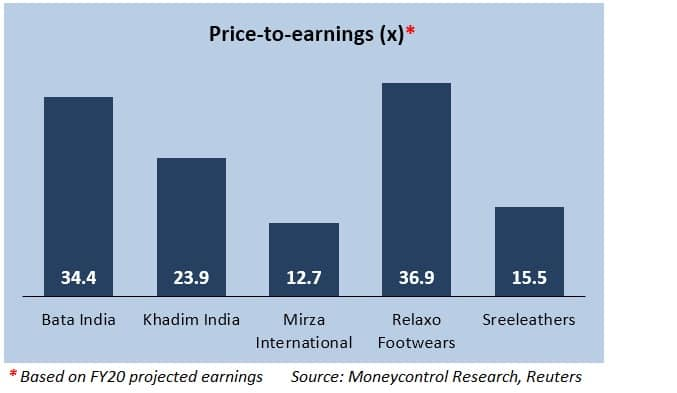 Khadim has been taking the requisite steps to make its presence felt in southern and western India, apart from reducing its dependence on borrowed funds. While we remain fairly optimistic about its prospects, the valuation seems to capture the positives, thus warranting accumulation on dips.
For Mirza, there could be some working capital strain in the near future due to investments in growing its domestic arm. A performance turnaround in the exports division is crucial. Notwithstanding the cheap valuation, in our view, this stock can be ignored for now.
What makes us bullish on Sreeleathers is its ability to outperform peers every quarter on the margin front, underscoring the management's strong execution capabilities. With the added benefit of an undemanding valuation, this stock has all that it takes to re-rate appreciably in the long-run.
For more research articles, visit our Moneycontrol Research page
First Published on Jun 22, 2018 05:20 pm