Oct 31, 2017 08:47 PM IST | Source:
Moneycontrol.com
India jumps 30 places, breaks into top 100 of World Bank's Ease of Doing Business rankings
In a major shot in the arm for the Narendra Modi government, the report recognises India as one of the top 10 improvers in this year's assessment.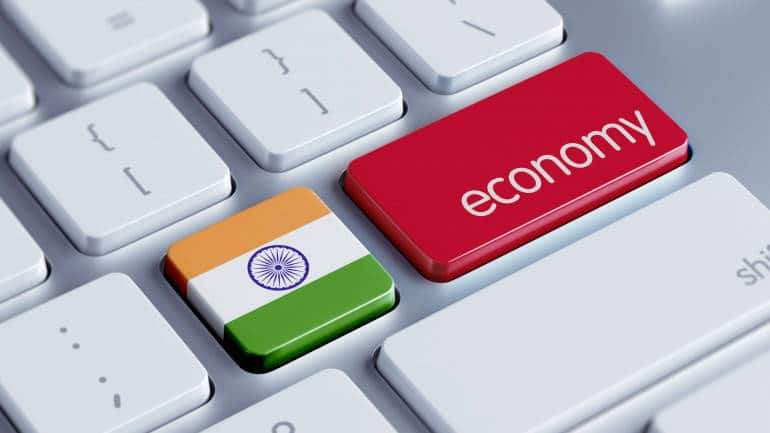 India leapfrogged into the 100th rank in the World Bank's Ease of Doing Business rankings, jumping 30 notches from last year, in an endorsement of the string of reforms implemented by the Narendra Modi government.
The report also recognises India as one of the top 10 improvers in this year's assessment, having implemented reforms in eight out of 10 Doing Business indicators.
India is the only large country this year to have achieved such a significant shift. On the "distance to frontier metric," one of the key indicators in the survey, India's score went from 56.05 in Doing Business 2017 to 60.76 in Doing Business 2018.
This means last year India improved its business regulations in absolute terms – indicating that the country is continuing its steady shift towards best practice in business regulation.
LIVE UPDATES: World Bank releases Ease of Doing Business report
The annual report, which ranks countries on business-friendliness, procedural ease, regulatory architecture and absence of bureaucratic red tape, could not have come at a more opportune time for the government that is battling to help the economy claw out of a three year slowdown. It also comes a shot in the arm ahead of key state elections in Gujarat and Himachal Pradesh.
India's real or inflation-adjusted GDP growth has sharply moderated to 5.7 percent in Apri-June, the slowest in 13 quarters, amid lingering effects of demonetization and an untidy rollout of a nation-state goods and services tax (GST) from July 1.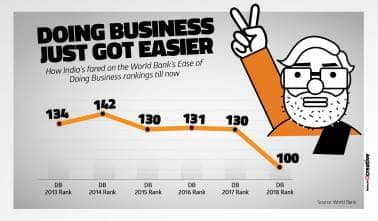 The rankings could jump further in the coming year after factoring in the GST, which kicked in from July 1.
The report, which was first launched in 2003, considered reforms and policy changes taking place between June 1, 2016 and June 2, 2017.
While the rollout of GST has been married by cumbersome processes and technical glitches, many expect most of these rough edges to be ironed out by June 1, 2018 — the cutoff date for next year's rankings.
The Modi-government has vowed to turn India into an investors' darling by removing bureaucratic sloth, eliminating red tape and reversing the country's image as a dodgy place to do business.
It has launched a string of signature initiatives such as "Make in India" and brought about significant legislative changes including a modern Insolvency and Bankruptcy Code.
"Having embarked on a strong reform agenda to improve the business environment, the significant jump this year is a result of the Indian government's consistent efforts over the past few years. It indicates India's endeavor to further strengthen its position as a preferred place to do business globally," said Annette Dixon, Vice President, South Asia region.
This year, the eight indicators on which reforms were implemented in Delhi and Mumbai, the two cities covered by the report are: starting a business, dealing with construction permits, getting credit, protecting minority investors, paying taxes, trading across borders, enforcing contracts and resolving insolvency. Last year, the Doing Business report recognised India for reforms in the areas of getting electricity, paying taxes, trading across borders and enforcing contracts.
India performs well in the areas of Protecting Minority Investors, Getting Credit, and Getting Electricity. The country's corporate law and securities regulations have been recognized as highly advanced, placing India in fourth place in the global ranking on Protecting Minority Investors.
And the time to obtain an electricity connection in Delhi has dropped from 138 days four years ago to 45 days now, almost 20 days less than the 78 days average in OECD high-income economies. India places 29th in the global ranking on the Getting Electricity indicator.
While there has been substantial progress, India still lags in areas such as Starting a Business, Enforcing Contracts, and Dealing with Construction Permits. In fact, the time taken to enforce a contract is longer today, at 1,445 days, than it was 15 years ago (1,420 days), placing the country in 164th place in the global ranking on the Enforcing Contracts indicator.
In Starting a Business, India has reduced the time needed to register a new business to 30 days now, from 127 days 15 years ago. However, the number of procedures is still cumbersome for local entrepreneurs who still need to go through 12 procedures to start a business in Mumbai, which is considerably more than in OECD high-income economies, where it takes five procedures on average.
"Tackling these challenging reforms will be key to India sustaining the momentum towards a higher ranking," said Junaid Ahmad, Country Director India. "To secure changes in the remaining areas will require not just new laws and online systems but deepening the ongoing investment in the capacity of states and their institutions to implement change and transform the framework of incentives and regulation facing the private sector. India's focus on 'doing business' at the state level may well be the platform that sustains the country's reform trajectory for the future."