Outpatient expenses will be much higher than hospitalisation costs

The medical trend rate which refers to the per-person cost increase (due to medical inflation) in India is likely to rise at double the inflation rate. A report by Mercer Marsh Benefits said forecasted medical trend rate will be 10 percent in India, while inflation will be at 5 percent.
Of this, outpatient expenses including medical check-ups, doctor fees, and medicines account for a higher chunk than the actual hospitalisation expenses.
Insurers are generally predicting that there could be further increases on the horizon, with some cautiously expecting 2019 to remain similar to 2018. Higher medical spend without a demonstratable return on investment will continue to be a challenge, the report added.
With respect to the diseases, respondents from Asia (including India) said that increased non-communicable diseases will increase employer-sponsored healthcare costs over the next 3 years. These diseases include heart disease, cancers, stroke, chronic respiratory diseases, diabetes, Alzheimer's disease, mental illness and kidney diseases.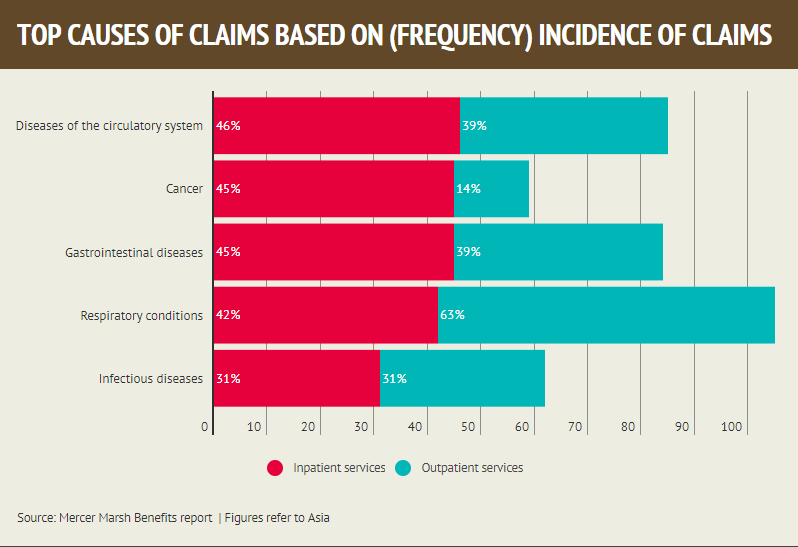 Other factors having an impact on costs include rising employee expectations and aging, increased workplace stress as well as changes to government social security schemes.
Globally, cancer and diseases of the circulatory system remain the top two highest claims reported by most insurers (respectively), with gastrointestinal diseases and respiratory conditions tied to round out the top four claim categories in terms of cost.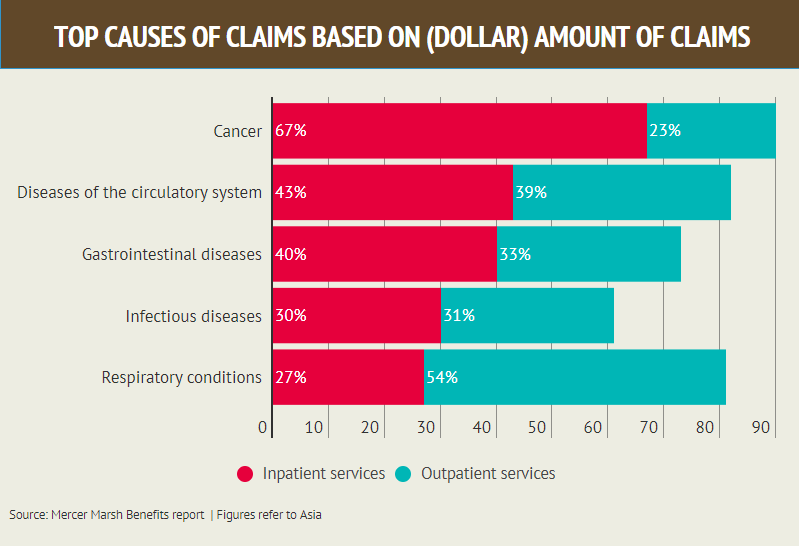 Graphics by Ritesh Presswala

"Inpatient obstetrics and pregnancy continue to be a key focus for improved quality in India. From an outpatient perspective, issues like air pollution and tobacco use drive respiratory-track infections and more serious illnesses," the report added.
Specifically, hospital, surgery room, inpatient room and inpatient equipment rental expenses were selected first by more insurers globally when ranking their most significant components of cost. Physician fees, both outpatient and inpatient, came in a close second and third, followed by fees for outpatient and inpatient medicines.
To manage the rising costs, insurers in Asia get into negotiated rates with hospitals as also have coinsurance where the insured shares the cost of the treatment.
A total of 225 insurers across 62 countries participated in the survey. Mercer Marsh Benefits is a combination of employee benefits firm Mercer and insurance broking/risk management firm Marsh. It provides solutions for managing the costs, people risks and employee benefits.
First Published on Jul 11, 2018 09:32 pm