Greater government policy support and spending are leading to a better recovery in construction work, which was stuck till about last year as a result of balance sheet stress and lack of orders.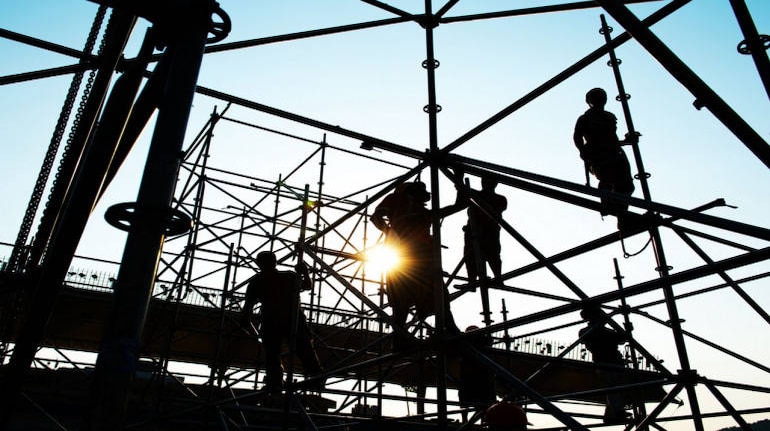 Greater government policy support and spending are leading to a better recovery in construction work, which was stuck till about last year as a result of balance sheet stress and lack of orders.
Early signs of recovery are visible. The government is building roads at the speed of 30 km per day (as of May 2017), which though lower than the actual target of about 40 km a day, is still better than the speed of 22.3 km per day witnessed in FY17.
While speaking at the Infra-Roundtable, Manish Agarwal, Leader – Infrastructure, PwC India, said: "The pace of construction activity has certainly improved in the recent past with the government awarding more and more projects. Companies have seen an increase in their outstanding orders. While the pick-up in construction activity is largely confined to the road sector, segments like water, irrigation, railways have seen good traction, which we think will only increase."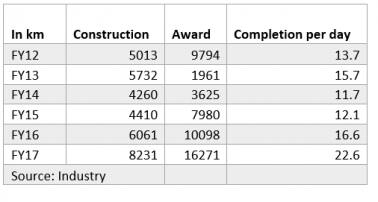 Another indicator that points towards a pick-up in construction activity is the number of construction equipment sold, which grew at 25 percent in FY17.
"In the last quarter, the government awarded projects worth Rs 4500 crore, which is equal to about 18000-20000 crore of projects annually. This, nevertheless, is nothing compared to the government's target of spending Rs 7-8 lakh core on the road sector over the next five years. While the amount is less compared to the target, the current pace of awarding in terms of the amount is still 2-3 times better than the amount of money spent in the past," elaborated Agarwal.
What has changed?
Manish believes that faster action on land acquisition, approvals, dispute resolution, favorable contract conditions have led to renewed interest and have help along projects that were stuck.
Starting 2015, industry data suggests that close to 285 projects worth Rs 16 lakh crore of investments were stuck for various reasons like land acquisition, environmental approvals, funding and many other issues. However, it is now estimated that a part of these stalled projects have been revived with the focus on individual projects.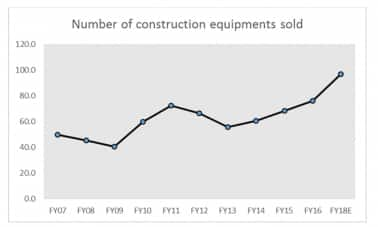 Thanks to better dispute resolution mechanism, the government has resolved some of the long-overdue projects. This has also resulted in the release of developer's money or claims stuck with the authorities like NHAI. Companies are able to recover money and claims, thereby improving their liquidity position and execution capabilities.
Long Road to Exit
While the market is improving, the stressed players are still not finding buyers for the assets they want to exit from. Manish believes that some of these assets have faced huge cost overruns and for any equity investor to make money the banks will have to take a deep haircut. That apart, because of aggressive bidding, companies in the past had projected strong growth in traffic, which in reality has not fructified. To generate the same kind of return on a lower traffic the project cost has to be brought down so that the new investor or new equity investor can make money. The environment is not going to improve in a hurry as private equity investors and others still stay away from this space owing to risks associated with a project. Also, the pickup in the investment cycle in the Middle East, Europe and the US could be an overhang.
"Infrastructure is supposed to be risk-free assets. Globally, the beta of infrastructure sector is 0.8 times, which is quite low compared to 1.4 times beta for India's infrastructure space," said Manish, while stressing on the flaw in the business model.
Investors' perception has changed for these assets which are supposed to be low-yield/low-risk investment. Since there is huge volatility, the return expectations have gone up and that is restricting the developers to sell assets.
First Published on Jul 10, 2017 07:43 pm