The US leads the investments into the ICOs with USD 1 billion, followed by Russia and China with each over USD 300 million

Investors are flushing capital at an average rate of USD 300,000 per second into the initial coin offerings across the world, a research by Ernst & Young has revealed.
The research which studied 372 initial coin offerings (ICOs) around the world found that the offerings raised USD 3.7 billion in funds, twice the volume of venture capital (VC) investment in blockchain projects.
The US leads the investments into the ICOs with USD 1 billion, followed by Russia and China with investments of over USD 300 million each.
The US is also the leader in the number of ICO projects, with 1,031 of them originating in the country. Russia and Singapore with 310 and 260 ICO projects come second and third, respectively. Mainland China (256) and Hong Kong (196) wraps the top five.
Also Read: As the price of Bitcoin soared, its dominance in the market plummeted by 57% in 2017
"As ICOs continue to gain popularity and leading players emerge globally, there is a risk of having the market swamped with quantity over quality of investments. These high-risk investments and the complexity of ICOs need to be managed to ensure their credibility as a means of raising capital for companies, entrepreneurs and investors alike," Paul Brody, EY Global Innovation Blockchain Leader, said.
Lately, the EY research found, that the ICOs are failing to reach fundraising goals. There has been a constant decline in ICOs reaching their stipulated goals in raising funds since mid-June. In November only 23 percent of the ICOs could reach their goals from the same being 93 percent in June last year.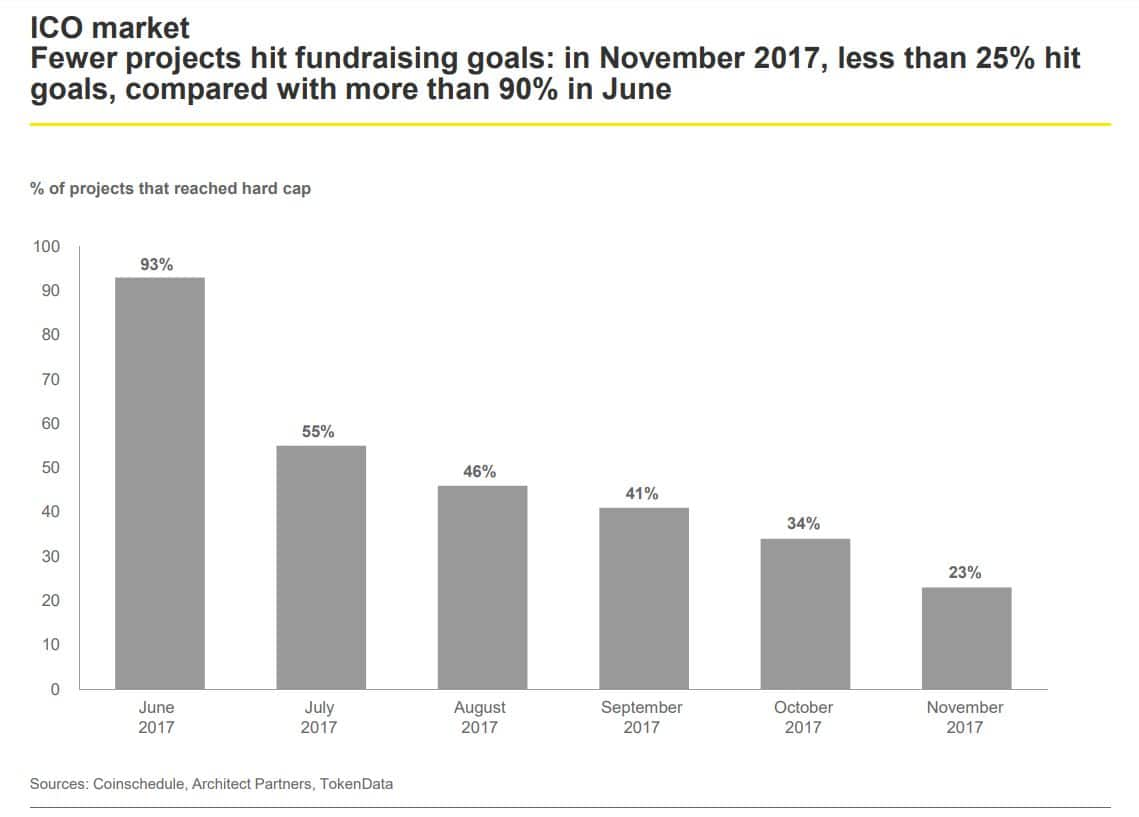 The research states that the fear of missing out drives the investors to pump in money in ICOs. "The typical ICO has no customers, no revenue and in most cases, no working product. Often the only foundation for the ICO is a white paper that describes the planned technology and a small piece of software that governs how the tokens are issued and managed," it adds.
The recent popularity of ICOs have also drawn the attention of hackers, the research points out. More than 10 percent of the ICO funds or around USD 400 million are stolen or lost to hacker attacks.
Hackers benefit from the hype, irreversibility of blockchain-based transactions and basic coding errors that, had the ICO been carefully reviewed by experienced developers and cybersecurity analysts, could have been avoided.
First Published on Jan 23, 2018 05:19 pm