The staff strength has come down to 2,69,219 staff as on September 2017 compared to 2,79,803 as on March 2017.
Country's largest bank State Bank of India (SBI) has reduced its total employee strength by 10,584 in the six months period after its merger. This is further expected to go down by 4,876 people by the end of the year closing March 2018, as targeted by the bank.
The staff strength has come down to 2,69,219 staff as on September 2017 compared to 2,79,803 as on March 2017.
From April 1 this year, SBI merged with its five associate banks and Bharatiya Mahila Bank leading to a consolidation phase across departments including the staff count.
The banking industry is undergoing a transformational phase with increasing efficiency and productivity aided by  the likes of robots, chatbots, artificial intelligence and other technologies that are threatening jobs in the sector.
This, along with the stress on the balance sheets of banks due to deteriorating loan quality and more capital provision requirement, has been directly impacting costs of the banks.
The biggest private sector lender, ICICI Bank, had also reduced its headcount by 1,082 people in the three months period from July to September this year taking its total staff strength to 83,058 employees as of September 30.
On the other hand, its peer HDFC Bank, country's second largest private bank, added 2,700 employees.
SBI to hire and retire
SBI, which is among the top 50 banks globally, further expects retirements and redeployment of staff to improve productivity. Full year retirements in FY18 are expected to be at 15,460. Hence, the government bank  expects the employee count to further decline by 4,876 staff, as it had targeted in the first quarter of this fiscal year.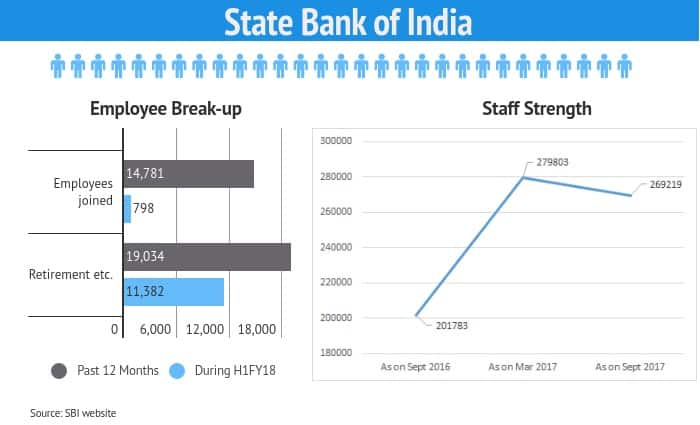 Although, the bank has also finalised hiring of 2,200 probationary officers in the second half of this fiscal year.
Prashant Kumar, Deputy Managing Director (Corporate Development Officer) of SBI said, "We have got employees from our associate banks and hence, we had already said there would be very less recruitments this year. However, we have recruited 2,200 probationary officers who would be joining us from January 2018. That is the only recruitment planned so far."
With the merger, the public sector bank absorbed about 70,000 employees from Bharatiya Mahila Bank and its five associate banks — State Bank of Bikaner & Jaipur, State Bank of Hyderabad, State Bank of Mysore, State Bank of Patiala, State Bank of Travancore.
Thereby, during the first half of the financial year 2017-18, only 798 employees joined the bank while 11,382 staff retired in the same period. Of these, a total of 3,569 people had opted for VRS or voluntary retirement scheme offered by SBI to all the eligible employees from the associates.
Redeployment and digitisation help cut costs
SBI's former chairperson Arundhati Bhattacharya without giving a number, had stated, "I don't think we will be doing too many recruitments. On the clerical side, there will not be any recruitments and on the officers' side, there will be some towards the end of the year."
The bank has also planned to redeploy about 2000 people from the closing down of administrative offices and about 8,616 employees from the rationalisation of branches. Of these 30 percent was to be redeployed to sales functions.
SBI is also finding the need to rationalise due to digitisation within and outside the bank.
The bank has also been able to cut down its staff expenses by 4 percent in the first half of the fiscal and by 7 percent in the second quarter itself from July to September period.
Within that, the contribution for employees declined by a margin of 35 percent in H1FY18 and by nearly 40 percent in the second quarter only.
Bhattacharya had also said that employee costs have come down on account of the retirements. "If you see, in FY16 and FY17 also our employee costs have remained stable. This trend will continue... to that extent, we will be more or less around this number."


Moneycontrol Ready Reckoner
Now that
payment deadlines have been relaxed
due to COVID-19, the Moneycontrol Ready Reckoner will help keep your date with insurance premiums, tax-saving investments and EMIs, among others.
Get best insights into Options Trading. Join the webinar by Mr. Vishal B Malkan on May 28 only on Moneycontrol. Register Now!
First Published on Nov 14, 2017 02:04 pm