The insurer which will announce its Q2 earnings on October 20, saw a 12.5 percent increase in premium collection in H1
Private sector insurer ICICI Lombard General Insurance zoomed past its public sector peers to become the second largest non-life insurer in the country by the premium collection at the end of the first half of FY19 (H1FY19). With a market share of 8.93 percent, ICICI Lombard is the largest in the private sector.
New India Assurance is the country's largest insurer with a 14.37 percent share.
At the end of H1FY18, ICICI Lombard was the fourth largest insurer after New India Assurance, National Insurance and United India Insurance.
According to data from the Insurance Regulatory and Development Authority of India (IRDAI), general insurance companies collected premiums of Rs 70,868.75 crore in H1FY19, growing 12 percent on a year-on-year (YoY) basis.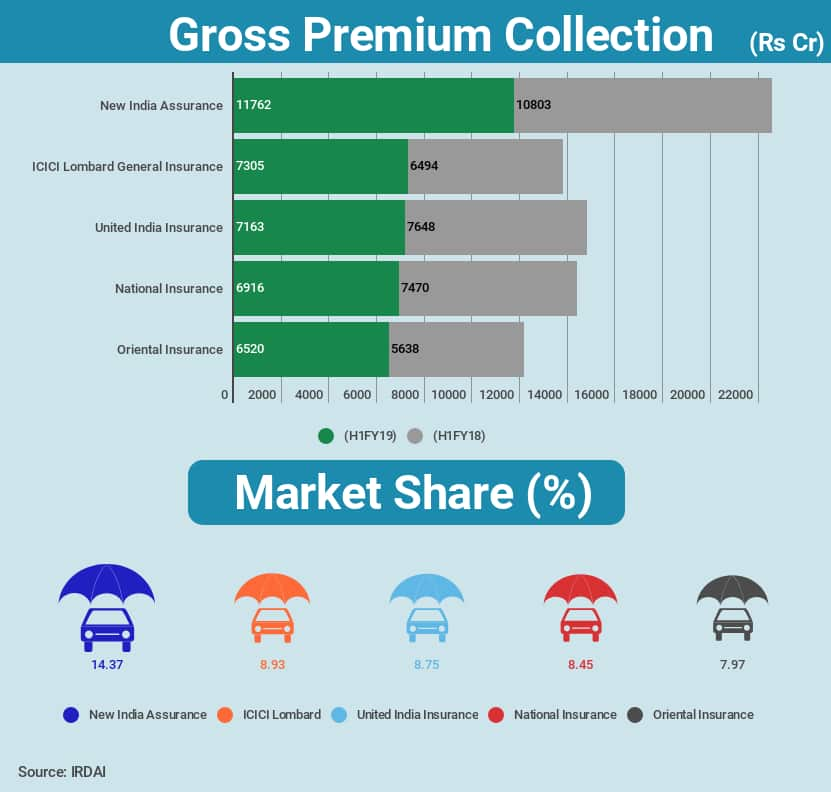 Graphics by Ritesh Presswala
ICICI Lombard collected a premium of Rs 7,304.54 crore in H1FY19, a 12.5 percent YoY growth. New India Assurance which collected premiums of Rs 11,761.8 crore in H1FY19 remained the largest in the general insurance segment, growing 9 percent YoY.
Among the public sector general insurers, National Insurance and United India Insurance saw a de-growth in their premium collection, by 7.4 percent and 6.3 percent, respectively. This was on account of slowdown in sales in states like Kerala and Karnataka.
One of the first private sector general insurance companies in the country, ICICI Lombard was set up in 2001. The insurer has a presence in both retail as well as corporate insurance market.
ICICI Lombard General Insurance posted a 35 percent increase in June quarter net profit at Rs 289.29 crore on account of lower combined ratio and higher premiums. For the company, the underwriting loss reduced to Rs 64 crore in Q1 from Rs 155 crore a year ago.
The company was the first general insurer to be listed on the stock exchanges, after it made its debut in September 2017.
The insurer will announce its Q2 results on October 20.
First Published on Oct 19, 2018 06:13 pm