Capgemini argued that the layoffs are purely based on performance

After Cognizant, French IT service provider Capgemini is now laying off bench employees in India as COVID-19 hurts business.
The company is laying off employees who have been on the bench for more than two months, three employees told Moneycontrol.
In a letter to the Pune Labour Commission, National Information Technology Employees Senate (NITES), a Maharashtra-based IT union, said the union has received complaints from employees about Capgemini putting people on the bench and forcing them to resign or terminating them.
"Because of this, the pay and jobs of close to 300 employees are at risk," the statement added. Pune labour commission has asked Capgemini to meet them on July 13 to address the situation. Moneycontrol has seen the copy of both the letters.
COVID-19 Vaccine
Frequently Asked Questions
View more
How does a vaccine work?
A vaccine works by mimicking a natural infection. A vaccine not only induces immune response to protect people from any future COVID-19 infection, but also helps quickly build herd immunity to put an end to the pandemic. Herd immunity occurs when a sufficient percentage of a population becomes immune to a disease, making the spread of disease from person to person unlikely. The good news is that SARS-CoV-2 virus has been fairly stable, which increases the viability of a vaccine.
How many types of vaccines are there?
There are broadly four types of vaccine — one, a vaccine based on the whole virus (this could be either inactivated, or an attenuated [weakened] virus vaccine); two, a non-replicating viral vector vaccine that uses a benign virus as vector that carries the antigen of SARS-CoV; three, nucleic-acid vaccines that have genetic material like DNA and RNA of antigens like spike protein given to a person, helping human cells decode genetic material and produce the vaccine; and four, protein subunit vaccine wherein the recombinant proteins of SARS-COV-2 along with an adjuvant (booster) is given as a vaccine.
What does it take to develop a vaccine of this kind?
Vaccine development is a long, complex process. Unlike drugs that are given to people with a diseased, vaccines are given to healthy people and also vulnerable sections such as children, pregnant women and the elderly. So rigorous tests are compulsory. History says that the fastest time it took to develop a vaccine is five years, but it usually takes double or sometimes triple that time.
View more
Show
According to employees and IT union, trouble started for IT employees back in April. Harpreet Saluja, general secretary NITES, said, "We started getting complaints from Capgemini starting April." Employees had approached the union stating that they were being put on the bench," he added.
Vinod AJ, general secretary, All India Forum for IT Employees (AIFITE), a Chennai-based IT Union, said their union received information about termination of bench employees.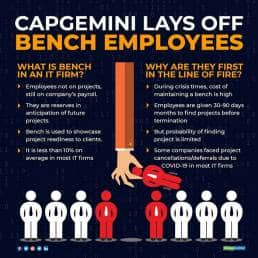 However, in a statement to Moneycontrol, the company said that the layoffs are performance related.  "At Capgemini, we have a robust performance management process. Performance-related reviews are likely to result in some employee exits which is a standard process across the industry. The bottom performers are given a couple of months to better their performance."
The company said even during COVID-19 they have gone ahead with the increments for employees, at the junior and senior level, starting April. Quantum of these increments, the company had said, was in high single digits.
"This has been done as per plan and in line with our commitment to ensure market competitiveness across all grades. We continue to hire and onboard new employees and have on-boarded more than 9500 hires from January to date," the statement added.
However, the irony has not lost on the employees. "So, on the one hand, the company is offering hikes and on the other, layoffs are happening, with the focus on the middle management level," pointed another senior employee.
Also Read: IT unions gain traction; what it means for sector
In April, Capgemini had tweaked its leave policy to cap the total leaves at 15. Employees told Moneycontrol that those who were not on projects were asked to take leaves till the balance reached -5. This would impact them when the employees have to take time off at a later date, some added.
In the email sent to employees, the company said, "Please enter start date as April 7th and end date as per your leave balance (up to -5)."Moneycontrol had seen the copy of the mail that was sent to employees.
Pune labour commission had then asked Capgemini to clarify the issues related to the leave policy, which the company did, said a source aware of the issue. The source added that -5 leave mentioned in the email was not mandatory and was a choice.
In an earlier statement to Moneycontrol, Capgemini said at the time of COVID-19, the company had capped the leaves to 15 only till end of June as an interim measure. In addition, the cap was not applicable for those on maternity leave, those retiring this year and employees requiring medical attention, the statement added.
As the pandemic situation continues and clients cut down tech spending, the IT industry will witness more performance and bench layoffs pointed out experts.
Case in point is the recent instance where Cognizant laid off bench employees. Though the numbers are not clear, according to AIFITE statement, there are close to 18,000 employees on the bench.
With limited projects coming their way, employees who are not assigned to projects had to be moved to the bench. Given the circumstances, many of them have not been able to procure projects resulting in terminations.
First Published on Jul 9, 2020 02:59 pm